I recently had the pleasure of not only meeting author Ellen Byron at the Ladies of Intrigue in Huntington Beach, but also sitting at her table during the conference and luncheon. I was intrigued (pun intended..lol!) with her Cajun Country Mystery series and picked up her latest release, BODY ON THE BAYOU. I was instantly transported to the Pelican State and into a locale that exudes the charm of the South.
Synopsis
Magnolia Marie Crozat, aka Maggie, has been drafted to serve as Maid of Honor to Doucet Plantation's co-docent, Vanessa Fleer. Maggie would rather skip being a part of the very pregnant bride-to-be's festivities but feels sorry for the young woman. She also hopes it will give her a chance to smooth things out with the Crozat family's arch-enemy and soon-to-be groom, Police Chief Rufus Durand. Unfortunately, nothing goes according to plan and Maggie is soon scrambling to host parties for the bridal couple and house the bride's obnoxious cousin, Ginger, at the Crozat family's B & B.
When Ginger is found dead in the bayou on the Crozat B & B's property, Maggie knows she need to find the real killer since Rufus Durand would like to pin the murder on her family. But as she starts asking questions and digging into Ginger's life, she finds too many people hated her, including Ginger's own cousin, the bride-to-be, Vanessa. Maggie's Maid of Honor duties now include keeping the bride out of jail and getting her to the church on time. Will she be able find the the murderer or will the wedding plans be derailed?
My Review
While this is the second book in the series (and yes, I will be reading the first one!) it was easy to read as a standalone. Ellen provides just enough backstory so I felt like I knew the characters and never got lost. The small town setting of Pelican, Louisiana, will draw you in and make you feel like you're in bayou country. Local Cajun traditions, superstitions, and names are sprinkled throughout the book adding flavor to a fun, zany at times, read. Maggie has a very close, loving relationship with her family which includes both her parents and her grandmother. They work well together running the family's B & B. Maggie also has a romance simmering with Detective Bo Durand, but with the bad blood between his cousin, Rufus, and her family, they keep it hidden. Bo has a young non-verbal autistic son who blossoms with Maggie's art tutoring. The scenes are heartwarming and the subplots blend in with the mystery without detracting.
Along with an authentic setting and charming characters, Ellen provides a few delectable recipes with her book. She's allowed me to share her recipe for Bananas Foster Coffee Cake a la Ninette (who is Maggie's mother). I, for one, did not realize that Bananas Foster was created in New Orleans! This recipe foregoes the dramatic flambé but still offers plenty of flavor with a rich, moist coffee cake and a cinnamon-spiced crunchy topping. Both my husband and granddaughter (independently) did not want to try this dish since they don't care for bananas in breads or cakes. However, I insisted they had to take one bite….which instantly changed their minds and they oohed and aahed over its yumminess! I had to limit how much they munched on since other people wanted to eat the coffee cake too. Easy to put together with pantry staples and a few ripe bananas, Bananas Foster Coffee Cake a la Ninette is the perfect dish for a holiday breakfast or brunch!
Wishing everyone a wonderful Thanksgiving holiday!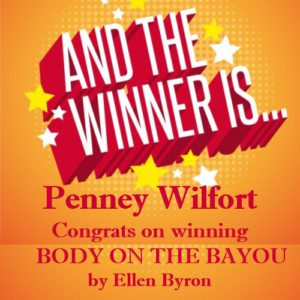 I am happy to be able to provide an autographed hardcover copy of BODY ON THE BAYOU for one lucky winner! Limited to U.S. residents only. Contest ends Monday, November 21, 2016 at 11:59 pm PST. Please use the Rafflecopter box located below the recipe to enter. The winner will be announced on this page and on Cinnamon & Sugar's Facebook page, as well as notified by email (so check your spam folder!)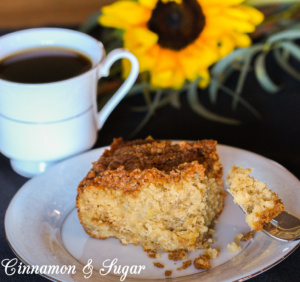 Bananas Foster Coffee Cake a la Ninette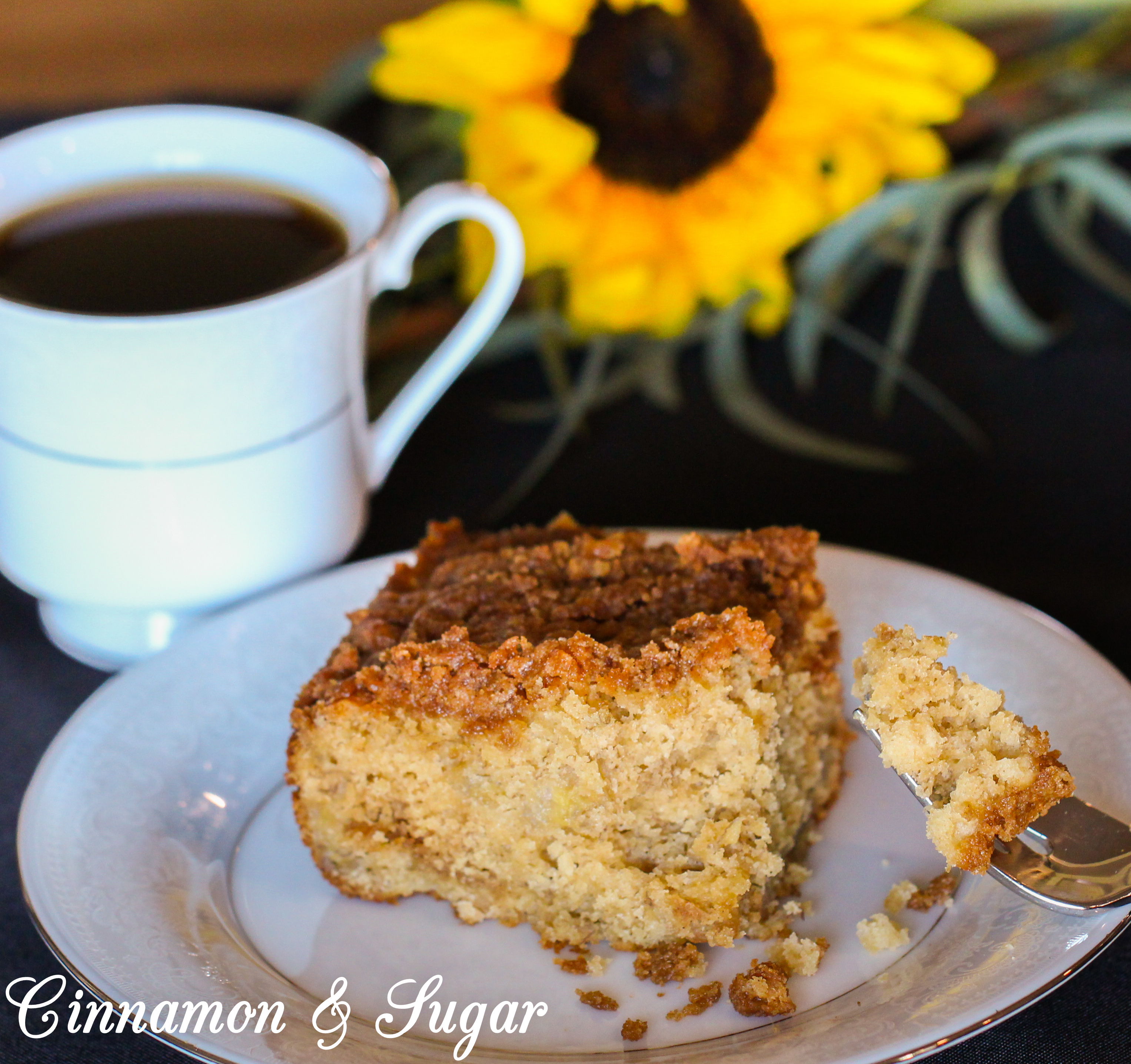 Ingredients
Author's Note:

Bananas Foster is an iconic New Orleans dessert created in 1951 by a chef at the legendary Brennan's Restaurant and named after a friend of restaurant owner Owen Brennan. The original dish is flambéed bananas served over vanilla ice cream. Many cooks have created unique recipes inspired by the original dessert, including Ninette.

Cake

3 ripe bananas, sliced
6 tablespoons butter, divided (3 at a time)
3/4 cup dark brown sugar
2 ounces dark rum
1 ounce banana liqueur (note: if you don't have this, use 3 ounces rum)
2 large eggs, room temperature
1 teaspoon vanilla extract
2 cups Bisquick baking mix

Streusel

2/3 cup Bisquick baking mix
2/3 cup packed dark brown sugar
1 teaspoon cinnamon
1/4 teaspoon salt
3 tablespoons cold butter or margarine
Instructions
Cake

Preheat the oven to 350 degrees (F), with rack at center level of the oven.
Spritz an 8" x 8" baking dish with non-stick cooking spray. Set aside.
In a large skillet, melt 3 tablespoons of the butter over medium-high heat.
Add the dark brown sugar and stir to combine.
Add the rum and banana liqueur and cook for a couple of minutes, stirring often to blend the ingredients and keep them from crystallizing.
Add the banana chunks and cook for 2 - 3 more minutes, gently stirring to coat the bananas with the thickening liquid.
Scrape the caramelized banana mixture into a medium heatproof bowl.
Use your spatula to break up the bananas into small pieces (but don't mash them into pulp.)
Stir in the remaining 3 tablespoons of butter until melted, then add the vanilla.
Let the mixture cool down until moderately warm, then quickly whisk in the eggs.
Place the 2 cups of Bisquick in another medium-sized bowl and add the wet ingredients. Stir together.

Streusel

Combine the dry ingredients in a bowl, then cut in the butter. Use a pastry blender to combine ingredients until the streusel is crumbly.

To Put It All Together

Put half the cake batter in the cake pan.
Top with half the streusel.
Top that with the rest of the cake batter and then cover that with the rest of the streusel.
Bake for 35 - 45 minutes, until the center is firm.
Serves 6 - 8.
https://cinnamonsugarandalittlebitofmurder.com/bananas-foster-coffee-cake/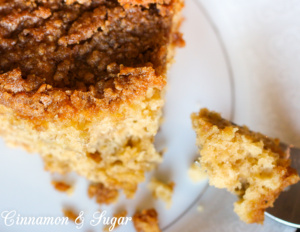 Pin to Pinterest: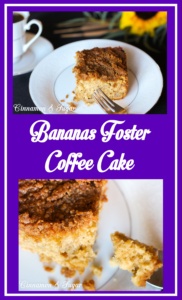 If you receive my blog post via email you will need to visit my website to view the video.