I'm always excited to find that a new series has just started especially one that's centered around strawberries…my most favorite fruit! DYING FOR STRAWBERRIES, the first book in the Berry Basket Mystery series by Sharon Farrow, starts off with a bang and will keep you turning pages!
Amazon Synopsis
Much has changed for Marlee Jacob since she returned to Oriole Point, Michigan, three years ago. Between running the Berry Basket, dodging local gossip, and whipping up strawberry muffins, smoothies, and margaritas to celebrate the town's first annual Strawberry Moon Bash, the twenty-nine-year-old hardly has time for her fiancé, let alone grim memories of her old life in New York . . .

But unfortunately for Marlee, Oriole Point is muddled with secrets of its own. First her friend Natasha disappears after an ominous dream. Next the seediest man in town threatens to crush her business. Then an unknown person nearly kills her on the night of the Bash. When she discovers a dead body while searching for Natasha, Marlee realizes she'll have to foil a killer's plot herself—before the past permanently stains her future.
My Review
From the moment I saw the cover art on this new book and then heard that subsequent books would be centered around a variety of berries (the author shared that book two will be blackberries!) I knew Sharon Farrow had found a winning combination! I like how the protagonist, Marlee, is already established in town with her business, The Berry Basket, instead of starting brand new. This gives a wider variety of supporting characters to interact with and gives greater insight into who Marlee is. The author includes a bit of humor such as Marlee Jacob's name, which is a riff on the character from A Christmas Carol. The mystery and subplots are nicely woven together which adds to the appeal of this book. Marlee is the only one who shows concern for the disappearance of her friend, Natasha, who was being abused by her husband. The author brings the issue of domestic abuse to the forefront and I admire how social issues are being addressed in books to bring awareness which will hopefully facilitate change for the better.
I was delighted to find out that not only was there a story centered around strawberries but the author includes several yummy strawberry recipes! Sharon graciously allowed me to share her recipe for Strawberry Smash Muffins. Lots of fresh, glorious strawberries go into an easy to mix up batter and bake up golden brown. I love how they are light on calories but heavy on deliciousness and make the perfect treat to grab for an on the go breakfast or snack!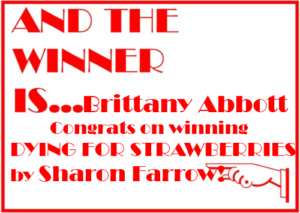 A huge thank you to Sharon Farrow for providing an autographed copy of DYING FOR STRAWBERRIES for one lucky winner! Limited to U.S. residents only. Contest ends Tuesday, November 29, 2016 at 11:59 pm PST. Please use the Rafflecopter box located below the recipe to enter. The winner will be announced on this page and on Cinnamon & Sugar's Facebook page, as well as notified by email (so check your spam folder!)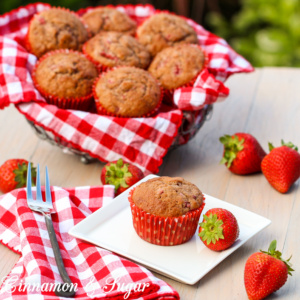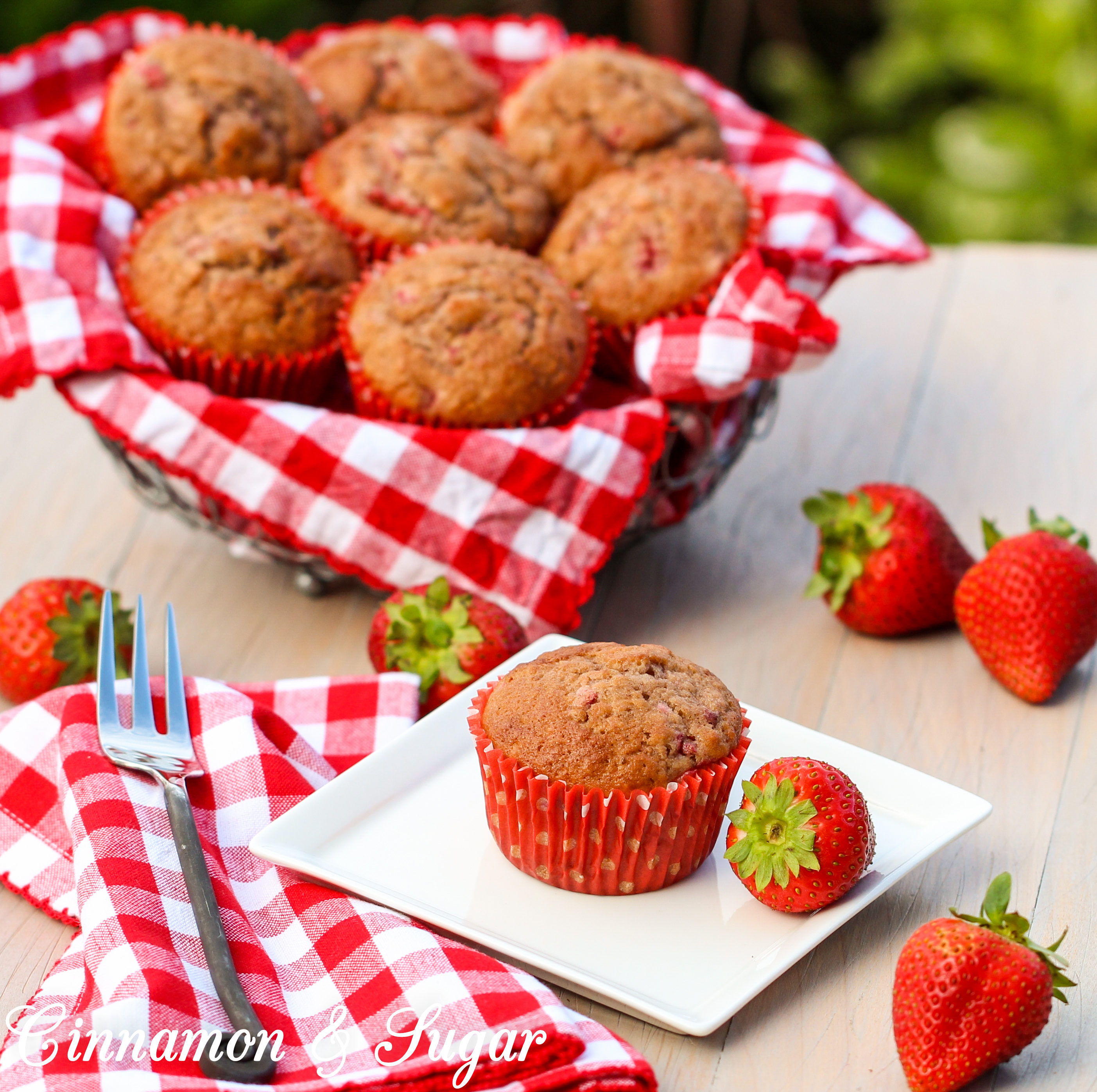 Ingredients
These are the muffins that tempted the poor boy Marlee saved after he suffered an allergic reaction to strawberries. For those who aren't allergic, bake and enjoy! Since each muffin is less than 180 calories, these are a guilt-free treat as well.

Ingredients

1-2/3 cups fresh strawberries, rinsed and stems removed
2/3 cup granulated sugar
1/3 cup vegetable oil
2 large eggs
1-1/2 cups all-purpose flour
1/2 teaspoon baking soda
1/2 teaspoon salt
1/2 teaspoon ground cinnamon
Instructions
Preheat the oven to 450 degrees (F).
Line the cups of a 12-cup muffin tin with paper cups or grease the cups.
Smash the strawberries in a large bowl with a fork.
Stir in the sugar, oil, and eggs, and mix well.
Add the flour, baking soda, salt, and cinnamon and mix until moistened.
Spoon the batter into the prepared muffin cups.
Bake for 15 to 18 minutes, or until the muffins are light golden brown or a toothpick inserted in the center of one comes out clean.

Tip

If fresh strawberries aren't in season, you can use frozen strawberries. Be sure to completely thaw them and thoroughly drain before using.
https://cinnamonsugarandalittlebitofmurder.com/strawberry-smash-muffins/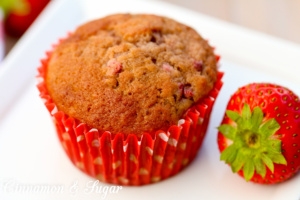 Pin to Pinterest: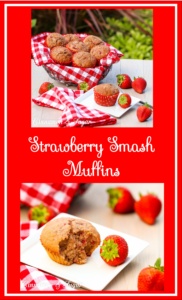 If you receive my blog post via email you will need to visit my website to view the video.
I received a copy in exchange for my honest review. All thoughts and opinions are my own.