I knew that SHADES OF WRATH was going to be a bit different, perhaps even special, when I started out reading the dedication (am I the only one who does that?) and saw that Karen Rose Smith dedicated the book "for women who have faced domestic violence." As the story unfolds the reader is immediately introduced to Wendy Newcomb, the founder and director of Sunrise Tomorrow, a foundation for victims of domestic violence. Wendy is passionate about protecting women and that focus is explored within the plot, quite effectively. The protagonist, Caprice De Luca, has a very close-knit, loving family that has helped her develop healthy self-esteem while growing up. She is also in a caring relationship with Grant that seems to be progressing. But working with Wendy and meeting some of the women she has helped, Caprice realizes that not everyone is as fortunate as she has been, which gives her a greater empathy for others and provides an opportunity for her to grow as a person. I applaud Karen Rose Smith for tackling this social issue and bringing a spotlight on a subject that is typically ignored.
The plot moves along at a good pace that kept me turning pages. There were also lots of suspects who could have wanted Wendy dead, which kept me guessing. I was completely caught off-guard at the reveal…I just didn't see it coming! But I think what keeps me coming back to read the Caprice DeLuca Mystery series are the characters. They're people you'd want to have as your friends and are good role models. Caprice and her family get together often to share meals and there's also a lot of food mentioned in the book which can make a reader hungry.
Thankfully the author provides recipes with her story and has graciously allowed me to share her recipe for Bella's Old-Fashioned Coconut Cake. I was drawn to this cake because it's naturally dairy-free so my husband could enjoy it. Even though he never complains, I know that it can't always be an easy thing to have to smell all the wonderful aromas coming from my kitchen and not be able to eat any of it. I also liked that the cake did not rely on artificial extract for flavor and instead uses real coconut products. I've never made frosting that called for flour and granulated sugar and I was a bit apprehensive about the amount of coconut milk it called for. But oh my, this was the lightest, fluffiest frosting I've ever made! I'll be making it again and again for cupcakes and any other cakes that need a lightly flavored fluffy frosting. The cake is equally scrumptious…I'm sure it will be making another appearance for upcoming birthdays too!
Amazon Synopsis
Between her booming business, her family, and her work rescuing stray animals, home stager Caprice De Luca's life is packed. But when a murder unsettles peaceful Kismet, Pennsylvania, she adds amateur sleuth to her resume.

Thanks to a wealthy patron, Kismet's women's shelter, Sunrise Tomorrow, has inherited a run-down mansion. Now the shelter's director, Wendy Newcomb, wants Caprice's decorating expertise. Caprice is happy to help, but when she glimpses a few heated encounters between Wendy and some locals, she fears that Wendy may be in need of protection herself.

When Wendy is found dead inside the old house, Caprice is compelled to poke around in her affairs, and discovers she had her share of enemies. Now, with countless clients, a TV gig that could make her a household name, and rumors of a marriage proposal on its way, Caprice must find time to design an investigation that will lure a crafty killer into the wide open–before someone else winds up in a state of permanent disrepair…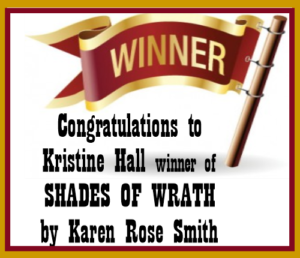 A huge thank you to Karen Rose Smith for providing an autographed copy of SHADES OF WRATH for one lucky winner! Limited to U.S. residents only. Contest ends Thursday, December 1, 2016 at 11:59 pm PST. Please use the Rafflecopter box located below the recipe to enter. The winner will be announced on this page and on Cinnamon & Sugar's Facebook page, as well as notified by email (so check your spam folder!)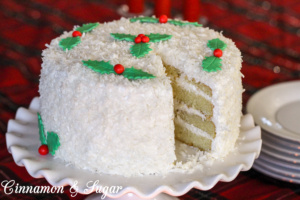 Bella's Old-fashioned Coconut Cake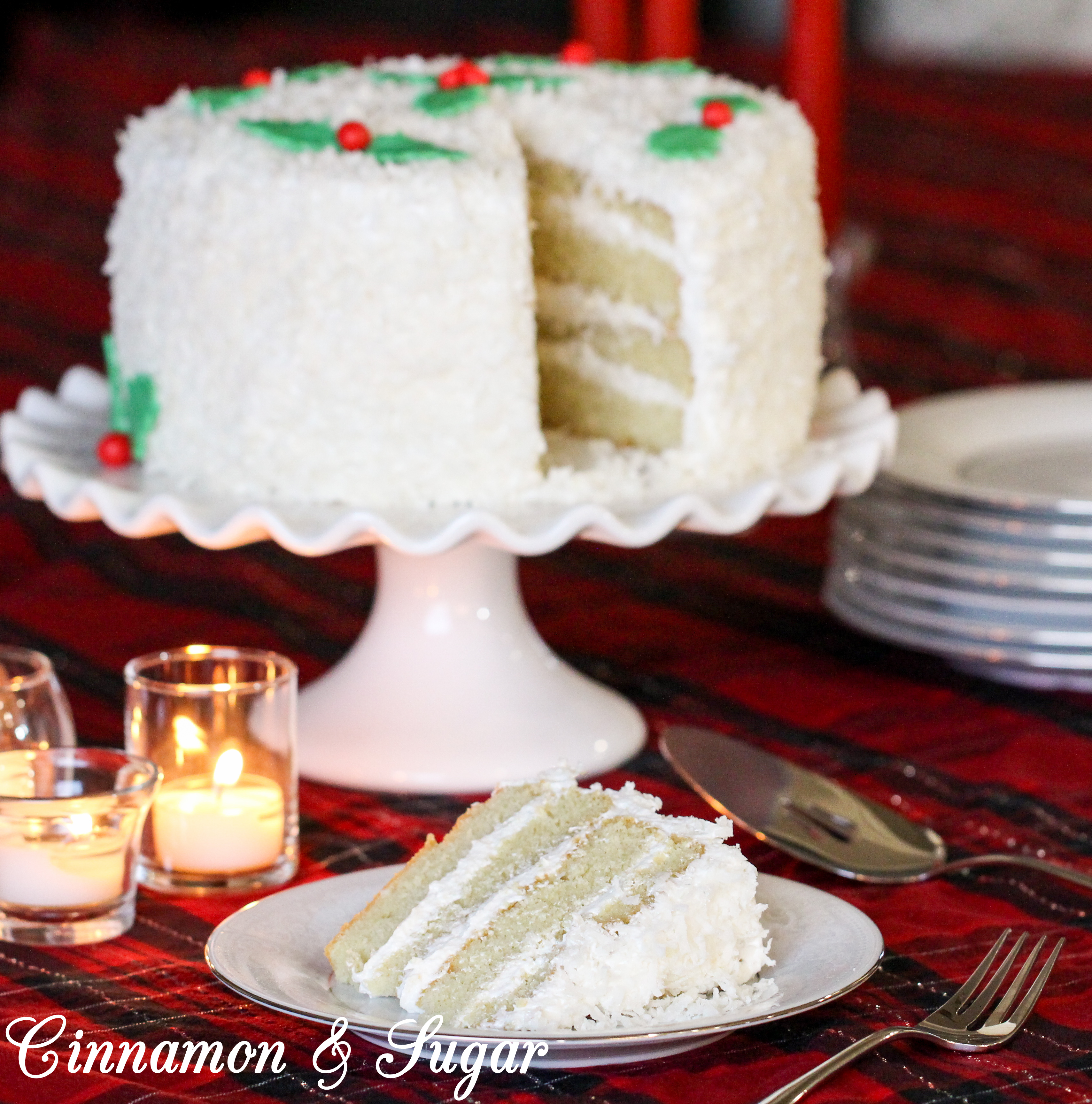 Ingredients
Cake

1/2 cup solid coconut oil
1-3/4 cups granulated sugar
5 egg whites
1 whole egg
1 teaspoon salt
3 teaspoons baking powder
1 teaspoon baking soda
1-1/2 teaspoons vanilla
1 cup unsweetened coconut milk (the author used Silk Coconutmilk)
2-1/2 cups all-purpose flour

Frosting

I doubled the following frosting ingredients for my 8-inch torted layer cake. It provides a very generous amount of filling and frosting, with some leftover. If you bake the cake in a 9 x 13-inch baking pan, the listed amounts will be more than sufficient.

1 stick (1/2 cup) margarine (softened)
1/2 cup Crisco shortening
1 cup granulated sugar
3 tablespoons flour
2/3 cup coconut milk (this should be tepid temperature and added slowly. The author uses Silk Coconutmilk.)
1/2 teaspoon vanilla
Flake coconut
Instructions
The author made this cake in a 9 x 13-inch baking pan. I baked the cake in two 8-inch round cake tins but the baking time remains the same.

Cake

Preheat oven to 375 degrees (F).
Using an electric mixer, cream the solid coconut oil with the sugar.
Add egg whites and whole egg slowly and mix until batter is smooth.
Add salt, baking powder, and baking soda. Mix until blended.
Add vanilla and coconut milk and mix just until blended.
Add flour, 1/2 cup at a time, mixing 2 minutes or until batter is smooth.
Pour evenly into a 9 x 13-inch greased and floured pan.
Bake at 375 degrees for 25 to 30 minutes or until toothpick comes out clean.

Frosting

Cream together the softened margarine and Crisco.
To this mixture add sugar, flour (one tablespoon at a time), coconut milk (add slowly), and vanilla.
Beat 8 to 10 minutes at high speed until frosting is smooth.
Spread over the cake and sprinkle the top with flake coconut.

Tip

The white frosting and coconut lends itself to decorating. I used fondant holly leaves and berries for a holiday themed cake.
https://cinnamonsugarandalittlebitofmurder.com/old-fashioned-coconut-cake/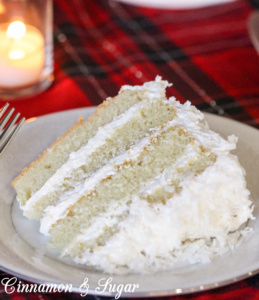 Pin to Pinterest: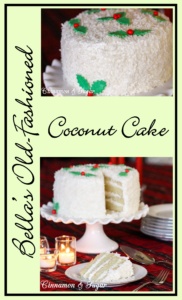 If you receive my blog post via email you will need to visit my website to view the video.
I received a copy in exchange for my honest review. All thoughts and opinions are my own.