Ever since Jenny Kales debuted her first cozy mystery, ON THE CHOPPING BLOCK, earlier this year I've been looking forward to the second installment in her Callie's Kitchen Mystery series! Fortunately, Jenny didn't disappoint and is celebrating the holidays with her new release SPICED AND ICED! First off, the cover is whimsically festive and invites a reader in for some Christmas cheer, cookies, and murder. Callie is an enjoyable protagonist and I would dearly love to spend some time with her in her kitchen baking up some of the delectable treats she serves at her restaurant. In addition to being a wonderful cook, Callie has a caring personality. She treats her employees, friends, and family with equal respect and love and is a good role model to her ten-year-old daughter. I so enjoy her relationship with her Greek father and especially her "Aunt" Sweetie, visiting from Greece. It provides an opportunity to learn some bits and pieces of Greek words, culture, and customs which adds character to a terrific story.
The murder mystery provided suspense and kept me turning pages wanting to find out what happens next, while there were plenty of suspects to keep me guessing. Callie's Grandma Viv and Aunt Sweetie also join in the sleuthing with humorous results as does the scenes where Callie finds out about the woman her father may or may not be dating. Callie is dating Detective Sands, who is in charge of the investigation. They are in the early stages of their romance but the author gives them room to grow, to learn to trust each other. I look forward to what is in store for them in future books.
And then there are the recipes the author includes with her book…so many yummy ones! Jenny graciously allowed me to share her husband's grandmother's recipe for Paximathia, Spiced Greek Biscotti which has been passed down through the family! I so love knowing that this recipe is a family tradition which makes it even more special in the sharing. Biscotti are wonderful cookies for several reasons: they're delicious and ideal for dunking into coffee, tea, or hot cocoa; they can be made several weeks ahead of time, which is perfect for gift giving around the hectic holiday season; they're sturdy so they ship well. These Paximathia are flavored with the Greek liqueur, Ouzo (although you can use anise extract instead) which lends a delicate spicy flavor and scent. Not too sweet, they can be "decorated" by drizzling some melted white chocolate over them. With Christmas right around the corner I drizzled melted red candy melts over them, then immediately sprinkled with red sparkling sugar for a festive look. Either way, your family and friends will thank you for such a thoughtful treat!
Amazon Synopsis
The season is bright when Calliope "Callie" Costas agrees to contribute her Greek snowball cookies to a December bridal shower at The English Country Inn in the scenic waterfront town of Crystal Bay, WI. But when Callie finds a colleague dead, she's sucked into another murder investigation — all while juggling her growing business and staggering holiday workload.
As she reluctantly agrees to help the Inn's owner track the killer, Callie is soon up to her spiced Greek biscotti in difficulties. For one thing, the hotel staff is freezing her out as she tries to uncover information, helped by her feisty Grandma Viv and her sweet but nosy aunt who's visiting from Greece. And then there's her deepening relationship with the suave and mysterious Detective Sands, a British expat now living in Wisconsin, who seems to have a few secrets of his own.
The icing on the cake is a host of simultaneous family mayhem including her father's surprising fixation on a real estate agent and her ex's plans to move back to Crystal Bay. As the Inn's annual Christmas Tea approaches, things are heating up in Callie's Kitchen, but she's on thin ice! Will Christmas be a festive celebration this year – or will it be murder?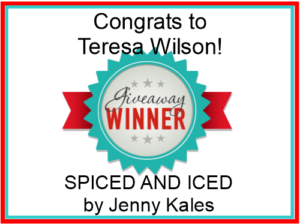 A huge thank you to Jenny Kales for providing an e-book copy of SPICED AND ICED for one lucky winner! Contest ends Monday, December 5, 2016 at 11:59 pm PST. Please use the Rafflecopter box located below the recipe to enter. The winner will be announced on this page and on Cinnamon & Sugar's Facebook page, as well as notified by email (so check your spam folder!)
Paximathia - Spiced Greek Biscotti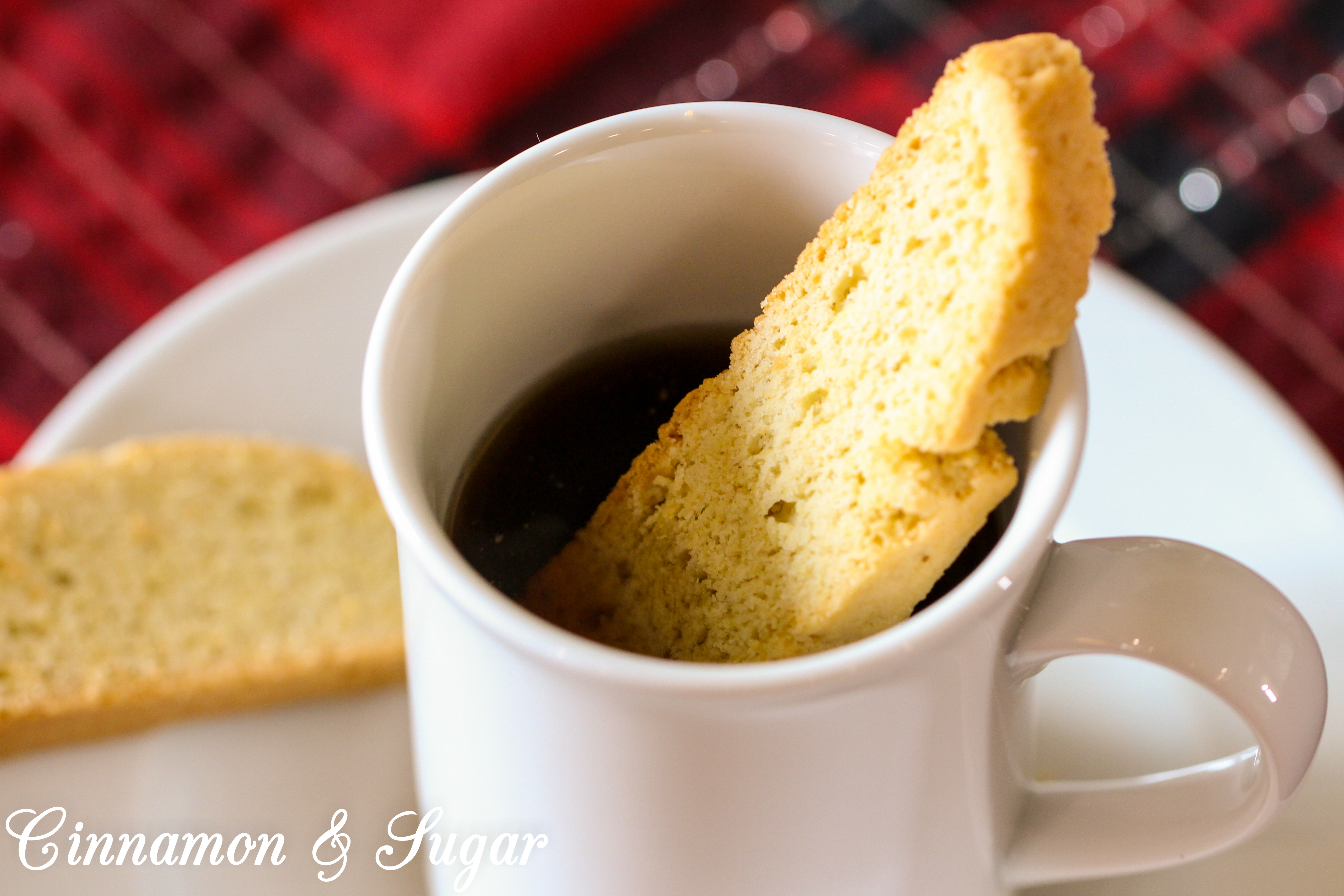 Ingredients
1-1/2 sticks (3/4 cup) unsalted butter, at room temperature
3/4 cup granulated sugar
3 large eggs, beaten
1 tablespoon olive oil (or canola oil)
2 ounces of ouzo (Greek liqueur) or 2 teaspoons pure anise extract
3 cups flour (if using 2 ounces of ouzo) OR 2-3/4 cup if using anise extract
1/2 teaspoon baking powder
1 teaspoon baking soda
Instructions
Preheat oven to 350 degrees F.
Mix together flour, baking powder and baking soda. Set aside.
Cream butter until light and fluffy and gradually beat in sugar.
Mix in the beaten eggs, oil and ouzo or anise extract. Add dry ingredients gradually until incorporated. The dough will be sticky, but should not be too loose. You should be able to form loaves with it.
Spray a large baking sheet with Pam spray or use baking parchment paper. You need one of your bigger baking sheets, as the dough spreads out during baking.
Pat dough into two loaves, about 1 inch high and 1-1/2 wide. Don't place loaves too close together, or they will join together while baking.
Bake for 30 minutes.
Remove baking sheet from oven and allow the loaves to cool undisturbed for 15 minutes.
Using a sharp knife, slice each loaf diagonally into slices 1/2 inch to 3/4 inch thick.
Lower oven temperature to 250 degrees F.
Turn biscuits on their sides on the baking sheet and dry slowly in oven for an additional 50 minutes, turning biscuits over once.
Allow cookies to cool completely. They can be stored in airtight container or Ziploc bag for up to 3 weeks.
Makes two dozen.

Tips

If dough is too sticky to work with, refrigerate for 30 minutes before forming loaves.
Spritz your hands with non-stick cooking spray before patting into loaves.
A serrated bread knife works well for slicing the loaves into cookies.
These are the perfect cookies for gifting during the holidays since they can be made several weeks in advance! Plus, they are sturdy enough for shipping.
https://cinnamonsugarandalittlebitofmurder.com/biscotti/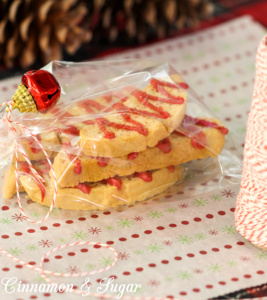 Pin to Pinterest: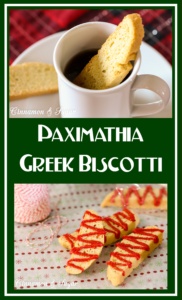 If you receive my blog post via email you will need to visit my website to view the video.
I received a copy in exchange for my honest review. All thoughts and opinions are my own.