MURDER ON CAPE COD is the first book in the brand new Cozy Capers Book Group Mystery series by Maddie Day. This delightful book introduces us to protagonist MacKenzie "Mac" Almeida, owner of Mac's Bikes, which caters to tourists visiting the quaint town. I admire Mac for being super handy and she not only runs her business but also does the bike repairs herself. I also enjoy the way the author portrays women succeeding in traditionally male-dominated roles in this new book. Ms. Day has created a great cast of supporting, loveable characters for Mac. I adore her grandmother, who is ready to jump in and help Mac out, despite having a busy life. She has supportive parents and her brother, Derrick, is a single dad raising his young daughter. It's heartwarming to see the family pull together to raise the darling little girl. Another character that steals the pages she is featured on, is Mac's African Grey Parrot. The bird's amazing vocabulary brings humor in each scene.
When Derrick is accused of murdering a down-on-his-luck man, Mac and her cozy mystery book club comes together to help clear his name. I loved that one of the club's members is the town's former Chief of Police. While he doesn't solve the crime, he does provide some guidance for the amateurs. It's entertaining how the group relies on tips and tricks they've gleaned from cozy mysteries in order to investigate and follow along as they hunt for the killer. The author provide lots of books and author mentions on the pages and I found it a great way to add to my TBR list. Like a good cozy mystery, the author provides plenty of suspects that must be scrutinized and there are some emotional subplots that add to the depth of the story. The exciting conclusion brought all the threads together for an entirely satisfactory read!
Mac's boyfriend, Tim, runs a bakery and likes to share his delicious treats. He bakes a delectable Cranberry Orange Bread which Ms. Day provides the recipe for, along with other yummy dishes. I appreciated the use of fresh (or frozen) cranberries, versus the usual dried cranberries. The tartness of the cranberries combined with the zing of fresh orange zest and juice brings a refreshing taste and the added crunch of nuts brings a delicious texture to this not-too-sweet breakfast bread. I appreciated that the recipe doesn't over-do the vegetable oil and instead relies on the fruit and buttermilk for both flavor and moistness. This Cranberry Orange Bread is delicious on its own or add a smear of butter or cream cheese and settle in to enjoy with a piping hot cup of tea or coffee!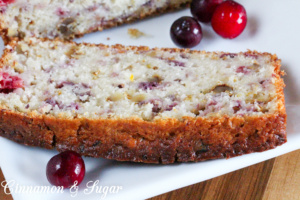 Goodreads Synopsis
A Cape Cod shop owner and her book club must find a crafty killer in this charming new series from the Agatha-nominated author of the Country Store Mystery series.
Summer is busy season for Mackenzie "Mac" Almeida's bicycle shop, nestled in the quaint, seaside hamlet of Westham, Massachusetts. She's expecting an influx of tourists at Mac's Bikes; instead she discovers the body of Jake Lacey. Mac can't imagine anyone stabbing the down-on-his-luck handyman. However, the authorities seem to think Mac is a strong suspect after she was spotted arguing with Jake just hours before his death. Mac knows she didn't do it, but she does recognize the weapon—her brother Derrick's fishing knife.
Mac's only experience with murder investigations is limited to the cozy mysteries she reads with her local book group, the Cozy Capers. So to clear her name—and maybe her brother's too—Mac will have to summon help from her Cozy Capers co-investigators and a library's worth of detectives' tips and tricks. For a small town, Westham is teeming with possible killers, and this is one mystery where Mac is hoping for anything but a surprise ending…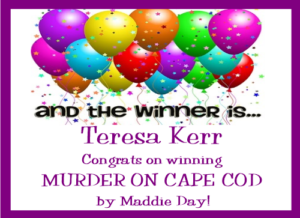 A special thanks to Maddie Day for providing a winner with a print copy of MURDER ON CAPE COD. Contest ends Friday, January 4, 2019 at 11:59 pm PST and is limited to U.S. residents. Please use the Rafflecopter box located below to enter. The winner will be announced on this page and on Cinnamon & Sugar's Facebook page, as well as notified by email (so check your spam folder!)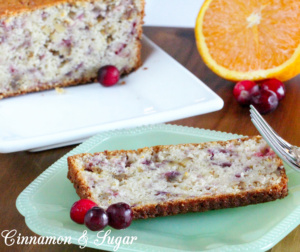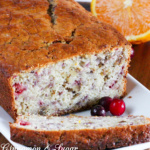 Tim's Cranberry Orange Bread
Mac Almeida's boyfriend, baker Tim Brunelle, makes this yummy quick bread for Greta's Grains. Bake a day ahead of time for easiest slicing.
Ingredients
2

cups

unbleached white flour

3/4

cup

sugar

1-1/2

teaspoons

baking powder

1/2

teaspoon

baking soda

1/2

teaspoon

salt

Zest and juice of one orange. If juice doesn't equal 3/4 cup add orange or cranberry juice to supplement

3/4

cup

buttermilk

1

egg

3

tablespoons

vegetable oil

1

cup

cranberries, fresh or frozen

1/2

cup

chopped nuts, optional
Instructions
Preheat oven to 350 degrees. Grease a 9"-x-5" loaf pan with butter.

Chop cranberries in a food processor or by hand.

In a large bowl, mix flour, sugar, baking powder, baking soda, and salt.

Make a well in the center and stir in the egg with a fork. Add the orange zest, juice, buttermilk, oil, cranberries, and nuts, and stir until just mixed. Do not beat or overmix.

Pour batter into the loaf pan. Bake for 55 to 65 minutes, until a knife or toothpick inserted into the center of the loaf comes out clean and the bread starts to pull away from the edges of the pan. Remove it from the oven and let cool on rack for fifteen minutes, then turn it out of the pan to cool completely.

Enjoy with butter or cream cheese and a cup of your favorite coffee.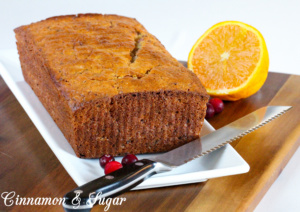 Pin to Pinterest:
If you receive my blog post via email you will need to visit my website to view the video.
I was provided an advance copy with the hopes I would review. All thoughts and opinions are my own.