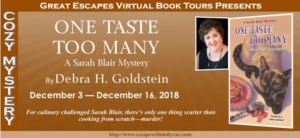 ONE TASTE TOO MANY is the first book in the brand new Sarah Blair Mystery series by Debra H. Goldstein. Protagonist, Sarah Blair, gets pulled into investigating her nasty ex-husband's murder when her twin sister, Emily, becomes the number one suspect. As Sarah starts asking questions, she finds that her ex-husband's girlfriend, Jane, seems to have her finger in a lot of things… including claiming ownership of Sarah's cat, Rah-Rah. I loved Sarah's sweet relationship with Rah-Rah and her ongoing conversation with the Siamese. It shows additional insight into Sarah's personality. I was intrigued with the author placing the setting and several scenes at a Food Expo, where Emily, as a talented sous-chef, has to both demonstrate how to prepare dishes and participate in a competition. Sarah, on the other hand, is not a cook… at all. Entertainment is provided when Sarah has to step in for Emily and provide a food demonstration, despite her lack of cooking abilities. It highlights their close relationship with each other and I enjoyed how they support each other no matter what.
The author weaves several subplots into the central murder mystery, providing lots of twists and turns with many suspects. I had a bit of trouble following how it all interrelated at times but in the end, the threads wrapped up together in a satisfying conclusion. There are also lots of characters introduced in this first book but I think it could be providing set up for future installments. Overall ONE TASTE TO MANY is a good start to a new series. I look forward to seeing what mysteries find Sarah and Rah-Rah in future installments.
Since Sarah isn't a cook at all, when she's put in the spotlight to demonstrate a dish at the Food Expo, she turns to a convenience product standby and creates Jell-O in a Can. This classic recipe from the 1950's was a hit with the less-than-adept cooks attending her demonstration. I'll admit I haven't prepared Jell-O in years but found that my granddaughter was enthralled with it. From the sweet, jiggling treat to the juicy pineapple… is it a dessert or a salad? We finally decided it's good for both! I garnished with maraschino cherries for a festive look, but you can always add them (or any other fruit) to the can before you pour in the liquid Jell-O. Either way, sometimes it's fun to revisit classic, old-time recipes!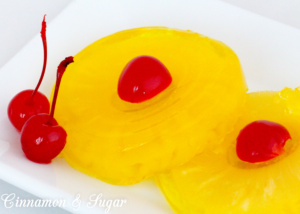 Amazon Synopsis
For culinary challenged Sarah Blair, there's only one thing scarier than cooking from scratch—murder!

Married at eighteen, divorced at twenty‑eight, Sarah Blair reluctantly swaps her luxury lifestyle for a cramped studio apartment and a law firm receptionist job in the tired hometown she never left. With nothing much to show for the last decade but her feisty Siamese cat, RahRah, and some clumsy domestic skills, she's the polar opposite of her bubbly twin, Emily—an ambitious chef determined to take her culinary ambitions to the top at a local gourmet restaurant . . .

Sarah knew starting over would be messy. But things fall apart completely when her ex drops dead, seemingly poisoned by Emily's award-winning rhubarb crisp. Now, with RahRah wanted by the woman who broke up her marriage and Emily wanted by the police for murder, Sarah needs to figure out the right recipe to crack the case before time runs out. Unfortunately, for a gal whose idea of good china is floral paper plates, catching the real killer and living to tell about it could mean facing a fate worse than death—being in the kitchen!

A special thanks to Deborah H. Goldstein for providing THREE copies of ONE TASTE TOO MANY for three lucky winners! Contest ends December 16, 2018 at 11:59 pm and is limited to U.S. residents. Please use the Rafflecopter box located below the recipe to enter. The contest is administered by Great Escapes Virtual Book Tours and the winner will be announced on this page as well as notified by email (so check your spam folder!)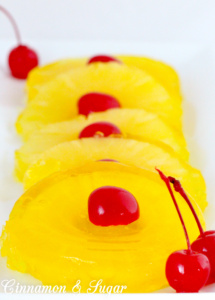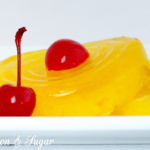 Jell-O in a Can
In the 1950's, Jell-O and Dole Pineapple joined forces to create the Jell-O in the Pineapple Can recipe.
Ingredients
1

20-ounce

can of sliced pineapple*

1

3-ounce

package of Jell-O gelatin, any flavor choice

1

cup

boiling water

Optional: 1 banana or other type of fruit
Instructions
Open the can and pour off the pineapple juice but leave the pineapple in the can.

Dissolve the Jell-O in boiling water and permit it to cool slightly before pouring the Jell-O and water mixture into the can, over the pineapple. If desired, place the banana or other fruit in the center of the rings of pineapple.

To serve, run a knife around the inside of the can and tip it out. (Before rimmed flip-top cans, one pushed the jelled mixture through and out, using the bottom of the can.)

Slice between the pineapple rings and serve.
Tip
*Be careful if using a pull-top can because the can's lip won't allow the Jell-O and pineapple to slip out as smoothly as from cans which can only be opened with can openers.

Pin to Pinterest: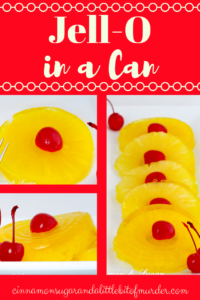 If you receive my blog post via email you will need to visit my website to view the video.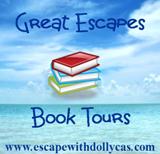 TOUR PARTICIPANTS
December 3 – Book Babble – REVIEW
December 3 – Babs Book Bistro – SPOTLIGHT
December 4 – Mallory Heart's Cozies – REVIEW, GUEST POST
December 5 – The Pulp and Mystery Shelf – CHARACTER GUEST POST
December 6 – Sneaky the Library Cat's Blog – CHARACTER INTERVIEW
December 6 – My Reading Journeys – REVIEW
December 7 – Christa Reads and Writes – REVIEW
December 7 – Celticlady's Reviews – SPOTLIGHT
December 8 – A Blue Million Books – AUTHOR INTERVIEW
December 8 – Here's How It Happened – SPOTLIGHT
December 9 – Cozy Up With Kathy – REVIEW, AUTHOR INTERVIEW
December 9 – Mystery Thrillers and Romantic Suspense Reviews – SPOTLIGHT
December 10 – StoreyBook Reviews – REVIEW
December 10 – Readeropolis – SPOTLIGHT
December 11 – Brooke Blogs – SPOTLIGHT
December 11 –A Wytch's Book Review Blog – CHARACTER GUEST POST
December 12 – Moonlight Rendezvous – REVIEW, GUEST POST
December 12 – Escape With Dollycas Into A Good Book – REVIEW, GUEST POST
December 13 – MJB Reviewers – REVIEW, AUTHOR INTERVIEW
December 13 – A Holland Reads – SPOTLIGHT
December 14 – The Avid Reader – REVIEW
December 14 – Cinnamon, Sugar and a Little Bit of Murder – REVIEW, RECIPE
December 15 – Cassidy's Bookshelves – REVIEW
December 15 – Socrates' Book Reviews – REVIEW
December 16 – Melina's Book Blog – REVIEW
December 16 – Bibliophile Reviews – REVIEW, GUEST POST
I was provided an advance copy with the hopes I would review. All thoughts and opinions are my own.