STEAMED OPEN, the seventh book in the Maine Clambake Mysteries by Barbara Ross, captured my attention from the very beginning and held it until the very last word was read! I've been a long-time fan of this series and picking up this newest release was like sitting down and having a reunion with special friends that I haven't seen in a year. Ms. Ross is tops in her league at creating memorable characters that readers feel can become close friends. And as happens (hopefully) in real life, these characters grow, change, and become better people from the events that shape them. Even though STEAMED OPEN is easily read as a stand-alone, I whole-heartedly recommend reading in order (if possible) to fully appreciate the skill Ms. Ross exhibits in creating her characters.
Protagonist Julia Snowden and her family own and operate a clambake on their family's private island. It's mid-August in Maine and the tourists are out in force. Ms. Ross paints a beckoning description of the town and the island during summer season, enticing the reader to take a virtual vacation. I would dearly love to visit this area in real life after reading this series! But, it's not all fun in the sun for Julia and her family when a murder hits the town. The story is tightly plotted with twists and turns to keep the reader guessing. The subplots are riveting and adds an extra layer of intrigue to the book. I've been long curious (as has Julia) about her boyfriend's past and his reluctance to open up. We're finally given a glimpse into his secrets which makes him all that more meaningful to the story. I also appreciated the bits and pieces of information the author adds about clams, lighthouses, and the plight of seasonal fishermen and workers, and how difficult it is for them to make a living in the area. The author wove in the facts without ever detracting or slowing down the exciting story.
Julia, her family and friends, all enjoy lots of delectable food both on the island during clambake and in town. The descriptions will leave the reader hungry but fortunately Ms. Ross includes several recipes at the back of the book to satiate any appetite. I was drawn to the recipe for Ma's Sour Cream Coffee Cake because it's a recipe handed down from the author's grandmother. What a wonderful keepsake! The fact that my taste testers told me this recipe is a "keeper" says it all! I loved that it bakes in a tube or bundt pan, which makes an elegant presentation for serving. Cinnamon and walnuts give a nice textural crunch, while the sour cream adds tang and moistness. Honestly this is a yummy breakfast or brunch treat but with a drizzle of an easy powdered sugar glaze, it's perfect for dessert too!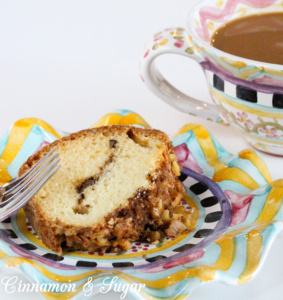 Amazon Synopsis
It's summertime in Busman's Harbor, Maine, and the clamming is easy—or it was until a mysterious new neighbor blocks access to the beach, cutting off the Snowden Family Clambake's supply. Julia Snowden is just one of many townspeople angered by Bartholomew Frick's decision. But which one of them was angry enough to kill?

Beachcombers, lighthouse buffs, and clammers are outraged after Frick puts up a gate in front of his newly inherited mansion. When Julia urges him to reconsider, she's the last to see him alive—except the person who stabs him in the neck with a clam rake. As she pores through a long list of suspects, Julia meets disgruntled employees, rival heirs, and a pair of tourists determined to visit every lighthouse in America. They all have secrets, and Julia will have to work fast to expose the guilty party—or see this season's clam harvest dry up for good.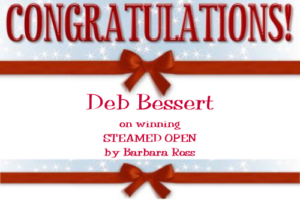 A special thanks to Barbara Ross for providing a winner with a print copy of STEAMED OPEN. Contest ends Sunday, December 23, 2018 at 11:59 pm PST and is limited to U.S. residents. Please use the Rafflecopter box located below to enter. The winner will be announced on this page and on Cinnamon & Sugar's Facebook page, as well as notified by email (so check your spam folder!)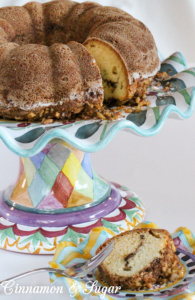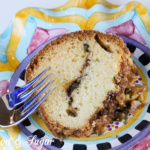 Ma's Sour Cream Coffee Cake
Author's Note: This recipe is from a book of handwritten cards given to me by my grandmother the Christmas before she died. It is delicious and smells wonderful as it bakes.
Ingredients
For the cake
2

cups

flour

1

teaspoon

baking soda

1

teaspoon

baking powder

1

stick

salted butter, softened (1 quarter pound)

1

cup

sugar

2

eggs

1/2

pint

(8 ounces) sour cream
For the "topping"
1

cup

chopped walnuts

1

teaspoon

cinnamon

2

tablespoons

brown sugar
Instructions
Preheat oven to 375 degrees (F).

Using a mixer, mix the ingredients for the cake until smooth and integrated.

Using your fingers, mix the "topping ingredients.

Pour one half of the cake mixture into a greased tube pan. Sprinkle one half of the "topping" over it.

Pour in the rest of the cake mixture. Sprinkle the rest of the "topping" over the top.
Cinnamon & Sugar's Notes
After baking, cool in pan for 10 minutes then invert onto a serving platter. Allow to cool at least another 15 minutes before slicing to serve. If desired, you can dust the top of the coffee cake with confectioners' sugar right before serving or drizzle with confectioners' sugar mixed with a little milk.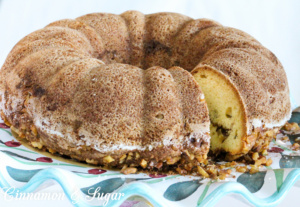 Pin to Pinterest: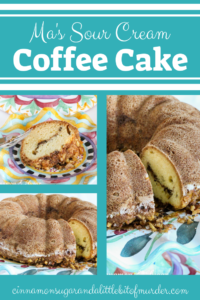 If you receive my blog post via email you will need to visit my website to view the video.
I was provided an advance copy with the hopes I would review. All thoughts and opinions are my own.