A huge thank you to Kate Carlisle for providing an Audible copy of the new release, A WRENCH IN THE WORKS, to one lucky winner!
Contest is now closed
I'm re-sharing my review of the book along with the recipe originally posted in November:
A WRENCH IN THE WORKS, the sixth book in the Fixer-Upper Mysteries by Kate Carlisle, is an entertaining addition to a delightful series! Protagonist Shannon Hammer's sister, Chloe, is the co-star of Make-Over Madness on the Home Builders Network. Chloe has brought the show to Lighthouse Cove for a feature on Victorian houses (something Lighthouse Cove is famous for) and has talked Shannon into being on the program renovating a decrepit home. I loved the "behind-the-scenes" tricks on the do-it-yourself home renovation television show and the author has cleverly woven her plot into the filming of the segments. The reader is also introduced to words and techniques used to restore the historical homes. I enjoyed learning about the various tools, Victorian styles, and repairs that are used without it detracting from the story.
The book has everything you might think a reality tv program might have from a tyrannical producer to jealousy over stardom to flirtations to comradery between the staff. When the producer is found murdered, Chloe is immediately a suspect since she had been fired and was heard loudly arguing with the victim. Shannon wants to help but finds her sister has been harboring a long-time secret. It doesn't help that Chloe had been on the wrong side of the law in her youth and has a strong mistrust of authority. Ms. Carlisle weaves in family relationships and I loved seeing Shannon and her sister learn to overcome the past and the secrets that kept them apart. This subplot adds an emotional depth to the story. There are enough suspects to keep it interesting and the pace of the plot moves quickly, keeping the storyline flowing. I had a hard time putting the book down when it was time to tend to other responsibilities and I found myself trying to find time to squeeze in 'just one more chapter'. I am counting down the days until the next installment in the Fixer-Upper Mystery series!
While this book doesn't have recipes, Emily, the town's caterer, provides many yummy treats for the television crew to munch on during the shoots. One of the goodies Emily provides is Cream-Filled Maple Bars. Shannon almost swoons from the 'intoxicating blend of luscious creamy custard, fluffy doughy wonderfulness, and maple sugared yumminess!' So I set about to develop my own recipe that would make Shannon and Emily proud to serve. While these are quite a bit of work, the results are oh so yummy! Sweet yeast dough is deep-fried until golden brown and then filled with a creamy vanilla filling. Pure maple syrup brings loads of flavor to the thick icing for the finishing touch. Whether you like coffee, tea, or a big glass of ice cold milk, these Cream-filled Maple Bars will make breakfast or break time delicious!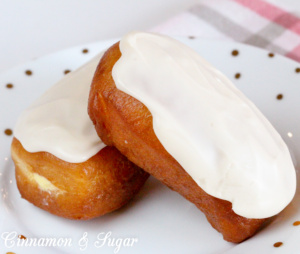 Amazon Synopsis
Contractor Shannon Hammer has to dig through murder suspects in the latest Fixer-Upper Mystery from the New York Times bestselling author of Eaves of Destruction and Once Upon a Spine.
Don't miss the Hallmark Movies & Mystery Originals starring Jewel, based on the Fixer-Upper Mystery series!
Shannon Hammer's younger sister Chloe left Lighthouse Cove after high school to make it big in Hollywood. And she did it! For several years now, Chloe has been the co-host of a popular home repair show on the Do-It-Yourself Network. Now, after ten years, Chloe returns to Lighthouse Cove with her crew and co-host to film several shows featuring her sister Shannon, along with some special mini-segments on Victorian style and design.
But Shannon realizes quickly that things are not exactly blissful in TV land. Her sister's handsome co-host is being stalked by someone who turns out to be his estranged wife, Erica–who also happens to be the executive producer of the show. Erica's got a knack for stirring up sticky situations and when she's found dead, Chloe and the entire crew are under suspicion.
Shannon soon discovers the real reason why Chloe was so eager to move away from Lighthouse Cove all those years ago. Can Shannon figure out if that ten-year-old secret is connected to Erica's death? And can she track down the real killer before her beloved sister becomes the next victim?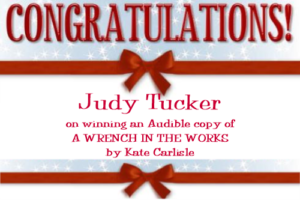 A special thanks to Kate Carlisle for providing an audible copy of A WRENCH IN THE WORKS. Contest ends Sunday, December 30, 2018 at 11:59 pm PST. Please use the Rafflecopter box located below to enter. The winner will be announced on this page and on Cinnamon & Sugar's Facebook page, as well as notified by email (so check your spam folder!)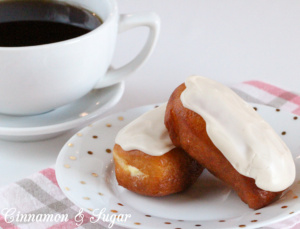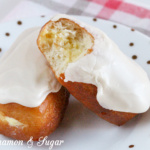 Cream-Filled Maple Bars
Ingredients
Donuts
4

teaspoons

active dry yeast

1

tablespoon

granulated sugar

1/4

cup

warm water (103 - 106 degrees F)

1

cup

warm whole milk (103 - 106 degrees F)

1/4

cup

butter, softened to room temperature

1/4

cup

granulated sugar

1/2

teaspoon

salt

1

egg

3 to 3-1/2

cups

all-purpose flour

Vegetable oil
Cream Filling
1

(3.4 ounce)

package instant vanilla pudding

1-1/2

cups

cold milk

1/2

cup

Cool Whip
Maple Glaze
3

cups

confectioners' sugar

1/3

cup

pure maple syrup

1/2

teaspoon

maple extract

2 - 4

tablespoons

milk
Instructions
Donuts
Place water, sugar, and yeast in the bowl of a standing mixture and allow to sit until bubbly, about 5 minutes.

With a dough hook, mix in the butter, remaining sugar, salt and egg, then slowly pour in the warm milk. Add 3 cups of the flour. Once the flour has been incorporated, add in additional flour until the dough is tacky but not overly sticky.

Once the flour is incorporated, knead on low speed for 3 minutes then cover and let rise until doubled, about one hour.

Once doubled, punch down the dough and place on a lightly floured surface. Roll into a large rectangle (about 12-inches x 8-inches).

Cut into small rectangles (3-inches x 1-inch). Place on parchment-lined baking sheets (6 donuts per sheet). Cover and let rise until double, around 30 minutes.

Pour vegetable oil, 3-inches deep, into a pot. Heat oil to 350 degrees (F) then place 3 donuts into the hot oil and fry until golden brown. Flip over and fry until browned. Remove and allow to cool on paper towel-lined wire racks. Repeat with remaining donuts. Cool completely before filling.
Cream Filling
While the dough is rising, place the instant pudding into a bowl and whisk the cold milk until smooth, about 2 minutes. Fold in the Cool Whip. Refrigerate until the donuts have cooled completely.

Place cream filling into a piping bag fitted with a small round tip (or in a ziplock bag with the corner slightly snipped). Poke a hole in the short end of a donut and pipe the filling into the donut. Repeat with remaining donuts and filling.
Maple Glaze
Place the confectioners' sugar into a medium-sized bowl. Whisk the maple syrup into the sugar along with the maple extract. Stir in 2 tablespoons milk. Add additional milk, 1 teaspoon at a time, until glaze reaches desired consistency.

Spread over the filled donuts and serve.
Notes
Best served right away. You may store leftover donuts in the refrigerator, in an airtight container, for up to 2 days.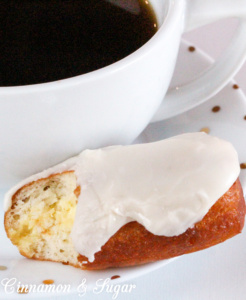 Pin to Pinterest: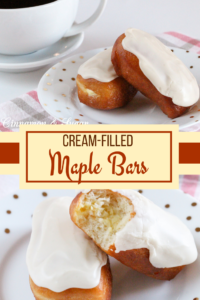 I was provided an advance copy with the hopes I would review. All thoughts and opinions are my own.