I have read several books in Kate Carlisle's Bibliophile Mystery series and have loved each of them…while vowing I will finish the ones I missed! When I met up with Kate at Left Coast Crime (by this point you're probably thinking I'm an author stalker!!!) we talked about her books and the lack of recipes included in most of them. Kate told me she had created some wine based recipes for her newest book, RIPPED FROM THE PAGES, and even though they weren't included in the book, she was happy for me to share her Pasta with Bacon and White Wine Sauce recipe with you. You can also visit her website for more recipes that she developed with this book in mind. (You can find the Links to Authors on the right sidebar.)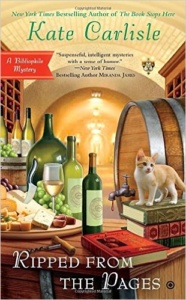 RIPPED FROM THE PAGES takes book restoration expert, Brooklyn Wainwright, and her boyfriend, Derek Stone, back to Dharma, located in Sonoma wine country. They are remodeling their loft apartment in San Francisco and agree to housesit for one of Brooklyn's parents' neighbors for two months. Under the guidance of Guru Bob (although no one would dare call him that to his face) Dharma's winery is finally building a wine cave tasting room and the entire town shows up to watch the giant roadheader punch through the solid rock.
The project has barely started when the machine bores through a wall instead of rock. No one knew the inner room existed and Brooklyn tags along with her brothers and Derek, to investigate. Peeking into the fractured wall, Brooklyn finds the room filled with antique treasures… and a dead body. Once the wall is opened, they examine the body and discover the man, Jean Pierre Renaud, was shot and had then been enclosed in the room for 70 years! Brooklyn looks through the man's suitcase, searching for clues, and finds a French 1867 Jules Verne book, Journey to the Center of the Earth. Inside the book are inscriptions, written in blood, along with a map. The inscriptions were written by Jean Pierre Renaud and Guru Bob's grandfather, Anton, when they were young boys.
Brooklyn's pursuit into finding answers for the 70-year-old mystery takes her into the history of war-torn France and the families who suffered and escaped Nazi occupation. Guru Bob's grandfather had been in charge of spiriting his village's treasured heirlooms out of the country and safeguarding them until after the war. But instead of the treasures being returned, they disappeared. As word of the priceless find spreads around the country, Dharma is flooded by news reporters and tourists anxious to see the works of art…or even get their hands on them. When Guru Bob's elderly Aunt Trudy is attacked in her home and her companion murdered, Brooklyn's search for the culprit becomes personal.
There are so many things to love about RIPPED FROM THE PAGES! Kate does a fantastic job of setting the stage for making you feel like you're a part of the story…and will make you want to go visit Sonoma wine country soon! You can feel the rumble of the huge machinery, choke on the dust trying to get into the room, and of course taste the delectable wines Dharma is famous for. She also effortlessly incorporates elements on how to restore a book, without detracting from the story. It was wonderful spending time in Brooklyn's hometown with the memorable characters (I love Brooklyn's mom, Becky!) who added to the authenticity of the story. Of course the plot will keep you on the edge of your seat and it was a complete surprise when the answers for both the 70-year-old mystery and the current day mystery were revealed.
And just as Kate is a talented author, she is also a talented recipe developer! Pasta with Bacon and White Wine Sauce, with it's simple yet fresh ingredients, combines to make a memorable, easy to make dish. Thank you, Kate, for allowing me to share your tasty recipe!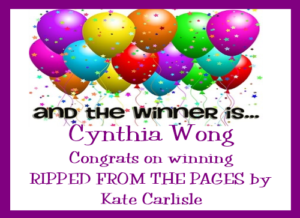 I have an autographed hardover copy for one lucky winner! Please use the Rafflecopter box located below the recipe to enter. Contest is open to U.S. residents only and ends Monday, May 2, 2016 at 11:59 pm PST. Winners will be announced on this page and on Cinnamon & Sugar's Facebook page, as well as notified by email (so check your spam folder!)
If you are not the winner, be aware that the Mass Market Paperback version of RIPPED FROM THE PAGES is releasing May 3rd, so be sure to pick up a copy!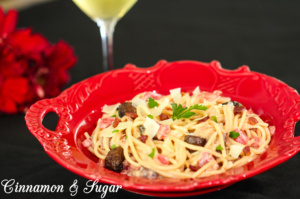 Pasta with Bacon and White Wine Sauce
Ingredients
6 medium tomatoes
8 slices of bacon, chopped
6 baby portobello mushrooms, quartered
2 cups white wine
1 cup heavy cream
1 teaspoon sugar
1/4 teaspoon red pepper flakes
8 ounces dried spaghetti (gluten-free pasta is fine too)
Parmesan
Salt & Pepper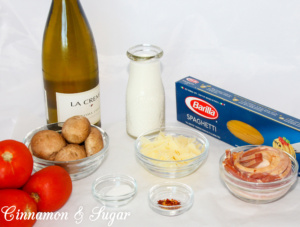 Instructions
Heat water to boiling, but don't put the spaghetti in it yet. Instead, submerge the six tomatoes in the boiling water until their peels split, then put them in a bowl of ice water to cool them down.
After they're cool, peel them, seed, and roughly chop.
Cook the spaghetti according to package directions.
Preheat a round pan with deep sides over medium heat. Cook bacon pieces in the pan until sizzling but still pink, stirring often.
Add the mushrooms and saute until the bacon is crispy. Set the bacon and mushrooms aside.
Drain all but 2 tablespoons of the oil.
Add the white wine to the hot pan. Simmer for five minutes, then stir in the cream, sugar, and red pepper flakes.
After three minutes, add the bacon, mushrooms, tomatoes, and spaghetti. Toss to coat thoroughly.
Season with Parmesan cheese, salt, and pepper to taste.
Tips
It will be easier to chop the bacon into small pieces if you freeze the bacon slices while you gather the ingredients, then chop.
Reserve a couple tablespoons of the bacon and mushroom after crisping, and use for garnish.
I like a thick sauce that really clings to the pasta. There are two tricks to thickening this mouthwatering sauce if that's your preference: You can cook the spaghetti to 1 minute under al dente. Drain and immediately add to the sauce as called for above, but simmer together 2 – 3 minutes, until pasta reaches your desired firmness. The starch from the pasta will thicken the sauce as it absorbs. Stir in 2 – 3 tablespoons grated Parmesan cheese
Alternately, mix 1 teaspoon cornstarch with 1 teaspoon cold water or wine. Stir dissolved cornstarch into the sauce just before adding the tomatoes and bacon. Allow the mixture to simmer for 1 minute then add 2 – 3 tablespoons grated Parmesan cheese and proceed with the recipe directions.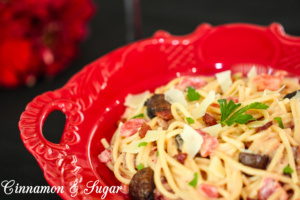 If you receive my blog post via email you will need to visit my website to view the video.