I am so pleased to be able to introduce you to debut author, Leslie Karst, who is celebrating the release of her brand new book this week, DYING FOR A TASTE! I met Leslie at Left Coast Crime in Phoenix (I am SO glad I decided to attend) and after talking a bit about her book I knew I needed to read it sooner rather than later… and it exceeded my expectations!
Sally Solari, former attorney, is helping run her father's old-school Italian restaurant after her mother passed away. The long-time multi-generational family restaurant sits at the end of a wharf in Santa Cruz, California with spectacular views of Monterrey Bay. Sally would rather be in the kitchen learning to be a chef instead of managing the business side of things, but her father doesn't think women belong in the kitchen. Sally's Aunt Letta rebelled against the tradition, left the family business, and started her own restaurant, Gauguin. Aunt Letta has been mostly estranged from her family for many long years, but Sally connected to her and considers herself close to her aunt.
It comes as a heartbreaking shock when Aunt Letta is found stabbed to death with Sous Chef Javier's personal knife. The police are almost certain Javier is the killer….he had an unrequited love for his boss….and his arrest is imminent. Sally is certain of Javier's innocence, even with incriminating evidence mounting, and she decides she needs to find the truth. As she starts asking questions and digging into her aunt's past, she finds her aunt had been hiding long buried secrets that maybe should have been left hidden, especially when the killer sets their eyes on her.
There were so many things to love about this fast-paced debut mystery! A tightly woven plot with memorable characters parading across the pages kept me turning pages and left me feeling regret when I had to put the book down to attend to other responsibilities. But what I truly loved about DYING FOR A TASTE is not only was it an entertaining read, Leslie gives it a voice of social consciousness. She deftly weaves social issues and prejudices into the plot that is thought provoking without being heavy handed. It's refreshing to come across a book that can combine both entertainment and realism while tackling the issues relevant to our society today. Well done, Leslie! I truly look forward to your next book!
Leslie, like her protagonist Sally, was an attorney before going to cooking school. She has some amazing recipes in DYING FOR A TASTE and has allowed me to share Seared Pork Chops with Apricot Brandy Sauce, which is one of the dishes Aunt Letta served at Gauguin. I'll be honest, cooking meat that is the center of attention scares me. I'm a competent baker and good with veggies, chicken, and fish but I'm very insecure when it comes to showcasing pork or beef on the plate. However, I decided to be challenged and try this recipe…and I think my photos and the video at the bottom of the page speak for the end results 🙂 Leslie's instructions were easy to follow and not time-consuming, resulting in succulent, flavorful pork chops that are covered with a gorgeous jewel-toned pan sauce that is company worthy! But, since the dish cooks so quickly it will earn a regular rotation in my weekday meals too. The apricot brandy sauce would be incredible on chicken or fish as well, making it very versatile. Thank you, Leslie, for allowing me to share your exquisite dish and for building my culinary confidence!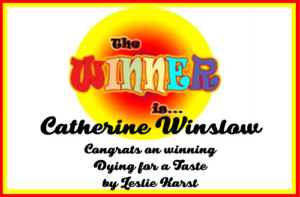 A special thanks to Crooked Lane Books for providing a hardcover copy to one lucky winner! Please use the Rafflecopter box located below the recipe to enter. Contest is open to U.S. residents only and ends Monday, April 18, 2016 at 11:59 pm PST. Winners will be announced on this page and on Cinnamon & Sugar's Facebook page, as well as notified by email (so check your spam folder!)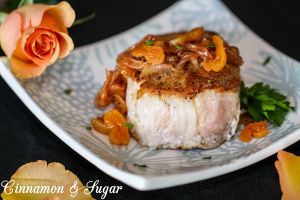 Seared Pork Chops with Apricot Brandy Sauce
This is a classic à la minute hot line dish, where a piece of meat is seared and then the pan it was cooked in is deglazed with liquid to dissolve all those luscious caramelized bits left behind. Once you've done all your prep work (chopping, coating meat with spices), it only takes about fifteen minutes to fry the chops and make the sauce.
Ingredients
6 ounces dried apricots, thinly sliced (about 1 cup)
1/2 cup brandy
1 teaspoon dried cumin
1 teaspoon dried ginger
1 teaspoon black pepper
1 teaspoon salt
4 thick-cut pork chops, excess fat around edges removed
1 tablespoon vegetable oil
1 large red onion, sliced (about 2 cups)
1/4 cup beef or chicken stock
4 tablespoons butter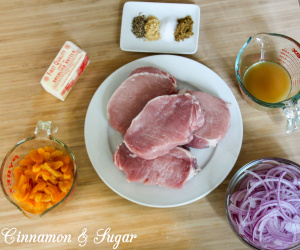 Instructions
Place the sliced apricots in a bowl and pour the brandy over the fruit to let them soak. The longer they soak the better – two hours minimum, but first thing in the morning or even overnight would be best.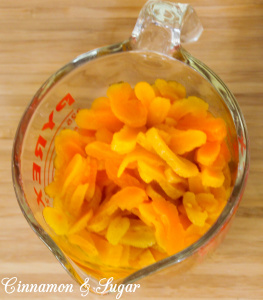 Mix the cumin, ginger, black pepper, and salt together in a small bowl and then coat the chops on each side with this dry marinade.
Heat a large, heavy duty skillet over medium-high heat and then add the oil.
Once the oil is shimmering, place the pork chops gently in the pan. (Do not crowd the chops; cook them in separate pans or in two batches if necessary.)
Fry until golden brown and then turn. Continue cooking until the chops are done to your liking (Gauguin serves them still a little pink in the center).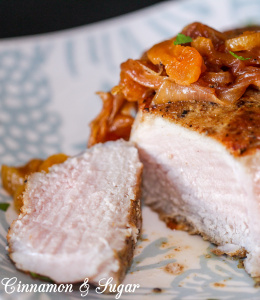 Remove chops to a large plate and cover with foil to keep warm.
Dump the sliced onions into the pork chop skillet and saute over medium heat in the oil left in the pan, stirring occasionally so they don't burn.
When the onions start to brown, add the apricots (saving the brandy they've been soaking in for later) and continue to cook until the apricots start to brown.
Add the brandy and chicken stock to the pan and continue to cook for another two minutes.
Add the butter and stir into the sauce once melted.
Plate up the chops and spoon the onions, apricots, and sauce on top.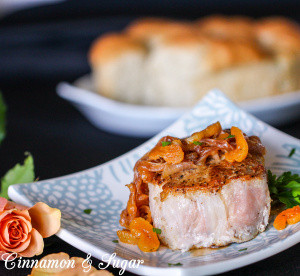 If you receive my blog post via email you will need to visit my website to view the video.