As soon as I picked up a copy of ON THIN ICING by Ellie Alexander and saw her recipe for Cherries Jubilee, I knew it was the dish I wanted to make for this blog post! I've made Cherries Jubilee numerous times in the past with an old recipe found in my mother's vintage red and white checkered Better Homes and Gardens cookbook. That OLD recipe calls for using canned cherries and relies heavily on lots of cornstarch and sugar, resulting in a slightly metallic, overly sweet, gloppy ice cream topping. On the other hand, Ellie's Cherries Jubilee uses fresh (or frozen) cherries with zesty orange citrus to brighten the flavor. With a generous pour of rum to flambé, this dessert will be the star while the ice cream plays a supporting role! Thank you, Ellie, for allowing me to share your gorgeous dessert!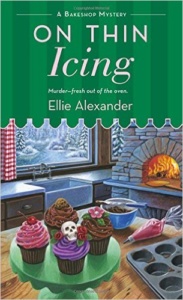 I do have a funny story to share about making Cherries Jubilee (and one I always think of when I make them now!) with my then 4-year-old granddaughter, Emory. She loved to help cook with me, especially desserts, so I had her climb up on a chair and stir the canned cherries and juice into the sugar and cornstarch mixture. I had her get off the chair and stand about 5 feet away from the cooktop while I turned on the gas burner to start heating the mixture up. Something went wrong and it didn't ignite until 10 seconds after turning it on and all of a sudden the gas went "poof" with flames climbing up the sides of the pan. Emory was far enough away that there wasn't any danger. After I lowered the flame to low I told her she could start stirring again. She climbed back up on her chair shaking her head and muttering under her breath to no one in particular, "Scared the hell out of me!" Needless to say when it came time to flambé, she was clear on the opposite side of the room. And yes, I did explain that we don't use language like that…after I finished laughing 🙂
ON THIN ICING is just as sweet of a read as Ellie's delicious Cherries Jubilee! Jules works at her family's bakery, Torte, in Ashland, Oregon, home to the world famous Shakespeare Festival. Lance, the Artistic Director for the festival, asks Jules to cater a weekend-long executive board retreat at Lake of the Woods Lodge. Jules jumps at the chance to showcase her cooking with the hopes of expanding Torte's catering service.
Just as Jules and Sterling, one of Torte's employees, arrive at the remote mountain resort it begins snowing, with a huge storm in the forecast. Their dinner prep is interrupted by the belligerent, lecherous bartender, Tony, who just so happens to like to get drunk on the job. Jules can't understand why Mercury, the owner of the lodge, keeps Tony on the payroll, but she's determined to do a professional job even if the bartender is "hitting" on her. Just when she thinks it can't get any worse Carlos shows up. Carlos is her estranged husband and she left him sailing on the cruise ship they both worked for in the Mediterranean. Carlos, a sexy Spaniard, is a chef and makes himself at home in the kitchen helping out. He's determined to work out the issues that split their marriage apart…like the fact that he never told Jules during their three year marriage that he had a son.
As the weather continues to deteriorate so does Tony who hasn't stopped drinking. He gets into an altercation with one of the board members, and throws a wine bottle at him, ruining his expensive clothing. Then during dinner he starts a fight with Carlos, who was being protective of Jules, and it takes several of the guests and the handyman, to pull them apart. Jules would like Carlos to leave and wait for her back in Ashland so she can concentrate on her catering job, but the storm has blown in and they are stuck.
The next morning Jules is hunting for some of the supplies that Sterling packed away and she stumbles upon the body of Tony, who was stuffed into a freezer. With the storm raging, the phone lines are down, there's no internet service, and the roads are blocked. Jules knows one of people staying at the lodge is the killer, and she needs to find out before they escape or strike again. But Tony managed to make so many people angry at him that narrowing the field of suspects is daunting. To make matters worse, she can't count Carlos out as one of the suspects, but can her heart be objective?
ON THIN ICING was a fun read with plenty of suspects to keep me guessing until the very end. The poetic description of the cooking done by Jules and Carlos made me run to the kitchen and start baking something! I could almost taste and smell their creations. Ellie's use of an isolated setting made the book a bit different from the others set in Ashland, but it was a nice change. She brings the scenery to life and draws you into the story. I liked that we finally got to meet Carlos and I look forward to seeing where the author takes their relationship in future books.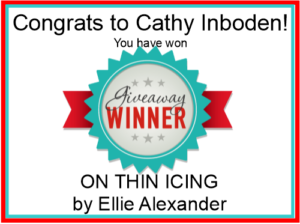 A special thanks to Ellie Alexander for providing an autographed copy of ON THIN ICING to one lucky winner! Please use the Rafflecopter box located below the recipe to enter. Contest is open to U.S. residents only and ends Thursday, April 21, 2016 at 11:59 pm PST. Winners will be announced on this page and on Cinnamon & Sugar's Facebook page, as well as notified by email (so check your spam folder!)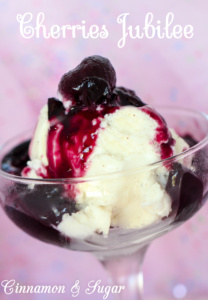 Cherries Jubilee
Jules likes to flambé the cherries tableside for a show-stopping presentation.
Ingredients
1 pound of fresh Oregon Bing cherries (pitted and halved) or frozen if not in season
1/2 cup sugar
1 teaspoon freshly grated orange rind
1 tablespoon orange juice
1/2 cup rum*
1 pint vanilla ice cream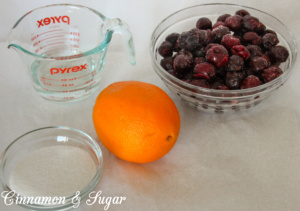 Instructions
Rinse and drain whole cherries. Cut them in half and discard pits.
Add pitted cherries, orange juice, orange rind, and sugar in a sauté pan.
Sauté on low heat for five minutes or until the sugar dissolves.
Bring heat to medium and cook cherries in their juices for an additional five minutes.
To flambé using a gas stove, remove cherries from the heat and add rum.
Light the rum with a long match, being sure to swirl the pan until the flames subside.
To flambé using an electric stove, add rum to a saucepan and warm it on low for 3 minutes. Remove pan from heat, light rum with a long match, and carefully pour ignited rum over the cherries, swirling the pan until the flames subside.
Serve warm cherries over ice cream.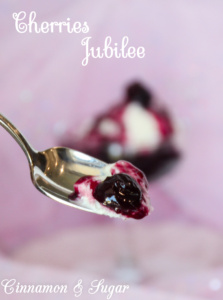 Tips
Be safe: have a fire extinguisher close by, just in case!
*I used silver rum but gold rum will work just fine too. Both produce small, blue flames. For a show-stopping flambé, use Bacardi 151 which has a very high alcohol content and will flame brilliantly. I only had regular rum on hand… maybe next time I'll track down some Bacardi 151!
If using frozen cherries, don't defrost before slicing in half since they will be easier to slice while firm. Just add a couple minutes to cooking time.
Frozen cherries may create more juice than fresh cherries. If the liquid won't reduce and is too runny, mix 1/2 teaspoon cornstarch with 1 teaspoon cold orange juice or water. Slowly stir the mixture into the cherries BEFORE you add the rum. Simmer for 1 minute and then proceed with the rum and flambé.
If you have any leftover Cherries Jubilee, swirl it through vanilla ice cream and store in an airtight container in the freezer. The rum will keep the dessert from freezing rock hard so you can enjoy this frozen concoction when you're ready to indulge again!
If you receive my blog post via email you will need to visit my website to view the video.
Be sure to keep your eyes open for CAUGHT BREAD HANDED by Ellie Alexander, releasing June 28, 2016!