Popcorn has long been one of my favorite crunchy snacks since I was a kid. In fact back when I was single, I had popcorn for dinner about once a week. If I was in the mood to be a bit healthier, I'd eat a piece of fruit for dessert. Nowadays popcorn is saved for snacks and since I've discovered SkinnyPop, it's one that I enjoy several times a week (I really do hate popping my own and having to clean up greasy pans and lids).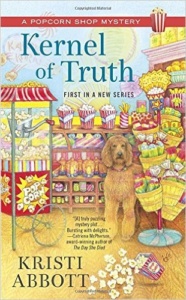 So when I met Kristi Abbott at Left Coast Crime and discovered her book, KERNEL OF TRUTH, I was smitten. KERNEL OF TRUTH is the first book in Kristi's brand new Popcorn Shop Mystery series and is set at the gourmet popcorn shop, POPS, owned by Rebecca Anderson in Grand Lake, Ohio. Rebecca has moved back to her hometown from California after ending her marriage to celebrity chef Antoine Belanger. It wasn't very easy coming "home" to the small town seeing how she had been a screw-up in high school after her parents were killed in an accident, and now it is perceived she has screwed up her marriage since Antoine is practically worshiped by everyone. Rebecca wants to live close to her sister, Haley, her brother-in-law, Sheriff Dan Cooper, and their young son. Opening the popcorn shop is met with skepticism by quite a lot of the townspeople, but once they taste her goodies she develops regular customers. One of her best friends and source of encouragement and mentoring is elderly but feisty, Cordelia "Coco" Bittles. Coco owns Coco's Cocoas, a chocolate shop, next door to Rebecca and the two women collaborate on recipes and even plan on going into business together.
However, Coco's vibrant life is ended much too soon, when a suspected burglary goes wrong. Jessica, Coco's niece, finds her aunt dead one morning when she goes to open the chocolate shop. The young woman's screaming brings Rebecca running to the shop, where she rushes through the crime scene to see if she can help Coco. With her mentor dead, Rebecca, pushes forward to secure some of the recipes they had worked on together. However, Jessica is insistent that she is the only heir and everything belongs to her. There's long been tension and ill-will between Rebecca and Jessica, but with the death of Coco, it increases.
The police arrest one of the town's pan-handling, "almost" homeless man, Jasper, after finding the stolen cash and chocolates from Coco's shop in his humble abode. The town breathes a sigh of relief until another elderly shop owner is attacked while Jasper is sitting in jail. Perplexed, Sheriff Dan has no idea who the culprit is until someone starts suggesting it could be his sister-in-law, Rebecca. Unfortunately, there is incriminating evidence pointing to her at both the crime scenes. When she's arrested twice for entering Coco's business and residence without Jessica's permission, most of the town thinks she could be guilty. Rebecca is determined to find out who's out to frame her and why they're targeting the elderly shop owners. When her questioning gets too close to finding answers the killer sets their sight on her. Rebecca must find the truth before she becomes the next victim but in order to do so she must overcome the town's prejudices against her, proving her innocence and proving she does belong.
KERNEL OF TRUTH starts out with a bang from the very first sentence and the action continues at a rapid pace throughout this well plotted story. There were plenty of suspects to keep me guessing while the characters were nicely developed. I loved how the author wove Rebecca's old teenage insecurities in with her current life, trying to integrate with the small town's population who had preconceived ideas of who she really is. What made this book really stand out though is Kristi's cheeky wit that included several clever popcorn related similes, such as "a few old maids shy of a fully popped bowl", that made me laugh out loud. Her humor added to the enjoyment of a well crafted cozy and I look forward to seeing what Kristi has in store for Rebecca and POP in the next installment!
A special thanks to Kristi for allowing me to share her Popcorn Fudge recipe from KERNEL OF TRUTH! Oh my… amazing crunchy caramel corn adorns a thick layer of creamy, rich fudge which boasts a hint of spiciness. The fudge is super easy to make and is practically fool-proof using four pantry staples. But it's the caramel corn that elevates this candy to nirvana and next time I'll be sure to make a double batch!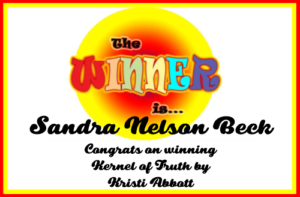 As a bonus for my readers I have an autographed copy of KERNEL OF TRUTH for one lucky winner! Please use the Rafflecopter box located below the recipe to enter. Contest is open to U.S. residents only and ends Monday, April 25, 2016 at 11:59 pm PST. Winners will be announced on this page and on Cinnamon & Sugar's Facebook page, as well as notified by email (so check your spam folder!)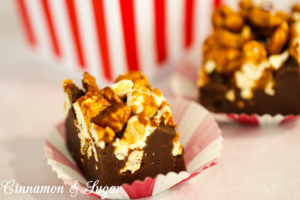 Popcorn Fudge
Ingredients
Caramel Corn
1/4 cup butter
1/4 cup brown sugar
4 teaspoons corn syrup
1/2 teaspoon baking soda
1 teaspoon vanilla
4 cups popped corn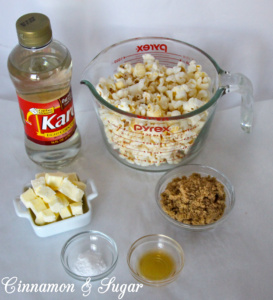 Fudge
1-1/4 cups sweetened condensed milk
2 cups chocolate chips
1/2 teaspoon salt
1/8 teaspoon cayenne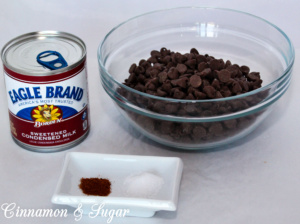 Instructions
Caramel Corn
Preheat oven to 250 degrees (F).
Combine butter, brown sugar, and corn syrup in a saucepan. Bring to a boil, while stirring.
Then hands off for four minutes! Serious, let it do its thing.
At the end of the four minutes, add in baking soda and vanilla, then pour the caramel sauce over the popcorn and combine well. You'll have to use your hands, so grease 'em up and get in there.
Spread popcorn out on a baking sheet. Bake for 30 minutes to an hour at 250 degrees. Check it every 15 minutes to avoid burning. The caramel corn should be light and crispy.
Once the popcorn is out of the oven, start making the fudge layer.
Fudge
Line a square pan with foil.
Combine the sweetened condensed milk and chocolate chips either in a double boiler or in the microwave. Either way, stir often.
When everything is melted and mixed together, add in salt and cayenne.
Pour into prepared pan and press caramel corn into the fudge.
Refrigerate for two hours.
Turn out onto a cutting board and cut into squares.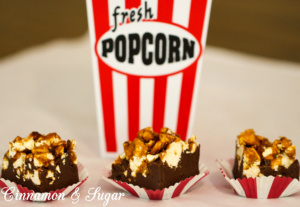 Tips
I used SkinnyPop packaged popcorn to speed up the recipe.
Do yourself a favor and double the recipe for the caramel corn. If you sample it before you make the fudge, there won't be ANY left for the topping 🙂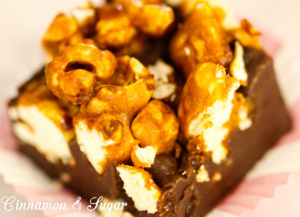 If you receive my blog post via email you will need to visit my website to view the video.