Jenn McKinlay is another one of the authors that I finally got to meet at Left Coast Crime in Phoenix and if you've read any of her books, you'll know that the stories are funny…wicked funny…and Jenn is just the same in person. I was ecstatic when I found out she was releasing a new book in her Cupcake Bakery Mystery series and VANILLA BEANED did not disappoint!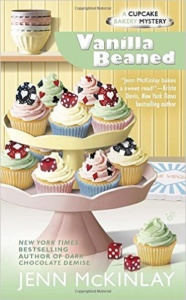 Melanie "Mel" Cooper owns Fairy Tale Cupcakes Bakery with her two best friends, Angie DeLaura and Tate Harper. Angie is part of the baking team while Tate is the financial backer. Mel is happy that Tate and Angie have finally acknowledged their romantic relationship, but part of her starts feeling like a third wheel, especially when they want to franchise their bakery and she doesn't. However, to keep the peace, she agrees to go to Las Vegas with them and meet Holly Harzmark, the gorgeous showgirl who is willing to pump cash into opening a franchise.
Tate and Angie get distracted by the siren call of the casinos and can't make the appointment with Holly, their attorney, and the realtor showing them a storefront. Fuming, Mel is determined to deep six the franchise but after the storefront explodes, ultimately killing the realtor, she starts to form some regard for Holly. But can Mel contain her jealous insecurities, not only around the beautiful showgirl, but in being willing to share her closely guarded recipes to make the venture a success?
The next day when the group goes to view another possible storefront, just as they start to leave a car races towards them, crashing through the window. The new realtor would have been killed had Tate not pulled him out of the way, and by the time they try to grab the disguised driver, he had too far of a lead and they lost him. Realizing both incidents are more than a coincidence, Mel starts to worry that the mob is retaliating. Angie's brother, Joe, who is also Mel's ex-fiancé, is a county prosecutor and is in the middle of a huge trial to put one of the mobsters away for a long, long time. Could one of the mobster's cohorts be following them? Holly admits that she's had an unknown stalker, plus a manager who does not want her to leave the stage. Could one of those persons be out to sabotage the cupcake bakery before it even opens?
With Marty and Oz, employees from Mel's Scottsdale bakery, trying to blend in with the 3,000 Elvis impersonators swarming Las Vegas, chuckles are bound to happen. One mishap follows another and before you know it, wedding bells are chiming and Elvis is preparing to perform a marriage ceremony. No spoilers here, but the ending left me gasping, wondering how I am ever going to survive waiting for the next installment in the Cupcake Bakery Mystery series!
VANILLA BEANED is a lighthearted caper but with plenty of plot and character development. I enjoyed getting an insider's glimpse into the underbelly of the showgirls working at the casinos along with Las Vegas wedding chapels. Jenn did, in fact, renew her wedding vows with her husband of 15 years, at a wedding chapel in Vegas with Elvis as the officiant. I'm sure she had fun doing her research for this book! Even though Mel and the gang are in Las Vegas for this book, there's still plenty of cupcakes galore. Jenn has graciously allowed me to share her Cherry Cola Cupcake recipe with you….moist chocolate cherry cola cupcakes are adorned with the butteriest cherry cola frosting. One bite and you'll think you're visiting an old-fashioned soda fountain! I have also included a short video tutorial at the bottom of the page.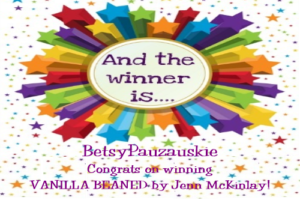 A special thank you to Berkley Publishing for providing a giveaway print copy for one lucky winner! Please use the Rafflecopter box located below the recipe to enter. Contest is open to U.S. residents only and ends Thursday, April 28, 2016 at 11:59 pm PST. Winners will be announced on this page and on Cinnamon & Sugar's Facebook page, as well as notified by email (so check your spam folder!)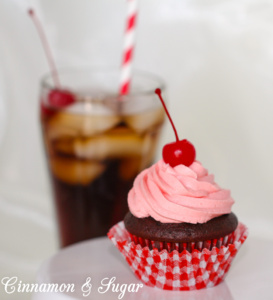 Cherry Cola Cupcakes
A Chocolate Cola Cupcake with Cherry Cola Buttercream Frosting
Ingredients
Cupcakes
Makes 12
1-1/2 cups all-purpose flour
1/4 teaspoon baking soda
2 teaspoons baking powder
3/4 cup unsweetened cocoa powder
1/8 teaspoon salt
1/2 cup (1 stick) butter, softened
1 cup sugar
2 eggs
1/3 cup Maraschino cherry juice
1 cup cola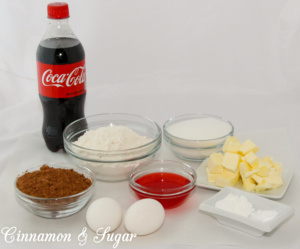 Frosting
Makes 3 cups
1/2 cup (1 stick) salted butter, softened
1/2 cup (1 stick) unsalted butter, softened
1 tablespoon Maraschino cherry juice
4 cups sifted confectioners' sugar
2 tablespoons cola
red food coloring (optional)
12 Maraschino cherries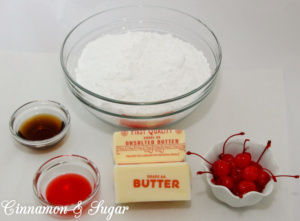 Instructions
Cupcakes
Preheat oven to 350 degrees (F).
Line muffin tin with 12 paper liners, and set aside.
Sift together the flour, baking powder, baking soda, cocoa, and salt. Set aside.
In large bowl, cream together butter and sugar until well blended.
Add eggs one at a time, beating well with each addition, then stir in cherry juice.
Add flour mixture alternately with cola; beat well.
Fill cupcake liners evenly and bake 18 to 20 minutes.
Frosting
In large bowl, cream butter.
Add cherry juice.
Gradually add sugar, one cup at a time, beating well on medium speed. Scrape sides of bowl often.
Add cola and red food coloring (optional) and beat at medium speed until light and fluffy.
Frost cooled cupcakes and garnish with Maraschino cherry on top.
If you receive my blog post via email you will need to visit my website to view the video.