I've had the pleasure of reading a few of the books in Lynn Cahoon's Tourist Trap Mystery series over the last couple of years. When MURDER ON WHEELS came out in February, I added it to my to-read-pile, but after seeing some of the other book blogger reviews, I knew I wanted to read it sooner than later. Lynn mixes just the right amount of small town charm with a cleverly crafted plot in her latest cozy mystery. Added in is a pinch of geocaching with it's gluten-free baking president hiding stolen recipes and a cast of characters to round out the menu.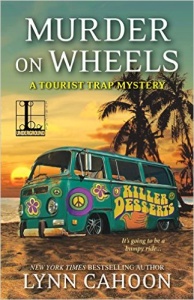 Jill Gardner, owner of Coffee, Books, and More in South Cove, California, seems to have trouble find her more often than not. Her best friend's boyfriend is becoming a geocaching enthusiast and drags Jill and her boyfriend, Detective Greg King, along for an afternoon search. There they meet Kacey, the young president of the Coastal Geocache Club, who recently reunited with her estranged husband, Dustin Austin. The problem is that Dustin recently dumped Sadie, one of Jill's good friends, to go back to his wife. Sadie's heart was broken, especially when Austin stole some of her treasured recipes from her business, Pies on the Fly, before leaving her.
Kacey and Austin are planning on opening up a gluten-free dessert food truck in the very same truck that Jill had planned on purchasing before Austin "stole" it out from beneath her. There's lots of bad feelings going around and then Kacey is found dead on the beach. She was highly allergic to gluten and it appears that someone slipped her a deadly dose. Could it have been Austin, who had made her sick in the past? Or could it be Sadie looking for revenge over the young woman stealing both her recipes and her lover? Jill is certain Sadie is an innocent victim but the police suspect otherwise, so Jill starts asking questions.
On top of trying to clear her friend's name, Jill is also having best friend troubles and Amy is no longer speaking to her. Her aunt's love life is more active than her own and Jill is caught in the middle of the conflict between the two men vying for her aunt's affections. When one of Kacey's friends gives Jill a cryptic message and later that day is pushed off a cliff while geocaching, Jill knows she'd better find the culprit before the murderer comes after her.
While Murder On Wheels does not have any recipes included, Sadie is quite the baker, providing treats to sell at Coffee, Books, and More. One of the desserts she likes to make is her Lemon Summer Surprise and Lynn Cahoon has graciously allowed me to share that recipe with you. A delicately flavored lemon cheesecake-style pie, Sadie's Lemon Summer Surprise is super quick to whip up (especially if you buy a pre-made graham cracker crust!) and isn't fussy like traditional cheesecakes. Basically dump the ingredients in a bowl, mix them until creamy, then pour into a crust and bake. I worried about the cracking that can occur on regular cheesecakes, but this baked up beautifully with no special care! I took the liberty of adding gluten-free substitutions to the recipe, probably similar to what Kacey would have done for her food truck. I have also included a short video tutorial on how to make Sadie's Lemon Summer Surprise at the bottom of the page, along with a sneak peek at Lynn's next release debuting June 7th!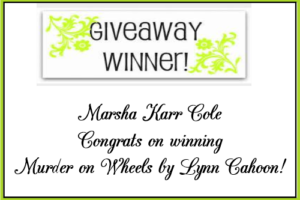 A huge thank you to Lynn Cahoon for providing an e-book copy of MURDER ON WHEELS to one lucky winner! Please use the Rafflecopter box located below the recipe to enter. Contest ends Thursday, April 14, 2016 at 11:59 pm PST. Winners will be announced on this page and on Cinnamon & Sugar's Facebook page, as well as notified by email (so check your spam folder!)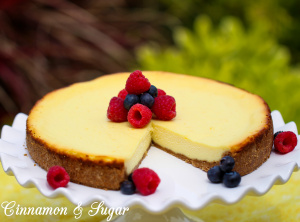 Sadie's Lemon Summer Surprise
Ingredients
Filling
2 8-ounce packages softened cream cheese
1/2 cup sugar
1/2 teaspoon lemon zest
1 tablespoon fresh lemon juice
1/2 teaspoon vanilla (if necessary, make sure your vanilla is gluten-free)
1- 1/2 tablespoons flour (or use your favorite gluten-free flour + 1/4 teaspoon xanthan gum)
2 eggs, room temperature
A couple drops yellow food color (if you want it really yellow)
1 Graham Cracker Crust (pre-made such as Keebler, or make your own like Sadie would)
Crust
2 cups crushed graham cracker crumbs (Use gluten-free graham cracker crumbs if desired. My favorite brand is Kinnikinnick.)
1/4 cup sugar
6 tablespoons melted butter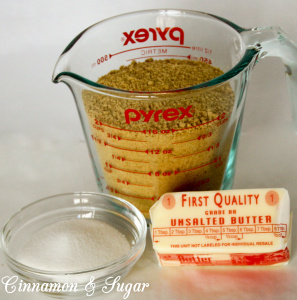 Instructions
Crust
Mix the graham cracker crumbs, sugar, and melted butter together.
Pat into a spring-form pan or a deep dish pie plate. Set aside.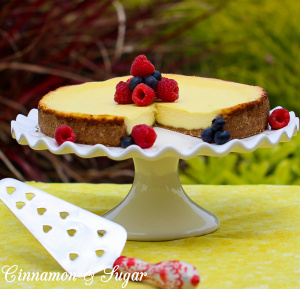 Filling
Mix all the ingredients together until smooth and pour into your crust.
Bake at 350 degrees for 40 minutes.
Cool and refrigerate for at least 3 hours before serving.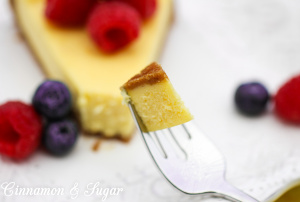 If you receive my blog post via email you will need to visit my website to view the video.
A sneak peak at Lynn's soon-to-be released book, TEA CUPS AND CARNAGE! Available June 7, 2016!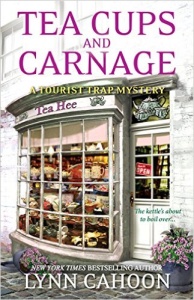 The quaint coastal town of South Cove, California, is all abuzz about the opening of a new specialty shop, Tea Hee. But as Coffee, Books, and More owner Jill Gardner is about to find out, there's nothing cozy about murder . . .
Shop owner Kathi Corbin says she came to South Cove to get away from her estranged family. But is she telling the truth? And did a sinister someone from her past follow her to South Cove? When a woman claiming to be Kathi's sister starts making waves and a dead body is found in a local motel, Jill must step in to clear Kathi's name–without getting herself in hot water.