About 1-1/2 years ago, before I started blogging, I attended the Bouchercon conference in Long Beach, CA (my first mystery conference ever) and met Sparkle Abbey (aka Mary Lee Woods and Anita Carter) at a luncheon. As fate would have it, they had an extra seat available at their table and I joined them. I didn't know who they were when I sat down, but as I chatted with these VERY NICE ladies I become increasingly interested in their books and immediately downloaded one when I went home that night.
Fast forward a few months…I started blogging (not really knowing what I was doing or where I was going) and wanted to share my review of the Sparkle Abbey book I had read. I personally didn't have any pet treat recipes up my sleeve so I gathered up my courage and contacted these VERY NICE ladies and asked if I could share their recipe. I was expecting a brush off, or a "heck no" response….instead my request was met with enthusiasm! And the rest is, as they say, history. I've found the authors I've connected with through my blog to be genuinely nice people, who readily support each other and their fans! So thank you, Sparkle Abbey, for helping me make my blog what it is today!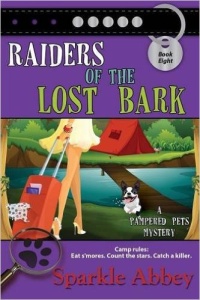 Recently, Sparkle Abbey released their eighth book in The Pampered Pets Mystery series, RAIDERS OF THE LOST BARK! Don't you just love the title?!?! This time the story takes place from the viewpoint of Melinda Sue Langston, former Texan beauty queen, but she'd rather you call her Mel. Mel is the owner of Bow Wow Boutique in Laguna Beach, California. Feisty 80-something-year-old, Betty Fox, is her assistant at the shop and is nagging her to attend the Five Paws-Up Laguna Beach Animal Reserve League fundraiser. While Mel doesn't have anything against the charity, the fundraiser is glamping for a week in the Laguna Hills wilds. Plus there's the issue of the chef for the event, blackmailer Addison Rae, hired only because she forced Mel to recommend her for the job. Mel would rather not be around Addison all week long.
Addison threatens Mel into attending and before she knows it, Betty Fox is driving them down the freeway in a tricked-out motorhome, worthy of any glamping trip. Mel's only interest in tagging along is to be able to retrieve her mother's ill-advised love letters to Addison's father, and hopefully save her own father from heartache in finding out about his wife's affair. Instead of getting the letters from Addison, the blackmailer demands one more "favor" before she hands them over. Mel blows up and their fight is witnessed by many of the other campers. Later, Addison is found murdered in the spa, the letters missing, and Mel has no alibi since she was waiting out on the hiking trail for the blackmailer. A suspect in the murder, Mel must contend with the Laguna Hills detectives who aren't very appreciative of her offer to help find the real killer. Betty joins her in snooping around and asking questions, but the more they talk to people the more they realize Mel wasn't the only one being blackmailed. When another murder takes place, Mel and Betty realize they had better find the killer before one of them becomes the next victim.
RAIDERS OF THE LOST BARK was such a fun read! I loved Betty Fox as Mel's sidekick…she's a hoot and provided plenty of laugh out loud moments! There were other quirky characters that added to the book's entertainment, while the mystery plot had plenty of suspects and was nicely interwoven with relationship subplots. The on-going fight between Mel and her cousin, Caro, over their grandmother's gaudy brooch adds additional humor along with the issue of what will happen between Mel and her on-again, off-again, fiancé, Grey Donovan, who comes back to town. Even though this is the eighth book in the series, it's easily read as a stand-alone. I greatly look forward to the next installment in The Pampered Pets Mystery series!
As usual, Sparkle Abbey provides a couple pet treat recipes with their book. While Caro is a cook, Mel isn't so much, but she is able to easily make these one-ingredient Toss Across Sweet Potato Chip Dog Treats that were served to the dogs during a fun game at the glamping fundraising trip. The low and slow baking of the rounds of sweet potatoes produce a chewy, concentrated sweet flavored treat that my grandpuppy, Piper, loved! I also enjoyed eating a few myself, with a bit of flaky sea salt sprinkled on my pieces.
Thank you, Sparkle Abbey, for allowing me to share another recipe from your very delightful books!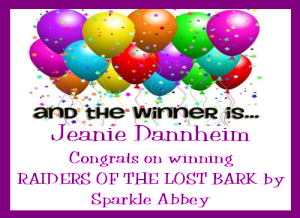 A very special thank you to Sparkle Abbey for providing one lucky winner a choice of either an e-book or a print copy of RAIDERS OF THE LOST BARK! Please use the Rafflecopter box located below the recipe to enter. Contest ends Wednesday, April 13, 2016 at 11:59 pm PST. Non-U.S. residents will be awarded an e-book copy. Winners will be announced on this page and on Cinnamon & Sugar's Facebook page, as well as notified by email (so check your spam folder!)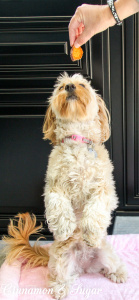 Toss Across Sweet Potato Chip Dog Treats
These are easy-peasy homemade treats your dog will love. They're so quick and simple, even Mel likes to make them for Missy.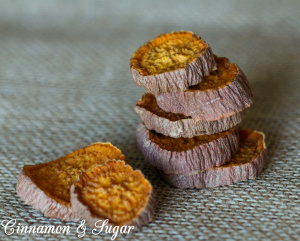 You'll need:
3 large sweet potatoes
Baking Sheet
Cooling rack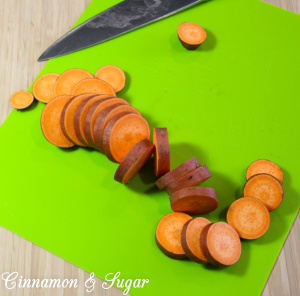 Instructions
Preheat oven to 250 degrees F.
Scrub those sweet potatoes. No need to peel.
Cut the potatoes into 1/3″ slices, no smaller than 1/4″.
Keep in mind, the thinner the slice, the shorter the cooking time.
Place sliced potatoes on a baking sheet in a single layer.
Bake for almost 3 hours. Turn over after 1-1/2 hours.
Cool completely on a wire rack.
Depending on thickness, this could take 30 minutes to 1 hour. As the treats cool, they will harden.
For desired chewiness: Baking 3 hours creates a soft chewy dog treat. If your pooch prefers crunchy treats, bake for an additional 20 – 30 minutes.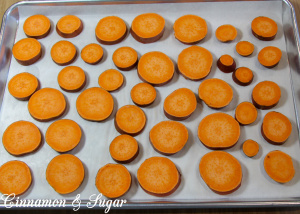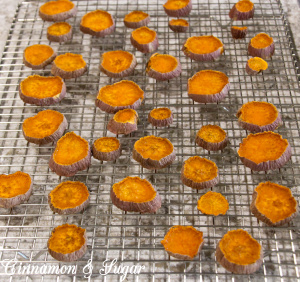 Storing
Remember, these are preservative-free and should be refrigerated for no longer than 1 week. You can freeze them for up to 1 month.