I had the pleasure of meeting Eva Gates (aka Vicki Delaney) at the Left Coast Crime conference in Phoenix in February. I was a bit embarrassed to admit, though, that I had never read any of her books. I had good intentions of doing so and had some of her books on my massive Amazon wish list over the last couple of years…but somehow they got lost in the shuffle and never purchased. Well let me tell you, I have sorely been missing out on the Lighthouse Library Mystery series and I have some catching up to do! Eva graciously provided me with a copy of READING UP A STORM, her newest release and the third book in the series. I was captivated from the very first sentence, "It was a dark and stormy night…." While a cliche, the author made me chuckle with her very next sentence and then proceeded to pull me in for a terrific read.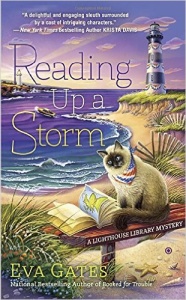 Lucy Richardson is the Assistant Librarian at the Bodie Island Lighthouse Library, ten miles outside Nags Head in the Outer Banks region. She's only been there a few months, after leaving Boston and a breakup behind, and now resides in the cozy living quarters at the top of the lighthouse (which sounds totally awesome to me!). After wrapping up a surprise tenth work anniversary party for her boss, Bertie James, everyone heads home as a storm blows in. Lucy goes upstairs to her quarters and sees small lights waving from a beach that should be deserted. To make matters more eerie, a small motorboat is heading for the lights and towards certain destruction. Lucy calls the Coast Guard who end up rescuing Will Williamson and his much younger girlfriend, Marlene, just before the boat crashes onto shore.
The next day Will and Marlene attend a book club meeting that Lucy is moderating. One of her new friends, Stephanie, is also attending. Stephanie is a newcomer to Nags Head as well, moving to town to tend to her mother who was severely injured when a drunk driver hit her. Later that night a tipsy Stephanie confronts her mother about revealing who her father was, with Lucy there as a witness. It turns out Will Williamson is the cad who got Stephanie's high-school-aged mother pregnant and then dumped her and left town with his wife and son, never once providing any type of child support. Now Will is back in town, a wealthy man with a trophy girlfriend on his arm.
The following morning Lucy walks through the marsh with her friend, and the town's police officer, Butch Greenblatt, when they come across the stabbed body of Will Williamson in an abandoned boat. It doesn't take long for the police to set their sights on Stephanie as the killer when it comes out that Will was her deadbeat dad and she doesn't have an alibi. But the town rumor mill is also throwing their up-for-reelection mayor, Dr. Connor McNeil, into the pool of suspects. Lucy knows that neither of them could be guilty of such a heinous crime and she knows she's going to have to find the real killer before her friends lose everything they hold dear.
Aside from the fabulous location, location, location of READING UP A STORM, Eva Gates provides a compelling plot with plenty of twists and turns and suspects to keep you wanting to turn the pages. Lucy is surrounded by people who care about her and by people who try her patience which adds to the humanization of the characters. There's also a bit of romance that could develop between Lucy and Connor or Lucy and Butch… no spoilers here, but I will say that Eva won't keep you hanging book after book after book… While there are not any recipes included with the book, Lucy's cousin, Josie, is a talented baker and brings all the goodies to the surprise party and the book club events. The dessert that she most often provides is Maple Pecan Squares (or tarts if you want to be fancy). Eva kindly provided the recipe for me to share and they were an enormous hit with my taste testers as they are with Lucy and Josie's friends! I've also included a short video tutorial on how to make these delectable cookie bars that feature gooey maple filling surrounding crunchy, buttery pecans on top of a pecan based shortbread crust.
I look forward to catching up with the first two books in this series AND look forward to the next book in the Lighthouse Library Mystery series…but in case you haven't heard, several publishers are ending their contracts with numerous cozy mystery authors. Eva Gates has heard that the Lighthouse Library Mystery series may not be renewed if the sales don't meet up with the publisher's expectations. Click on the link for very cute blog posts from Mary at mjbreviewers on Six Ways to Support Authors and Six More Ways to Support Authors.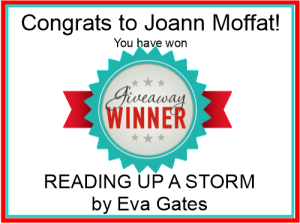 A very special thank you to Eva Gates for providing an autographed copy of READING UP A STORM to one lucky winner! Please use the Rafflecopter box located below the recipe to enter. Contest ends Monday, April 11, 2016 at 11:59 pm PST and is open to U.S. and Canadian residents only. Winners will be announced on this page and on Cinnamon & Sugar's Facebook page, as well as notified by email (so check your spam folder!)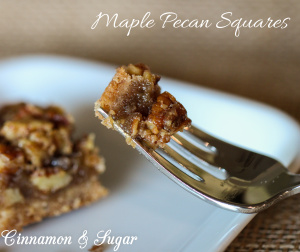 Maple Pecan Squares
As featured in Reading up a Storm by Eva Gates
Makes 36 squares
Ingredients
Base
1 cup all-purpose flour
1/3 cup light brown sugar, packed
1/4 cup chopped pecans
1/4 tsp salt
1/4 tsp baking powder
1/4 tsp ground cinnamon
1/3 cup unsalted butter at room temperature
Pecan Layer
1/4 cup unsalted butter, melted
1/2 cup light brown sugar, packed
1/3 cup pure maple syrup
2 tsp pure vanilla extract
1/4 tsp salt
1 large egg
1-3/4 cups chopped pecans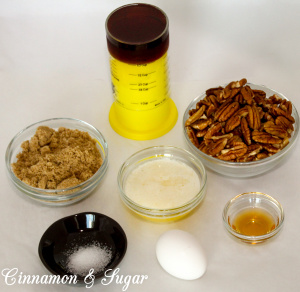 Instructions
Preheat oven to 350 degrees (F)
Grease and line a 9-inch square pan with parchment paper so that it hangs over the sides.
Base
Pulse flour, brown sugar, pecans, salt, baking powder and cinnamon in a food processor to combine.
Add butter and pulse until mixture is crumbly.
Press mixture into prepared pan and bake for 20 minutes, until it just browns around the edges.
Allow to cool while you prepare the pecan layer.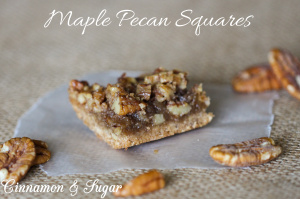 Pecan Layer
Whisk melted butter, brown sugar, maple syrup, vanilla, salt and egg until smooth.
Stir in chopped pecans and pour over shortbread base.
Bake for 22 to 25 minutes, until bubbling around the edges. The middle may not look like it's entirely set but don't worry, it will firm up as it cools.
Allow to cool completely before slicing.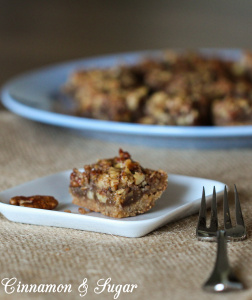 If you receive my blog post via email you will need to visit my website to view the video.
I received an ARC from the author and/or publisher in exchange for an honest review. All views and opinions are my own.