I've been waiting several months in anticipation of the next installment in the Georgia Peach Mystery series…and it's finally here! It was a joy to read REST IN PEACH by Susan Furlong and catch up with Nola Mae Harper and her family. To begin with, each chapter starts with a Debutante rule, some are funny or quirky, but to quote Nola Mae's mama, "Debutante rules help you become the best person you can be which is the secret to a happy life." This part of the book adds to the Southern charm of the setting and I can hear their slow, honeyed drawl even in the midst of, gasp, murder!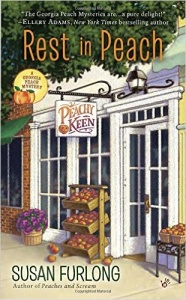 Nola is busy preparing to open her shop, Peachy Keen, which will sell Harper Farm's Peach products. She, along with help from Cade McKenna, are renovating a space adjacent to Red's Diner, owned by her very good friend, Ginny. It's Debutante season and Ginny's daughter, Emily, is excited her dress is being delivered for the Cotillion ball. However, when the dresses arrive at the boutique, it's discovered that Ginny's dress was ordered for both Ginny and the Peach Queen, and only one showed up. The Peach Queen's mother, Vivien Crenshaw, grabs the dress and lays claim to it. Ginny blows up at the snobbery she is throwing at Emily, and tells the rich, arrogant woman she will get her due.
The next day Vivien is found stabbed to death with a pair of scissors, the fought-over debutante gown clutched in her hands. Many women saw and heard Ginny's altercation with the dead woman so Sheriff Maudy Payne takes Ginny in for questioning and considers her the main suspect. Ginny won't provide the name of her alibi since she wasn't home with her husband or her daughter and Nola begins to worry about the secret her friend is trying to hide. Ginny begs Nola to help find the real killer when evidence appears that will frame her and she worries it will ruin her daughter's Debutante season. Half the town believe Ginny is guilty so Nola starts talking to people, asking questions about Vivien. It becomes apparent that the murdered woman had made a lot of enemies, including the sweet little old lady who played the organ at church. When the minister's wife is attacked Nola knows she needs to step up her investigation before another person loses their life. From hunting down a centuries-old buried secret to tea at the Congressman's mansion to stirring pots of peach preserves, Nola has her hands full in her latest adventure.
The author does a marvelous job in making her characters come to life in the small Georgia town but still weaves a tight plot in this cozy mystery that kept me turning pages late into the night. I loved how Nola is close to her family, especially her mama, and loyal to her friends no matter what. The romantic tension between Nola and Cade adds just the right amount of spice to the story without being distracting. Of course I can't forget to mention the peach-themed recipes Susan includes at the back of her book…yum! She's allowed me to share Ida's Peach Cobbler Cupcakes and they were a hit with my friends and family (these make a big batch so there's plenty to pass around). The Peach Cobbler Cupcakes start with a boxed mix but with her simple, unexpected add-ins, they taste like you slaved in the kitchen for hours making them from scratch. My eleven-year-old granddaughter, Emory, made this by herself with minimal instructions from me…another plus 🙂 I've included a quick video tutorial at the bottom of the page.
Thank you, Susan, for letting me share your delicious recipe!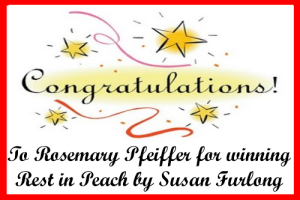 A very special thanks to Susan Furlong for providing an autographed copy of REST IN PEACH to one lucky winner! Please use the Rafflecopter box located below the recipe to enter. Contest ends Thursday, April 7, 2016 at 11:59 pm PST and is open to U.S. residents only. Winners will be announced on this page and on Cinnamon & Sugar's Facebook page, as well as notified by email (so check your spam folder!)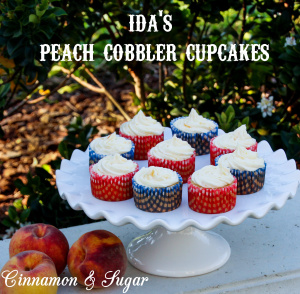 Ida's Peach Cobbler Cupcakes
Yields 24 cupcakes
Ingredients
Cupcakes
1 box yellow cake mix plus ingredients as listed on package
1/2 cup applesauce
1 15-ounce can diced peaches in heavy syrup*
1 teaspoon cinnamon
*I could only find peach chunks so I diced into smaller pieces before using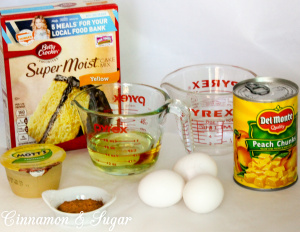 Frosting
1/2 cup (4 ounces / 1 stick butter) softened
1/3 cup diced peaches
1 teaspoon vanilla
2 cups powdered sugar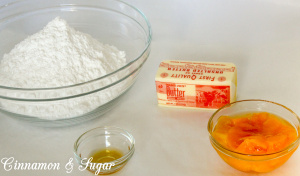 Instructions
Preheat oven to 350 degrees (F).
Cupcakes
Reserve 1/3 cup of the diced peaches and set aside for the frosting.
In a large bowl, combine the yellow cake mix ingredients according to the package instructions.
Add 1/2 cup of applesauce, the remaining peaches with syrup, and 1 teaspoon of cinnamon. Mix well.
Line a cupcake pan with cupcake wrappers and fill each approximately 2/3 full.
Bake at 350 degrees for 15-20 minutes or until baked through. A wooden skewer inserted into the center should come out mostly clean, with few crumbs attached.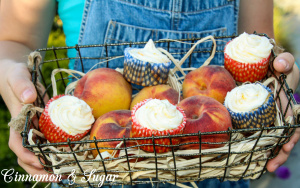 Frosting
Using a mixer, blend 1 stick of softened butter, 1/3 cup of diced peaches, and 1 teaspoon of vanilla until creamy.
Slowly add 2 cups of powdered sugar, mixing as you add.
Mix on high until the frosting becomes light and fluffy. If frosting is too thin, add additional powdered sugar until desired consistency is reached.
Frost the cupcakes once they are cool.
Leftover cupcakes (if there are any!) are best if stored in the refrigerator.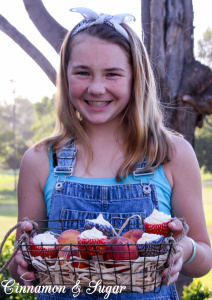 If you receive my blog post via email you will need to visit my website to view the video.
I received an ARC from the author in exchange for an honest review. All views and opinions are my own.