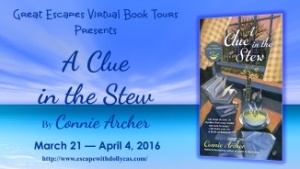 I am so pleased to be a part of the Escape with Dollycas' Great Escapes Virtual Book Tours today showcasing A CLUE IN THE STEW by Connie Archer! In addition to a wonderful series with a cleverly crafted plot, the author includes several delicious recipes that are served at her fictitious soup shop, By the Spoonful, in Snowflake, Vermont, which is owned by Lucky Jamieson and her spunky grandfather, Jack.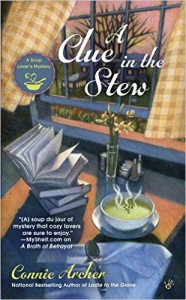 Trouble comes finding Lucky when Hilary Stone, a famous national bestselling mystery writer, arrives in town for a book signing and to look for property to buy. The venue that was supposed to host the book signing cancels at the last moment so Lucky is nominated to host the event at By the Spoonful. Short on staff she hires Nanette, a new arrival to town. Nanette is a great waitress but she's set her eyes on Jack, who is smitten with her but is twice her age. Nanette brashly attempts to change things at the shop trying to gain control, including criticizing Sage, Lucky's talented chef. Her soup shop is in an uproar and then a stranger is found murdered in the woods near town. The residents are on edge and worry how it might impact Hilary Stone's interest in purchasing property.
Lucky manages to prepare everything for the book signing and it appears to be a success despite what Hilary Stone's family seems to think. Hilary's son, Derek, is derisive while his snobby wife, Sylvia, seems to be hitting the bottle pretty hard and has nothing nice to say about anything. Lucky cleans up after the conclusion of the book signing festivities, and receives a call from the B & B where Hilary is staying. Hilary would like Lucky to deliver some of her soup to her even though it is late. She delivers the soup, wanting to help out her friend who owns the B & B, but then later finds out that Hilary was found murdered shortly after.
What is disturbing is that Hilary was killed using the same technique used in her mystery book and the murdered stranger in the woods was killed similarly. When one of the town's older residents, Hank, goes missing and several witnesses place him near the scene of Hilary's murder, the police are sure he's the culprit. Lucky is certain Hank is innocent and starts asking questions to find the real killer, digging up decades-old long buried secrets in order to find answers. And all the while she must discover what Nanette is up to and keep By the Spoonful from imploding.
There were so many twists and turns in the story along with subplots that I was kept guessing up until the very end! The author does a wonderful job connecting all the pieces with the story coming together in an unexpected way. I enjoyed the development of the characters and how they supported each other, especially when obnoxious Nanette arrives on the scene. I could feel Lucky's frustration while at the same time trying to be cautious of her grandfather's feelings. Her relationship with Jack is one of the highlights of her life and not to be taken lightly.
One of the recipes that Sage makes at By the Spoonful and that Connie has so graciously allowed me to share, is her Cream of Asparagus Soup…and I call it "Skinny". Even though it has no added cream and uses minimal butter, no one will know (except you) that this delicious, rich-tasting soup is actually very healthy and low-cal! This chock-full of veggies soup has a velvety finish and is more filling than you might think. Perfect in a small bowl for a starter or a hearty serving as the main course with plenty of hot, crusty bread. Best of all, it is super easy and quick to make, taking less than 30 minutes from start to finish. I've included a very short video tutorial below.

Thank you to Connie Archer for letting me share her delicious recipe and providing a giveaway! Be sure to use the Rafflecopter form, located below the recipe, for a chance to win a great prize! This giveaway is through Great Escapes Book Tours and not Cinnamon & Sugar.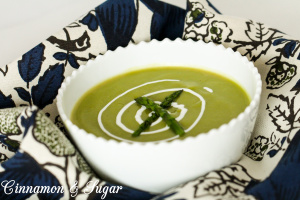 "Skinny" Cream of Asparagus Soup
Serves 4
Ingredients
Soup
1 bunch asparagus
1 tablespoon butter
2 leeks, green part removed and white part thinly sliced
1 large potato, peeled and cubed
3 cups chicken broth
salt and pepper to taste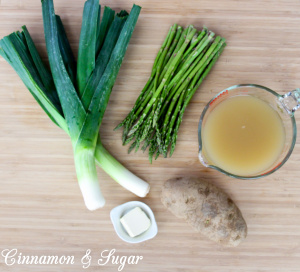 Garnish
4 asparagus tips
1 cup water
2 tablespoons lemon juice
4 tablespoons crème fraîche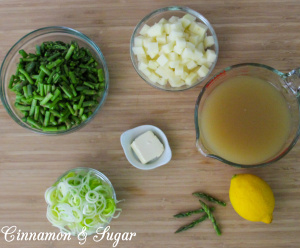 Instructions
Soup
Trim off the thick ends of asparagus and chop stalks into 1-inch thin sections.
Reserve 4 asparagus tips for garnish and set aside.
In a large pot, melt butter, add sliced leeks and sauté for 5 minutes.
Add potato and chopped asparagus stalks, and sauté for 5 minutes more.
Add chicken broth and season with salt and pepper.
Bring to a boil over medium heat, reduce heat to low, then cover partially and cook about 15 minutes, until vegetables are tender.
Garnish
In the meantime, add water to a small saucepan, bring to a boil and add reserved asparagus tips and lemon juice.
Cook on medium heat for 3 minutes just until tips are tender.
Drain and let cool.
Soup
Purée the soup in a blender in batches, or with a wand, then reheat the soup over low heat.
Garnish each serving with crème fraîche and asparagus tips.
Tips
If you want your soup to be a more vibrant green, toss in a handful or two of fresh spinach right before you purée the soup. It won't change the flavor but will add fresh color.
If you don't want to dirty another saucepan or use a lemon for the asparagus garnish, place the asparagus tips on a small, microwave safe plate, sprinkle with water, and microwave on high heat about 20 seconds until tender-crisp. Immediately plunge the tips into iced water to keep them bright green.
The top right side bowl has no spinach added, the top left has lots of spinach and the middle front has a medium amount added…just right 🙂
If you receive my blog post via email you will need to visit my website to view the video.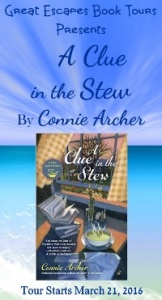 Click on the icon to visit Escape with Dollycas' Great Escapes Book Tour page
I received an ARC from the author and/or publisher in exchange for an honest review. All views and opinions are my own.