THE CRACKED SPINE is the first in the Scottish Bookshop Mystery series from author Paige Shelton and the story starts off with a bang from the very first paragraph! You know you're in for a wonderful ride following the protagonist, Delaney Nichols, as she begins a new adventure leaving her old life behind in Wichita, Kansas and moving to Edinburgh, Scotland.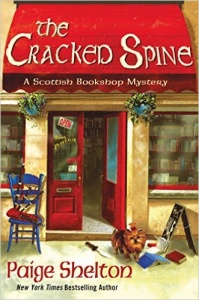 Delaney is laid off from her position at a small museum in Wichita and answers a help wanted ad placed by the owner, Edwin MacAlister, for a position at a book and rare manuscript shop in Edinburgh. Upon reaching Scotland, she meets and befriends the other two employees who work in the shop: Hamlet, the young man who has had a rough life and Rosie, the elderly woman who is quite the character and takes her adorable dog, Hector, everywhere with her.
Delaney from Kansas in America, as everyone in Scotland seems to call her, is barely getting settled in when Edwin's sister is brutally murdered. Edwin had entrusted his sister, who battled drug addiction most of her life, with an extremely rare and valuable manuscript which is now missing. With Edwin grieving both the loss of his sister and the manuscript, Delaney decides to start asking questions and see if she can help her new boss. It's not long before she is pulled in to wanting to find the murderer, especially when her young co-worker, Hamlet, becomes one of the suspects.
THE CRACKED SPINE was a charming read and I loved how the author used Scottish words and accents in the dialog. It added authenticity. Paige also portrayed the new people in Delaney's life as warm, caring, openly friendly people which is exactly what I experienced firsthand during a wonderful visit to Scotland. There were also a lot of twists and turns in the plot so I was kept guessing about the real culprit. I certainly will be following The Scottish Bookshop Mystery series closely and wait in anticipation for the next installment!
While THE CRACKED SPINE does not have recipes, I talked to Paige about sharing one of my own to include with my review of her wonderful book. I was kind of stumped on what to share (I won't touch haggis with a ten-foot-pole!) until a dear friend of mine, Joan, mentioned that she was struggling to make an old family shortbread cookie recipe taste like she remembered her mother making it. When I found out that Joan's father had immigrated from Scotland to Canada at a young age with his family at least one hundred years ago, I knew I'd found authentic Scottish Shortbread Cookies and begged for her recipe. Since her family lived in Canada I knew I'd have some trial and error to work through. Canadian flour is a bit different than American flour and with the decades separating Joan's mother baking these cookies and me making them, I was sure the fat content in the butter was probably different too. I was very pleased, though, that these cookies use ONLY four ingredients, so they whip up very quickly! After a few tries I found the ratios that made these Scottish Shortbread Cookies bring Joan to tears of happiness. Thank you, Joan, for allowing me to share your family recipe!
My advice? Bake up a batch of these delectable cookies that melt in your mouth, sit down to read THE CRACKED SPINE, and be transported to Scotland!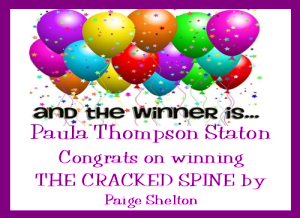 A very special thanks to Paige Shelton for providing an autographed hardcover copy of THE CRACKED SPINE to one lucky winner! Please use the Rafflecopter box located below the recipe to enter. Contest ends Sunday, April 3, 2016 at 11:59 pm PST and is open to U.S. residents only. Winners will be announced on this page and on Cinnamon & Sugar's Facebook page, as well as notified by email (so check your spam folder!)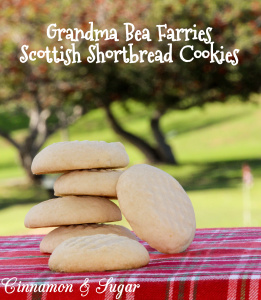 Grandma Bea Farries' Scottish Shortbread Cookies
Makes approximately 27 cookies
Ingredients
1 pound (4 sticks) butter
1 cup (4.4 ounces) confectioners' sugar
3 cups (16 ounces) flour, pack it down in the cup when measuring
1/2 cup (2.2 ounces) cornstarch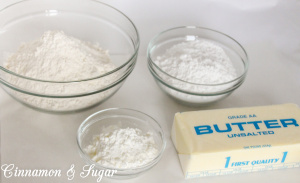 Instructions
Preheat oven to 325 degrees (F).
Sift the flour, cornstarch, and confectioners' sugar together. Set aside.
Cream the butter until light and fluffy, about 3 minutes.
Add the flour mixture and beat until thoroughly combined.
Form the dough into golf ball-sized shapes (I used my 2-tablespoon spring-loaded cookie scoop) and place on a parchment-lined baking sheet.
Gently press the tines of a fork on the top of the cookie, making a criss-cross pattern. You don't want to flatten the cookies, just imprint them. The dough should remain at least a half-inch high.
Bake for 25 minutes in the preheated oven.
Allow to cool on the baking sheet for five minutes then remove to a wire rack to cool completely.
Store in an airtight container at room temperature.
Tip
If you use unsalted butter, add 1/2 teaspoon salt and sift with the flour mixture.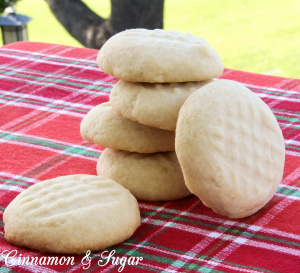 If you receive my blog post via email you will need to visit my website to view the video.
I received an ARC from the author in exchange for an honest review. All views and opinions are my own.