With Easter fast approaching I'm always on the lookout for sweet treats that capture the "spirit" of Spring, especially treats that are easy to serve and share with friends and family. I was instantly drawn to the recipe for Carrot Lane Cupcakes from BANANAS FOSTER AND A DEAD MOBSTER by A. Gardner. These cupcakes are stuffed full of yummy goodies: healthy carrots, buttery pecans, plump golden raisins, tropical sweet coconut, and then topped with rich, cream cheese frosting. Perfect for your favorite little bunny! The author also bumps up the flavor component in these cupcakes by including an optional Bourbon add-in if you're baking for adults.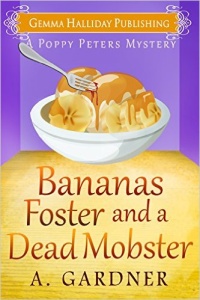 Poppy Peters is finishing up culinary school at Calle Pastry Academy in Georgia. The new pastry instructor, Otto Chimenti, is America's most eligible celebrity chef and has an ego to match. He's teamed Poppy up with her nemesis, Georgina, to work on their final dessert and cake presentation. They must also work together at the farmer's market giving out free samples from the students' bakery while providing simple cooking demos. Poppy is in charge of demonstrating how to make Bananas Foster and hands a sample to a large man dressed in a pinstripe suit, which is much too hot for summer in the south. The mystery man ambles off to eat his ice cream smothered in bananas and rum sauce and soon after is found dead, with Poppy's personal, initialed chef's knife sticking from his back.
Detective Derek Reid is in charge of the investigation and warns Poppy to stick to her kitchen instead of getting into trouble by trying to solve the case. The dead guy is none other than Gino Milani, a member of the New Orleans mafia. Once her roommate, Bree, tells her that the mafia will retaliate against her since everyone will think Poppy is the murderer, she determines that she will have to find the real killer first. Plus she wants to prove to Detective Reid that there's more to her skills than just baking.
The more questions Poppy asks the more secrets she finds are being hidden by a number of people but the threads of truth are difficult to unravel. It doesn't take long for a mysterious black Cadillac to start following her and when another victim shows up, Poppy knows she'd better learn to trust the police and work with them instead of competing against them.
BANANAS FOSTER AND A DEAD MOBSTER is a fun culinary cozy! I love the setting at the Pastry Academy and hearing about all the treats they are making along with decorating skills. Poppy has several close friends that lend her support and encouragement, including Cole, the guy she crushes on but doesn't want to admit it. Her roommate, Bree, is always in their apartment kitchen working on "Franken-Sweets"…looking to create the next cronut. She creates the Carrot Lane Cupcakes, which is a cross between Carrot Cake and Alabama Lane Cake, along with other spectacular desserts. The author provides several recipes, including some of Bree's Franken-Sweets, at the back of the book and all sound incredibly delicious! In addition to the culinary side of the book, A. Gardner writes a mystery with twists and turns that leaves you guessing until the very end and then makes you wish the next book was available already to continue their story. Thank you, A. Gardner, for allowing me to share your recipe for Carrot Lane Cupcakes — these will become an annual tradition in our household!
A special thank you to A. Gardner for providing an e-book copy of BANANAS FOSTER AND A DEAD MOBSTER for one lucky reader to win! Please use the Rafflecopter box located below the recipe to enter. Contest ends Monday, March 28, 2016 at 11:59 pm PST. Winners will be announced on this page and on Cinnamon & Sugar's Facebook page, as well as notified by email (so check your spam folder!)
Carrot Lane Cupcakes
(Makes approximately 2 dozen cupcakes)
Ingredients
Cake
2-1/2 cups all-purpose flour
2 cups sugar
2 teaspoons ground cinnamon
2 teaspoons baking soda
1-1/2 teaspoons salt
3 eggs
1-1/3 cups vegetable oil
1 teaspoon vanilla extract
1 cup golden raisins
1 cup pecans, chopped
2 cups carrots, grated
1 cup shredded coconut
1/2 cup bourbon (optional)
Frosting
1 (8-ounce) package cream cheese, room temperature
1/2 cup (1 stick) unsalted butter, room temperature
2-1/2 cups confectioners' sugar
1 teaspoon vanilla extract
Maraschino cherries for garnishing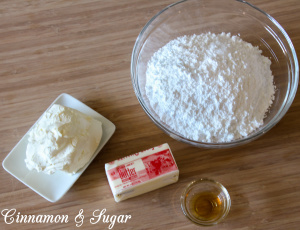 Instructions
Cake
Preheat oven to 350 degrees Fahrenheit.
In a large mixing bowl, combine flour, salt, cinnamon and baking soda.
Mix in sugar, oil, eggs, and vanilla extract. (If using bourbon add this as well.)
Add carrots, raisins, pecans, and shredded coconut.
Mix well and scoop batter into lined muffin tins.
Bake cupcakes for 20 – 25 minutes, or until a toothpick comes out clean.
Let the cupcakes cool before frosting them.
Frosting
Let the butter and cream cheese soften to room temperature.
Whip together the butter and cream cheese.
Add the vanilla extract and confectioners' sugar and whip until smooth.
The icing should be about a medium consistency.
Frost each cupcake and top with a maraschino cherry.
Tip
We like our frosting piled sky-high on our cupcakes so I doubled the amount.
I added some mint green gel food coloring to the frosting to make carrot "tops" on top of cupcakes baked in bright orange wrappers.
If you receive my blog post via email you will need to visit my website to view the video.