When I hear that a new release is coming in one of the series that I love to read, I do a happy dance! KILLER TAKEOUT by Lucy Burdette is releasing April 5th, and I was thrilled to get my hands on an early copy.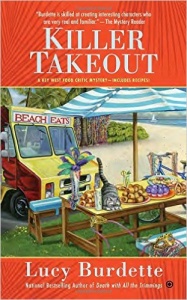 KILLER TAKEOUT takes us back to Key West in the ten days leading up to Halloween. Hoards of people are flooding into the tropical town to participate in Fantasy Fest and Hayley Snow, Food Critic for Key Zest magazine, has her hands full. Wanting to avoid the overcrowded restaurants, she researches reliable takeout food for an article along with covering some of the Fantasy Fest events such as Zombie Bike Ride and a pet masquerade contest. On top of that her mother, Janet Snow, is arriving in town with her fiance, Sam, to get married on the beach…and a huge tropical storm is heading their way.
Danielle Kamen, the receptionist for Key Zest, is crowned Queen of Fantasy Fest. When Hayley hears that Danielle is in a cat fight with one of the other contestants, she rushes to lend her support and it takes police intervention to break it up. Danielle insists it wasn't her fault, that she was trying to get away from Caryn Druckman. The next day as Hayley is riding in the Zombie bike ride taking photos and video for her article, she sees Caryn collapse in the middle of the ride. Hayley stops to help her but it's too late….she's dead. The police suspect poisoning and set their sights on Danielle given the altercation the day before. Danielle begs Hayley to clear her name since she's a nervous wreck and can barely function. As Hayley starts asking questions around town, she's not so sure Danielle wants to know the truth. Could it be Danielle's own ambitious mother and aunt who had a hand in doing away with the competition or one of the many other people Caryn had stepped on in her fight for the crown?
There were so many things to love about this story! Lucy's imagery made me feel a part of the Fantasy Fest and facilitated several laugh out loud moments. Hayley is a loyal friend and the relationships she has with her mom, Danielle, and her geriatric houseboat roommate seem genuine which adds charm to the story. There's still some conflict in her relationship with Detective Nathan Bransford but the author gives them both room to explore and grow with each passing book.
The food descriptions alone can contribute to gaining about five pounds while reading…so many drool-worthy dishes are mentioned and as usual, Lucy shares several recipes at the back of the book. As soon as she asked if I'd like to make her coconut cake I knew exactly how I'd like to present it. While you can stack the 2 layers of cake with lusciously rich cream cheese frosting and tropical coconut nestled in between, this time of year calls for a fun kids' cake! I first made a bunny cake almost thirteen years ago when my granddaughter, Jaidyn, turned one. It was my VERY first attempt at doing anything creative with a cake and of course I used a boxed mix and canned frosting. Lucy's coconut cake and coconut cream cheese frosting are a natural match for the design and made the adults go back for seconds for another nibble of this supremely moist, tropical tasting cake! I have included a video tutorial below showing how to assemble the bunny cake along with a PDF template for cutting the ears and bow tie.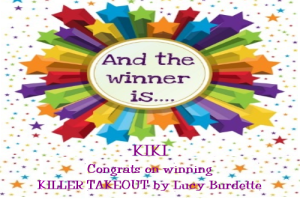 As a bonus for my readers I'm giving away either a print copy or e-book copy of KILLER TAKEOUT for one lucky reader to win! Please use the Rafflecopter box located below the recipe to enter. Contest ends Friday, March 25, 2016 at 11:59 pm PST. Non-U.S. residents will be awarded a digital copy. Prize will be sent out on the book's release date of 4/5/16. Winners will be announced on this page and on Cinnamon & Sugar's Facebook page, as well as notified by email (so check your spam folder!)
Eric's Coconut Cake (Almost)
My friend Eric (the model for the psychologist character in the Key West mysteries) is famous for his coconut cake. And I've been looking for a recipe for coconut cake forever, so I begged for his. Of course, never able to quite leave a recipe alone, I did change things up a little from what he sent me. I used less of the cream of coconut and one block of cream cheese in the icing, instead of two. Oh, and unsweetened coconut instead of sweetened. It was delicious, if I say so myself. I think I will try this as a sheet cake next time I have to take something to a party…
Serves ten to twelve
Ingredients
Cake
1-1/4 cup all-purpose flour
1-3/4 cup cake flour
1 tablespoon baking powder
2 cups sugar
3/4 teaspoon salt
1-1/2 sticks (6 ounces) unsalted butter, softened but still cool, and cut into cubes
3 ounces Coco Lopez from an 8-ounce can (save the rest for icing)
4 eggs, room temperature
1 cup milk
1 teaspoon vanilla extract
1/2 teaspoon almond extract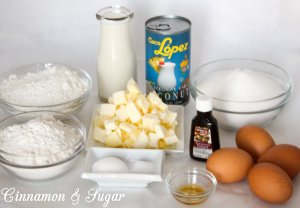 Frosting
1 8-ounce block cream cheese, room temperature
1 stick (4 ounces) unsalted butter, room temperature
5 ounces Coco Lopez (the rest of the can)
1 teaspoon vanilla extract
About 1 and 1/2 cups – 2 cups confectioner's sugar
7 – 8 ounces unsweetened flaked coconut (you can use sweetened flaked coconut too)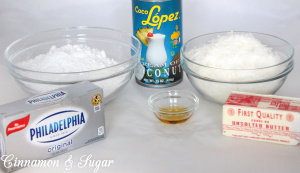 Easter Bunny Cake
Pink gel food coloring
Assorted candies
Click on the link: Easter Bunny PDF Template
Instructions
Cake
Heat oven to 350 degrees (F).
Prepare two 9-inch cake pans by buttering them well, lining with parchment, and then buttering the parchment too.
Mix all the dry cake ingredients in bowl of electric mixer or stand mixer at slow speed.
Add cool cubes of butter, a few at a time, along with the Coco Lopez, and continue beating on low for about 1-2 minutes.
Beat the eggs in one at a time, mixing well but minimally after each.
Mix the milk with the extracts.
Add 1/2 cup of milk mixture to flour mixture and beat until combined. Add remaining 1/2 cup of milk mixture and beat for about 1 minute.
Pour batter evenly into the two prepared cake pans.
Bake until toothpick inserted in the center comes out clean and cake springs back when touched, in the neighborhood of 25 minutes. (Watch this because you don't want to overcook…)
Cool the pans for ten minutes, then remove the cakes, one to a plate and the other to waxed paper, and allow them to cool to room temperature.
Frosting
Cream the butter and cream cheese together then add in the Coco Loco and vanilla extract.
Slowly add in the confectioners' sugar and beat until creamy. Add in additional confectioners' sugar until desired consistency and sweetness level is reached.
Ice the top of the first layer, then sprinkle with coconut. Add the second layer, ice the whole cake, sprinkle the coconut all over, patting as needed.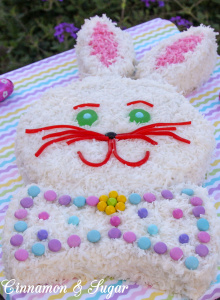 Easter Bunny Cake
Tint 3 tablespoons of the flaked coconut pink, using 2 drops of pink gel food coloring. Set aside.
Using the Easter Bunny PDF Template, slice one of the 9-inch cake rounds into a bow tie and 2 ears.
Place the intact 9-inch cake round onto a large cake board and position the bow tie and 2 ears to make a bunny.
Cover the cakes with frosting.
Apply the pink coconut to form the shape of the bunny's inner ears.
Cover the remaining cake with white coconut, pressing the coconut into the sides of the cake to adhere.
Decorate the bunny with assorted candies as desired. I used licorice whips, Lifesaver gummies, jelly beans, M & M's, and Sixlets. View my video tutorial below to see how I assembled cake.
Tips
My can of Coco Loco separated so I puréed using an immersion stick blender before using.
Use EvenBake Cake Strips around the cake pans while baking to keep the cake tops from doming.
For my cake board, I use colorful fabric (wash first!) on a 1/2-inch thick cut piece of plywood that I've covered with washable contact paper. Hot glue the edges of the fabric to the bottom of the board. When the "party" is over, remove the fabric and bits of cake and frosting and throw away. Clean the contact paper covered board as needed and it will be ready to reuse for your next cake!
Of course you can make this luscious tropical cake as a regular layer cake!