Last fall I read my first Candy Holliday Murder Mystery book, TOWN IN A PUMPKIN BASH, and got hooked. When I found out that the husband and wife team writing as B.B. Haywood, were coming out with a new release in the series last month, I was extremely happy…and their newest book, TOWN IN A CINNAMON TOAST, did not disappoint!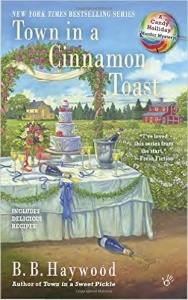 Candy Holliday has quit her managing editor position with the local newspaper so that she can work side-by-side with her father, Doc, on their blueberry farm. Her best friend, Maggie Tremont, is getting married to the town's baker, Herr Georg Wolfsburger. They are holding their wedding at Candy and Doc's farm and the bridal couple host a pre-wedding planning dinner at a local restaurant. When the best man, Julius Seaburg, doesn't show Candy goes looking for him. Julius is the town's unofficial historian and spends a great deal of time at the English Point Lighthouse Museum researching. Candy finds him at the museum face down, dead. A bottle of the champagne Georg had purchased for the wedding is near his body and seems to be the murder weapon.
While waiting for the police to arrive, the museum's director shows up. Owen Peabody disregards the crime scene and picks up books that have fallen to the floor. A note flutters from one of the books with several names of the town's founding families written on it. Owen stuffs it into his pocket believing it to be inconsequential, but Candy thinks it could be a clue Julius wrote before he died. When the police begin investigating the Chief of Police makes it clear that he considers Candy a suspect since she had means to snatch the champagne while she was at the restaurant and then she was found alone with the murder victim. Plus he doesn't like how she's found victims and solved several murders over the past few years.
Maggie is distressed and considers postponing the wedding after finding the unconscious body of the waiter who was handling their champagne. Candy determines she needs to find the killer so her friend can have the wedding of her dreams. Herr Georg, although somewhat elderly, jumps into the investigation with Candy to keep his bride-to-be from being stressed out. And as he points out, the murderer made it personal when he killed his best man using a bottle of his champagne.
One of the things I love about this series is the historical mystery thread that is woven throughout. Even though this is the seventh book in the series, it is still easily read as a stand-alone. If you have followed Candy's story, TOWN IN A CINNAMON TOAST has more clarity to the feud between some of the founding families from eons back that continues into modern times and impacts the entire town. The author also does a wonderful job creating close family and friend relationships with the central characters. Of course I have to mention the delicious recipes that B.B. Haywood provide with their book! They have included the Orange Wedding Cake recipe Herr Georg made from an old family recipe for his and Maggie's reception….although this recipe is scaled down to make a regular sized cake. The cake itself is fat-free but still rich tasting and moist. The super flavorful Orange Buttercream frosting makes this the perfect cake for any special occasion, like Easter. A huge thank you to B.B. Haywood for allowing me to share this wonderful recipe! It was so yummy, several of my taste testers went back for seconds and one even went back for thirds! I have included a short video tutorial at the bottom of the page.
Thanks to B.B. Haywood for providing a copy of TOWN IN A CINNAMON TOAST for one lucky reader to win! Please use the Rafflecopter box located below the recipe to enter. Contest ends Monday, March 21, 2016 at 11:59 pm PST and is open to U.S. residents only. Winners will be announced on this page and on Cinnamon & Sugar's Facebook page, as well as notified by email (so check your spam folder!)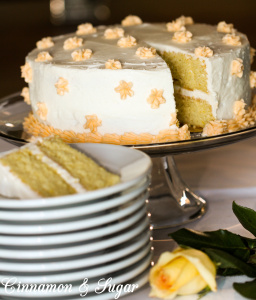 Maggie and Georg's Orange Wedding Cake
with Orange Buttercream Frosting
(From an Old Wolfsburger family recipe)
Serves 12
Ingredients
Cake
Grated rind and juice of one large orange (about 1/3 cup orange juice)
5 eggs
2 cups powdered sugar
1/2 cup cold water
2 cups all-purpose flour
2 tablespoons baking powder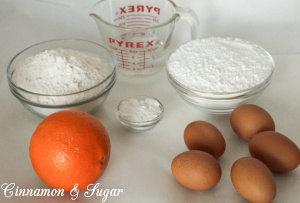 Orange Buttercream Frosting
1 cup butter (2 sticks) softened
3 – 4 cups powdered sugar, sifted through a sieve or with a sifter
1/4 teaspoon salt
1 tablespoon orange extract
Up to 4 tablespoons of heavy cream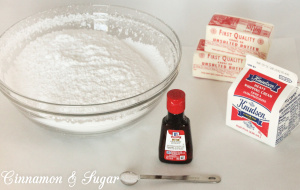 Instructions
Cake
Preheat oven to 350 degrees.
Grease and flour 2 round 9-inch cake pans or 1 9-inch-by-13-inch rectangular baking pan.
Into a large mixing bowl, squeeze the juice from 1 large orange.
Grate the rind of the same orange into the bowl, mix well with the juice.
Add eggs to the orange mixture and mix well.
Add powdered sugar, a little at a time, mixing well with a wire whisk for 10 minutes.
Add cold water.
Add flour and baking powder, a little at a time, mixing well after each addition.
Split batter between 2 pans or put it all in the 1 rectangular pan.
Bake at 350 degrees for 20 – 25 minutes, or until a toothpick comes out clean.
Cool cakes in pans for 20 minutes, then turn out cakes onto 2 sheets of wax paper until ready to frost.
When cakes are completely cooled, set one round cake on a cake plate.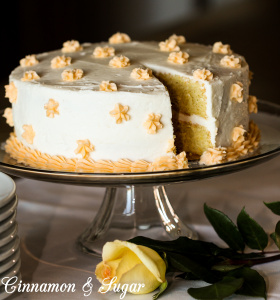 Orange Buttercream Frosting
In a large bowl beat the softened butter.
Mix some of the powdered sugar with the butter in the bowl.
Add salt, orange extract, and cream. Mix for 3 minutes.
Add more powdered sugar or cream to get the consistency you like.
Frost the top of 1 layer; put the second layer on top.
Frost the sides, then the top.
For a wedding cake, this would be many tiers high and decorated with vines and flowers.