Numerous years ago (too many to keep track of!) I was looking for a new mystery author to read. I was visiting my dear cousin, Mary, and she introduced me to the series Joanne Fluke writes: Hannah Swensen Mysteries with Recipes. The first one I read was CHOCOLATE CHIP COOKIE MURDER… a not too scary murder mystery with yummy recipes… I was hooked on cozy mysteries from then on!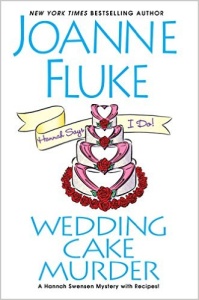 With each new release in the series I eagerly devoured both the book and Ms. Fluke's delectable treats and I still use many of the recipes she included with those long ago books. However, the last few years I was a bit…ummm….less than enthusiastic with the newer books. The protagonist, Hannah Swensen, waffled between the two men in her life, Mike and Norman. My thoughts were "just pick Norman" and move on! (I'm sure there are an equal number of you who were voting for Mike…) Well, Hannah has picked someone and wedding bells are set to ring in Joanne Fluke's latest book, WEDDING CAKE MURDER! And I'm back to being excited about this series and can't wait for the release of future stories!
Hannah Swensen, owner of The Cookie Jar in Lake Eden, Minnesota has been invited to compete in the Food Channel's Dessert Chef Competition in New York. Engaged to Ross Barton, an old college crush, Hannah plans to have a small and very private wedding ceremony before the competition and turn the trip into a honeymoon. Of course the town is gossiping and spreading rumors about why she's keeping it private, and Delores, Hannah's mother, is mortified. Hannah finally agrees to a large wedding and gratefully allows her mother and sisters, Andrea and Michelle, to plan the event taking place in three weeks time. She has a business to run and a competition to prepare so Ross is very supportive of any decision she makes. Delores also thinks that both Mike and Norman should be invited to participate as groomsmen and it's up to Hannah to make the offer. Hannah hasn't talked to the two men since saying yes to Ross's marriage proposal and is sick with worry about their response. Michelle bakes Chocolate Almond Crisps to sooth Hannah and her former suitors, and it seems to work. Both men agree to be a part of her wedding party and remain close friends.
The competition is moved up by ten days and a new twist has been added: the remaining rounds of the competition will move to the hometown of the first round's winner. Hannah, Michelle and Ross fly to New York and meet the other contestants and judges, including Chef Alain Duquesne. Chef Duquesne has a reputation for being rude and arrogant but Hannah manages to wow him and wins the first round. The competition moves to Lake Eden Inn since the owners, Sally and Dick have a large enough kitchen to hold all the competitors. Hannah and Michelle arrive at the Inn early one morning to practice their recipe for the upcoming cookie round. Her younger sister, Michelle, finds Chef Alain Duquesne dead in the walk-in cooler with Hannah's cake smashed next to him and the knife he used to cut the cake buried in his chest.
Mike shows up to investigate but he, along with everyone else in the town, knows Hannah will also be asking questions and trying to find the killer. She has a compulsion to find the truth, plus it was her baby sister who found the body and fingers are pointing at one of the other competitors with whom she made friends with. Hannah races against the clock to solve this latest murder and make it to the church on time to marry Ross.
I so enjoyed WEDDING CAKE MURDER and I was happy to see Hannah developing and growing as a person by taking this huge step in getting married. Ross plays a small part in the book but I hope in subsequent releases we get to know him as well as we've gotten to know Mike and Norman. I loved the interaction and the relationships between Hannah and her close-knit family and friends who all jump in to give her whatever support she needs, be it planning a wedding, preparing for the competition or running The Cookie Jar. It makes me feel that this is what small-town living is all about! The author writes a satisfying mystery with several potential suspects that kept me reading late into the night and guessing until the very end.
As usual, Ms. Fluke provides numerous delectable recipes that all sound fantastic! It was very difficult to choose just one to share but in the end I made the Chocolate Almond Crisps that Hannah served to Mike and Norman when talking to them for the first time after her engagement. Crispy on the outside and chewy on the inside, the chocolate chips are a natural compliment to the almond butter cookie. I shared the generous batch with the teachers at my granddaughter's school and they were a hit! I have included a short video tutorial at the bottom of the page.
Thank you to Ms. Fluke and to Kensington Publishing for allowing me to share this recipe!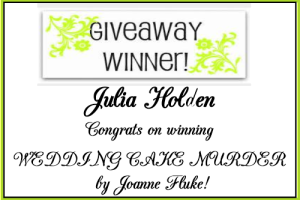 A very special thank you to Kensington Publishing for providing a hardcover copy of WEDDING CAKE MURDER for one lucky reader to win! Please use the Rafflecopter box located below the recipe for a chance to win. Contest ends Sunday, March 20, 2016 at 11:59 pm PST and is open to U.S. residents only. Winners will be announced on this page and on Cinnamon & Sugar's Facebook page, as well as notified by email (so check your spam folder!)
Chocolate Almond Crisps
Ingredients
1 cup melted butter (2 sticks, 8 ounces, 1/2 pound)
1 cup white (granulated) sugar
1 cup brown sugar (pack it down in the cup when you measure it)
1 teaspoon baking soda
1 teaspoon baking powder
1/2 teaspoon salt
1 cup almond butter (Ms. Fluke used Jif brand – I used Trader Joe's Natural Almond Butter which is a bit runnier..it was still delicious!)
2 teaspoons vanilla
2 beaten eggs (just whip them up in a glass with a fork)
2 and 1/2 cups all-purpose flour (pack it down in the cup when you measure it)
1 cup regular chocolate chips (6-ounce net weight package or half a 12-ounce package – I used Nestle)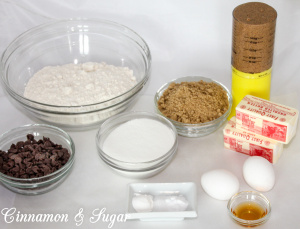 Instructions
Preheat oven to 375 degrees F., rack in the middle position.
Microwave the butter in a microwave-safe mixing bowl to melt it. This should take about 90 seconds on HIGH.
Add the white sugar, brown sugar, baking soda, baking powder and salt. Mix until everything is combined.
Measure out one cup of almond butter.
Hannah's 1st Note: Spray the inside of the measuring cup with Pam or another nonstick cooking spray before you put in the almond butter to measure it. Then the almond butter won't stick to the sides and bottom of the measuring cup, and it will be easier to remove.
Add the almond butter to your bowl and mix it in. Continue mixing until the contents are thoroughly incorporated.
Mix in the vanilla and the beaten eggs. Continue to mix until the contents are completely combined.
Add the flour in half-cup increments, mixing after each addition. Continue mixing until the cookie batter is smooth.
If you used an electric mixer, scrape down the bowl, give it a final stir, and mix in the chocolate chips by hand.
Let your cookie dough rest in the bowl on the counter while you prepare your cookie sheets. Either spray them with Pam or another nonstick cooking spray or line them with parchment paper.
Hannah's 2nd Note: If you use parchment paper, the cookies will be easier to remove after baking. Then all you have to do is pull the parchment paper, cookies and all, over onto a wire rack.
When your cookie sheets have been prepared, roll the cookie dough into one-inch balls with your hands. (Lisa and I use a 2-teaspoon scoop to do this down at The Cookie Jar.)
Hannah's 3rd Note: If the dough is too sticky to roll into balls, chill it for a half-hour or so before you try again.
Place the dough balls on the cookie sheets, 12 dough balls to a standard-sized sheet.
Use the tines of a fork to make a crisscross pattern on top of each dough ball, flattening them a bit in the process, the way you would for peanut butter cookies.
Hannah's 4th Note: If the fork sticks, either spray the tines with Pam or another nonstick cooking spray, or dredge the fork in a little flour.
Bake your Chocolate Almond Crisps at 375 degrees F. for 8 to 10 minutes, or until the edges just begin to brown. (Mine took 8 minutes.)
Take your cookies out of the oven and let them sit on the cookie sheets for 2 minutes. Then use a metal spatula to transfer the cookies to a wire rack to cool completely.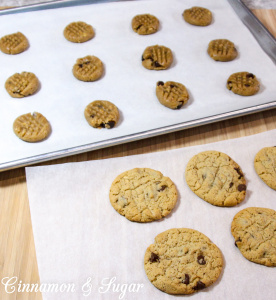 Hannah's 5th Note: When Sally and Dick Laughlin host their Oktoberfest celebration at the Lake Eden Inn, I always help Sally bake these cookies for the guests. If you substitute white chocolate chips for the regular chocolate chips, the cookies taste a lot like marzipan, which is a candy or almond paste that is a popular ingredient used in desserts, cakes, and cookies in Germany.
Yield: A batch of Chocolate Almond Crisps will make approximately 5 to 6 dozen delicious cookies.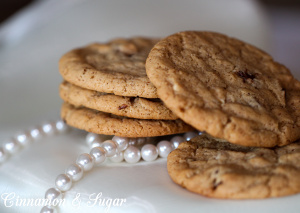 My Tip
These cookies can easily be made up through forming the dough into balls and then freezing on a parchment-lined cookie sheet. (You can fit them tightly onto the sheet.)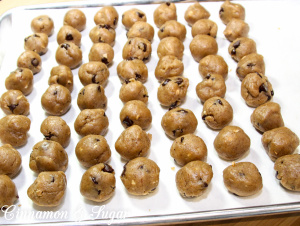 Once frozen solid, transfer the cookie balls to a freezer-safe ziplock bag. When ready to bake, remove the desired amount and place on parchment-lined baking sheet. Allow them to come to room temperature while your oven preheats then crisscross with a fork and bake as directed above. I do this frequently especially at the beginning of the Thanksgiving / Christmas holiday season so I have cookies on hand as needed. Perfect for drop-in guests or a quick gift for teachers, neighbors, or friends.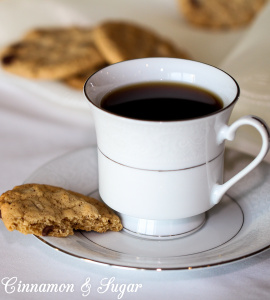 If you subscribe to receive my post via email, you will need to visit my website to view video.