I so enjoy being introduced to new authors who write culinary cozy mysteries, especially when it's a series. Recently I had the chance to read BAKED TO DEATH, A Cookies & Chance Mystery, by Catherine Bruns.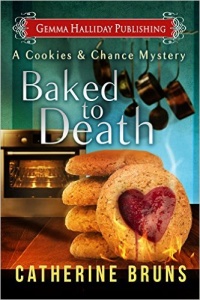 Sally Muccio owns Sally's Samples, a bakery in Colwestern, New York. She's only been in business five months after moving from Florida back to her hometown to get away from her cheating ex-husband, Colin. She hired her best friend, Josie Sullivan, as the baker and reconnected with her high school love, Mike Donovan. The bakery is doing extremely well (and so is her romance) when Sally and Josie are invited to participate as contestants for Cookie Crusades, a reality baking competition in Orlando, Florida. With the grand prize $20,000 and the business it will bring to the bakery, Sally can't pass up the chance to compete.
One of the perks that sets her bakery apart from others is she offers a free, home-made fortune cookie to every customer. A cookie breaks and she reads a strange fortune just before her ex-husband walks into her bakery telling her he should own 50% of her business. He's got a shady attorney ready to sue, even though she opened the business after their divorce. Sally tries to shake it off and goes out with Mike, Josie and her husband to celebrate Josie's birthday but the celebration is interrupted when Colin attacks her in the ladies' room. Mike comes to her rescue and threatens to kill Colin if he ever comes near Sally again. Colin manages to slice Mike's arm with a knife and escape, which enrages Mike even more.
The next morning the police show up and arrest Mike for the shooting murder of Colin, after finding his fingerprints in Colin's motel room. Sally knows Mike went out in the middle of the night but he told her he was walking his dog. To make matters worse she finds he hid a gun in his bedroom but she's sure he's still innocent. Sally's grandmother helps provide the funds to pay for bail so Mike doesn't have to sit in jail. When he goes on the run, Sally's love and her belief in his innocence is put to the ultimate test. Determined to find the truth, she leaves for Florida with Josie to participate in Cookie Crusades and look into Colin's life after her divorce. Sally finds numerous people who wanted Colin dead and worries that they may be turning their sights on her. Can she find the real killer before it's too late or will Mike take the fall?
Not only is BAKED TO DEATH an exciting, fast-paced story, there's also a sweet romance about letting the past go and learning to hope for a better future. I loved the characters that Catherine has surrounding Sally, from her supportive, strong grandmother to her fun loving, romantic parents who end up mostly embarrassing Sally, her sister and Josie…and gave me a few giggles over their antics. I look forward to reading more in this series!
Catherine also includes several recipes at the back of the book and has graciously allowed me to share her recipe for Josie's Jelly Cookies which Sally and Josie make during their competition. With your favorite flavor of jam or jelly nestled in a cup of buttery, tender shortbread, these cookies are elegant and beautiful with the jeweled tones. I love to make homemade jam which was the perfect accompaniment to these delicious cookies and have included links at the bottom of the page for my jam recipes along with a quick video tutorial on these easy to mix up jelly cookies.
A very special thanks to Catherine Bruns for providing giveaways of both a print copy and an e-book of BAKED TO DEATH for readers to win! (Non-U.S. residence will be awarded an e-book.) Please use the Rafflecopter box located below the recipe for a chance to win and be sure to comment whether you prefer a print copy or an e-book. Contest ends Monday, March 14, 2016 at 11:59 pm PST. Winners will be announced on this page and on Cinnamon & Sugar's Facebook page, as well as notified by email (so check your spam folder!)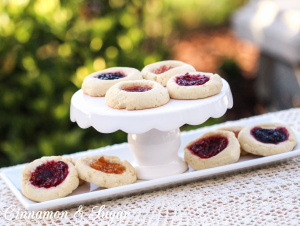 Josie's Jelly Cookies
Ingredients
1-1/2 cups (3 sticks) butter, softened
1 cup granulated sugar
3 egg yolks
1 teaspoon vanilla
4 cups all-purpose flour
Jam – Strawberry, Raspberry, Grape, your choice. (Can be seeded or unseeded.)**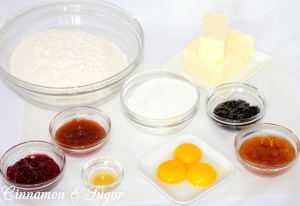 Instructions
Preheat the oven to 350 degrees, Fahrenheit.
Cream butter, sugar, yolks, and vanilla together.
Sift flour and mix into the wet mixture.
Shape cookies in hand to make a ball about the size of a tablespoon, and press thumb firmly into the center.
Fill imprint with favorite jam.
Bake on parchment-lined cookie sheet for about 10 minutes or until edges start to brown. (My oven took about 15 minutes to bake the cookies.)
Let cool on the cookie sheet – the jelly especially will be very hot!
Makes about two dozen generous-sized cookies.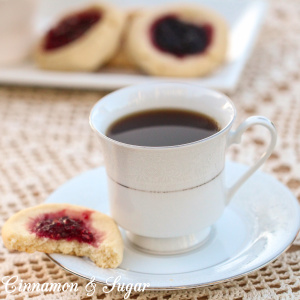 **If you'd like to make your own jam, here is a list of jams I've made and shared on my blog. Click on the links below to view the recipe.
Rose Petal Jam (this is my granddaughter's favorite jam!)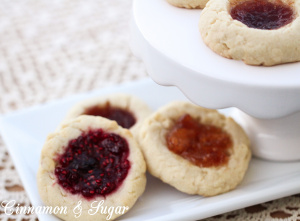 If you subscribe to receive my post via email, you will need to visit my website to view video.