With St. Patrick's Day fast approaching, I looked forward to reading SHAMROCK SHENANIGANS by Kathi Daley to get in the spirit of the Irish celebration…and it certainly did just that! Zoe Donavan and her husband, Zak Zimmerman, and their dog, Charlie, have traveled to Ireland so Zoe can participate in a murder mystery weekend at an ancient Irish castle that is supposedly haunted. Lord Fergus Dunphy's family has owned the castle for centuries and rumor has it that some of the former residents have not moved on.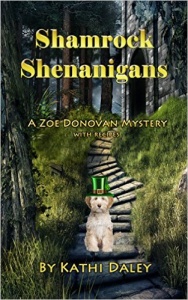 After settling in to their room, Zoe and Zak meet up with the other guests over dinner. They find out that they occupy the room that Catherine, wife of a former Lord Dunphy, occupied in the 1600's and she's supposedly still around. Only five of the twelve guests are competing in the mystery contest, the rest are guests, a reporter, and a movie star, Brent Silverwood, who asked to attend in order to "study" for an upcoming role. It has been raining non-stop since they arrived but as the evening progresses, the storm intensifies. Lord Dunphy announces that the bridge to the mainland has flooded and with the storm raging, they are completely stranded. To make matters worse, the storm has knocked out both the telephone service and cell service. Lord Dunphy assures the guests there is nothing to worry about…there is plenty of food and they are completely safe…. until Zoe and Zak stumble across the murdered body of Brent Silverwood late that night, hidden in the massive grounds.
Unfortunately the body disappears before anyone else sees it and some guests are either skeptical that a murder actually took place or think Zoe and Zak are killers. Without any way to contact authorities, Zoe decides she needs to find the real killer before another murder takes place on the isolated island.
In amongst a nicely written who-done-it in an exciting location, Kathi has included interesting sub-plots. Catherine, the 1600's Lady of the castle, hasn't passed on to the light and takes an interest in Zoe. When Catherine was alive, she bore the Lord twelve sons and upon each birth, she was given a precious jewel. No one knows what happened to the jewels and Zoe is intrigued so begins to search for them in addition to trying to figure out who the killer is. She is also challenged to think about having children of her own. Is she ready for that kind of commitment? She also believes that Catherine has stayed at the castle because she has a centuries old secret that needs discovery. Can Zoe figure out what the ghost is trying to communicate? The parade of characters in the story bring intrigue to the party. They all seem to be hiding something and some aren't who they say they are. Zoe has her hands full in her latest adventure in the Emerald Isle and kept me entertained the entire book!
In addition to an entertaining read Kathi has included several recipes. The one that caught my eye immediately was the Triple Layer Pistachio Pie…a crunchy Oreo crust with a fudgy layer of chocolate and buttery pistachios, then topped with 3 layers of creamy pudding and whipped topping. I shared some of the pie with friends and one labeled it, "The Mother Lode of desserts!" And of course she went back for seconds! Best of all? It's a no-bake dessert if you choose to buy a pre-made Oreo crust. The perfect pie to serve for Saint Patrick's festivities or anytime you want something incredibly delicious with little effort. I have a short video tutorial at the bottom of the page if you would like to see just how easy it is to make this. No cooking experience necessary 🙂 Thank you to Vivian Shane for submitting the recipe for this book and to Kathi for allowing me to share it!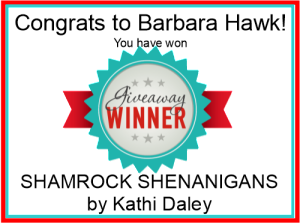 A very special thanks to Kathi Daley for offering readers a chance to win either an e-book or print copy of SHAMROCK SHENANIGANS – winner's choice! (Non-U.S. residence will be awarded an e-book.) Please use the Rafflecopter box located below the recipe for a chance to win. Contest ends Thursday, March 10, 2016 at 11:59 pm PST. Winner will be announced on this page and on Cinnamon & Sugar's Facebook page, as well as notified by email (so check your spam folder!)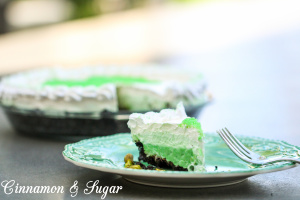 Triple Layer Pistachio Pie
This is a visually appealing pie with its graduated colors in the three layers, which are a nice contrast to the dark Oreo crust.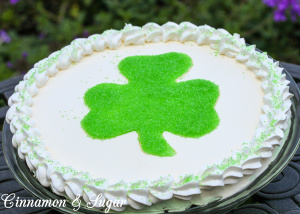 Ingredients
2 ounces Baker's semi-sweet chocolate, melted
1/4 cup sweetened condensed milk
1 Oreo pie crust (purchased pre-made or see my recipe below)
3/4 cup chopped toasted pistachios, divided
2 packages (3.4 ounces each) Jell-O pistachio flavored instant pudding
1-3/4 cup cold milk
1 tub (8 ounces) whipped topping, thawed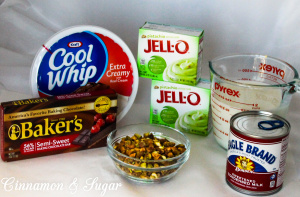 Instructions
Mix the chocolate and condensed milk until blended then spread onto the bottom of the crust.
Sprinkle with half the nuts.
Refrigerate until ready to use.
Beat the pudding mixes and milk with a whisk for 2 minutes (pudding will be thick).
Spread 1-1/2 cups over the chocolate layer of the crust.
Stir half of the whipped topping into the remaining pudding and spread over the pudding layer.
Top with the remaining whipped topping and sprinkle with the remaining nuts.**
Refrigerate 3 hours or until firm.
Tip
**To make the pie more holiday festive, omit the pistachio garnish and instead, place a shamrock cookie cutter on top of the pie and sprinkle inside the cutter with green sparkling sugar. You can see how to do this on my video tutorial below.
To easily melt chocolate, place chopped chocolate in a microwave safe bowl. Heat on high for 30 seconds in the microwave. Stir vigorously, allowing the heat from the bowl to help melt the chocolate. Heat in additional 10 second intervals, stirring each time, until chocolate is smooth. Use caution and don't overheat!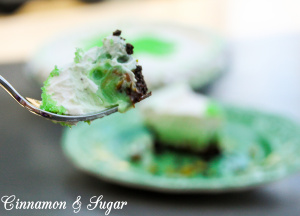 Oreo Pie Crust
Ingredients
20 Oreos (approximately 8.1 ounces)
3 tablespoons butter, melted
Instructions
Preheat oven to 350 degrees (F).
Crush or pulse the Oreo cookies in a food processor until they become fine crumbs. No need to scrape off the frosting!
Mix the crumbs with the melted butter.
Pat the mixture into a 9-inch pie plate.
Bake 8 minutes then cool completely before filling.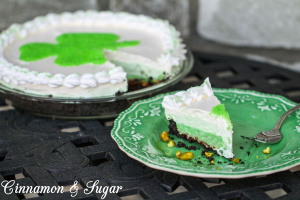 If you subscribe to receive my post via email, you will need to visit my website to view video.