A few years ago my husband and I decided to move to a new home a few miles away from our old house. When we shared the news with our family my youngest granddaughter, Emory, who was seven at the time, immediately burst into tears. We reassured her that we were going to live closer to her, not further. It didn't matter… her response was that she had so many good memories in our old home she didn't want to leave them behind. Trying to reason with a sobbing seven-year-old doesn't always work so I grabbed my laptop, opened Pinterest, and got her interested in searching for room themes in which to decorate her new bedroom at the new house. Problem solved! Although I did have to creatively steer her away from neon rainbow smiley faces plastering every wall 🙂
The opportunity to research and come up with decorating and design ideas and then see them come to life with my granddaughter was a treasured experience. I wouldn't say that I'm an interior decorator, but I did find I enjoyed it much more than I thought I would. Who knows, had I discovered the joy a couple decades ago maybe that would have ended up being my chosen profession.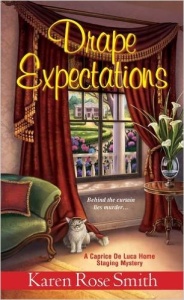 When I came across DRAPE EXPECTATIONS by Karen Rose Smith I was intrigued. First by the clever play of words in the title, then by the inviting cover and finally by the subject of this cozy mystery. How was the author going to tie in murder and interior decorating and home staging? The answer is: very cleverly!
Caprice DeLuca started out in business as an interior designer but when the economy tanked she turned towards staging homes to help them quickly sell. She met Ace Richland, a rock star legend making a comeback, when he purchased one of the homes she staged. They became friends and Caprice was able to bond with his twelve-year-old daughter, Trista, when he asked her to decorate the girl's bedroom. Ace started dating again, after a bitter divorce, and finally introduced Caprice to his wealthy widowed girlfriend, Alanna Goodwin. Alanna is planning on selling her mansion and moving in with Ace so asks Caprice to stage her home.
It's not long before Caprice and Alanna are at odds. Caprice knows what needs to be done but Alanna wants her own way. To make matters worse, Alanna has a beautiful Persian cat whom she locks into a closet anytime she doesn't want to be bothered by it, with no food or water. Caprice, being the animal lover she is, is appalled and leaves in the middle of the open house. The next day she returns to apologize, feeling she acted unprofessional. She happens to overhear Alanna and one of Ace's band members plotting to sabotage the band's tour. Not sure what to do since it's really none of her business, she returns home and says nothing.
Later that day, a panicked Ace calls Caprice telling her he found Alanna dead and it appears she had been strangled. The police are very interested in Ace as a suspect because he and the victim were seen having a huge fight the day before, with Alanna storming out of the country club. When Alanna's sister, Twyla, shows up to deal with the funeral arrangements, she hints she'd like Caprice to help find the killer since they are both sure Ace is innocent. As Caprice starts asking questions she finds that Alanna disappeared for six months during her first marriage. What was she hiding then and could her past have caught up with her? Caprice also has to wonder if Alanna really was the devoted girlfriend or did she have ulterior motives for dating Ace? And just what was Alanna's connection to Ace's bandmate?
In amongst the clever plot, Karen Rose Smith weaves a close knit family that's a refuge to Caprice, with lots of family dinners together. However, all families have problems and Caprice's has its share of troubles too. I enjoyed seeing the interaction between Caprice and her family and how they try to resolve the issues. There's also a hint of romance which I liked. Caprice isn't sure if Seth, the doctor who left for a fellowship in Baltimore, is right for her or if Grant, with his tragic past, can move beyond it and give their relationship a chance to grow. I was very happy to find out that the next installment in Karen Rose Smith's series will be available April 26th! I've included a sneak peak at the bottom of the page.
Of course with Caprice's family joining together for dinner often, she has a speciality that she makes: Caprice's Chicken Cacciatore. Succulent chicken braised with Italian sausage, veggies and fire-roasted tomatoes until the chicken is fork tender and melt in your mouth! Thank you to Karen for allowing me to share this delicious, comforting dish with you! Be sure to take a look at the short video tutorial on how to make this recipe.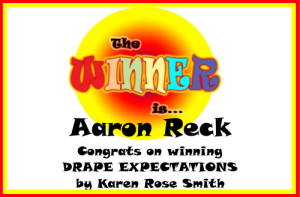 A very special thank you to Karen Rose Smith for offering readers a chance to win an autographed copy of DRAPE EXPECTATIONS or an e-book, your choice. Non- U.S. residents will receive an e-book. Please use the Rafflecopter box located below the recipe for a chance to win. Contest ends Monday, March 7, 2016 at 11:59 pm PST. Winner will be announced on this page and on Cinnamon & Sugar's Facebook page, as well as notified by email (so check your spam folder!)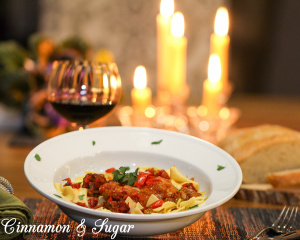 Caprice's Chicken Cacciatore
Serves 4 – 6
Ingredients
Sauce
1 pound Italian sausage cut into 1-inch pieces (sweet or hot – your choice!)
1 tablespoon vegetable oil
1 cup chopped onion (about 1 medium onion)
1 cup chopped sweet bell pepper (about 1 large pepper)
1 cup chopped celery
3 cans fire roasted tomatoes (14.5 ounce cans)
1 tablespoon sugar
1/4 teaspoon pepper
1 teaspoon smoked paprika
1-1/2 teaspoons salt
Add 1/4 teaspoon crushed red pepper (if using mild sausage)
Chicken
8 chicken thighs (3-1/2 pounds)
1-1/2 cups flour
3 teaspoons salt
1/2 teaspoon pepper
2 tablespoons oregano
4 tablespoons butter (I used olive oil since my husband can't consume dairy)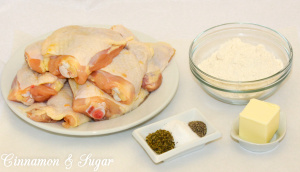 Instructions
Sauce
Brown the sausage pieces in vegetable oil for about 10 minutes on medium, stirring to brown on all sides. (Do not burn. You want the oil with sausage drippings to coat the onion, pepper, and celery.)
Add onion, pepper, and celery and sauté for about 3 minutes.
To this mixture, add the 3 cans of fire roasted tomatoes and the spices.
Simmer on low while browning the thighs.
Chicken
Put flour, salt, pepper, and oregano in a Ziploc bag and shake to mix.
Melt butter (or heat oil) in 11-inch to 12-inch deep-sided skillet.
Drop thighs into the bag with flour mixture, 2 at a time, and shake until they are coated.
Brown the thighs in the skillet on medium-high until all sides are golden brown.
Place browned thighs in a lasagna pan.
Pour sausage mixture over the thighs.
Bake uncovered at 350 degrees (F) about 1-1/2 hours until thighs are tender and meat is falling off the bone. Use a meat thermometer to assure proper doneness.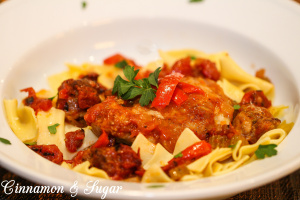 This dish can be served over pasta of your choice (I cook a pound) or complemented by side dishes such as mashed potatoes.
If you subscribe to receive my post via email, you will need to visit my website to view video.
A sneak peak of Karen Rose Smith's newest book, SILENCE OF THE LAMPS, releasing April 26, 2016.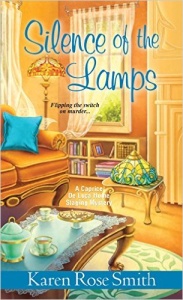 Caprice's house staging is disrupted by Drew Pierson, a caterer who opened Portable Edibles, a business in direct competition with her sister Nikki's Catered Capers. Nikki turned down Drew as a possible partner and he seems determined to undermine and bury her. However his successful launch of a deal for his blackberry barbecue sauce must have stirred up his enemies. When Nikki visits the house where Drew lives with his grandmother to resolve differences, she and Caprice find him dead–murdered with the base of a valuable Tiffany lamp.
Caprice discovers clues about Drew's sly business dealings–from stealing recipes from another chef, to friends who hold grudges, to a sister who will now inherit half of her grandmother's estate since Drew is dead. In the midst of her own romantic relationship upheaval, helping her uncle set up his pet sitting-business, assisting a friend care for a pregnant stray cat, Caprice follows the suspect trail, inadvertently putting herself in danger once more.