I always know when I pick up one of Avery Aames (aka Daryl Wood Gerber) books I'm in for a treat with a wonderful story and great recipes to choose from. I wasn't disappointed when I read FOR CHEDDAR OR WORSE, the seventh book in A Cheese Shop Mystery series.
Before I get into the story I have to gush about her Caramel Cheesecake recipe…oh my…I ate a very large slice before my lunch guests ever showed up and then proceeded to eat more for dessert! Best of all, it was super easy to make gluten-free and no one knew until I shared. Ultra creamy and rich, this cheesecake has homemade caramel sauce drizzled both on the crust and on top… and was so yummy I had to eat a spoonful before I started the cheesecake. Surprisingly, the caramel sauce is super easy to make with only ONE ingredient!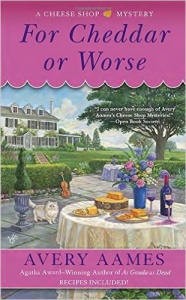 FOR CHEDDAR OR WORSE begins a few months after Fromagerie Bessette cheese shop owner, Charlotte Bessette, marries Jordan Pace. Charlotte and Jordan are both attending a "Brain Trust" for cheese makers. The conference is being held at their friend, Erin's, cheese making farm. Half of the twenty attendees are staying at the inn located on Erin's property, including Charlotte and Jordan. The surprise attendee who shows up is none other than famous Lara Berry, an author who specializes in reviewing and writing about cheese, farms and wine. Lara, instead of being the polite nice person she portrays on television, is rude and insulting to some of those attending.
During dinner Lara verbally berates Erin for her run down farm and inn. But when Lara crosses the line and starts belittling Erin's autistic brother, Erin becomes very angry. The next morning Lara does not appear for breakfast so Charlotte and Jordan decide to check on her. When she doesn't answer their knocks on the inn's bedroom door, Jordan breaks down the locked door and finds the arrogant author…dead. The police quickly determine it was murder but no one can figure out how the killer entered the room. The door was locked with a deadbolt in place and the only window on her third floor room was painted shut.
When a guest mentions she heard a violin plucked during the night in Lara's room, the police find that Erin has an extremely valuable violin locked in her closet. Since she's the only one with a violin, ugly accusations of murder are soon flying at Erin. Charlotte is pulled into seeking answers to clear her gentle friend's name with the hopes that the investigation will not prove detrimental to Erin's business and to her autistic brother. When a large piece of wooden balcony almost falls on top of her, Charlotte has to step up her investigation before she becomes the victim.
It is always a pleasure to go back and visit quaint Providence, Ohio with it's festivals dreamed up by Charlotte's Grandmère, who is the town's mayor. Avery's descriptions of the town, the shops and the people make you feel like you've visited there before and makes you feel welcome when you come back. I love how the author provides wonderful cheese suggestions…it makes my mouth water and makes me want to find a shop just like Fromagerie Bessette. The story had me hooked from the very beginning and kept me guessing up until the very end with a complete surprise that I never saw coming!
A special thanks to Avery for allowing me to share her delectable and utterly yummy Caramel Cheesecake recipe! If you adore cheesecake, check out the recipe for Goat Cheese Cookies from her book AS GOUDA AS DEAD. There is also a short video tutorial at the bottom of this page for the Caramel Cheesecake.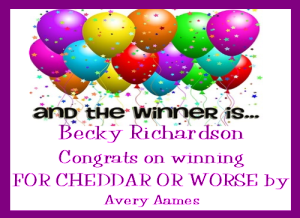 As a bonus to my readers, I'm offering a copy of FOR CHEDDAR OR WORSE to one lucky winner! Please use the Rafflecopter box located below the recipe for a chance to win. Contest ends Thursday, March 3, 2016 at 11:59 pm PST. Winner will be announced on this page and on Cinnamon & Sugar's Facebook page, as well as notified by email (so check your spam folder!) Open to U.S. residents only.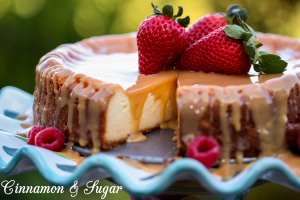 Caramel Cheesecake
(Serves 8 -12)
Ingredients
Caramel Sauce
1 14-ounce can sweetened condensed milk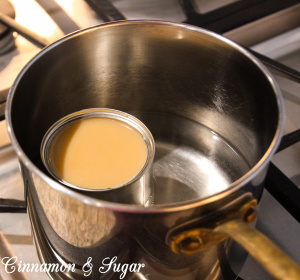 Cheesecake
1 pound (16 ounces) ricotta cheese
1/4 cup rice flour or corn starch
1/2 teaspoon xanthan gum
4 egg yolks
1/2 cup sugar
1 tablespoon lemon juice
1/2 teaspoon vanilla
1/2 teaspoon salt
1 pound (16 ounces) cream cheese
1/2 cup sour cream
4 egg whites (no yolks!)
1/2 cup MORE sugar
1/2 cup* crushed graham crackers (for gluten-free version of dessert, use gluten-free graham crackers)
2 tablespoons butter
Whipped cream for topping, if desired
*I like a thicker crust so I used 3/4 cup of graham cracker crumbs.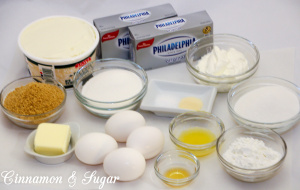 Instructions
Caramel Sauce
Open the can of sweetened condensed milk and set the can in a saucepan. Fill the saucepan with water to halfway up the sides of the can. Turn on the heat and bring the water to a boil. Turn the heat to low and let the condensed milk cook for about 2 hours, until it turns a warm brown color. (Make sure you don't run out of hot water around the can; replenish if it starts to get too low!)
Using tongs or mitts, remove the can from the saucepan and let cool. This can be made a day ahead. Keep at room temperature. (My note: if you're uncomfortable leaving dairy out overnight, refrigerate and then gently rewarm prior to drizzling over finished cheesecake.)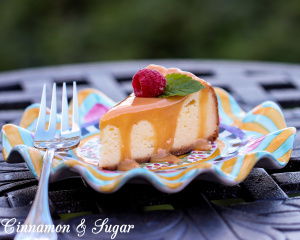 Cheesecake
Preheat your oven to 300 degrees F.
In a large bowl, using a hand mixer, mix ricotta cheese, rice flour (or corn starch), xanthan gum, egg yolks, 1/2 cup sugar, lemon juice, vanilla, and salt until well blended.
Add cream cheese and sour cream and mix well.
In a small bowl, using a hand mixer, mix separately: egg whites (with no egg yolks in them) and the other 1/2 cup sugar until egg whites form a soft peak (about 6 – 8 minutes).
Fold the egg white mixture gently into the cheese mixture.
In a springform pan, set 1/2 cup crushed graham cracker cookies. (Note: if you want to ensure this is gluten-free, use gluten-free graham crackers.)
Drizzle crumbs with 2 tablespoons melted butter and press with your fingertips to create a "crust."
Now drizzle the crust with 4 tablespoons of the caramel sauce in concentric circles.
Pour cheese mixture on top of the graham cracker crust.
Bake for 60 – 75 minutes. Cheesecake should still be just a bit jiggly.
Turn OFF the oven and let the cake STAND IN THE OVEN for 2 hours so the cheesecake will set and not droop.
When ready, remove cake from oven and run a knife between the cake and the springform pan, then pop open the springform pan and remove the cheesecake from the pan.
Set the cake on a platter and cover with plastic wrap.
Cool the cake in the refrigerator 1 – 2 hours (or overnight).
When ready to serve, drizzle with the remaining caramel sauce.
Top each slice with a dollop of whipped cream, if desired.
Note from Grandmère: There is nothing more satisfying to me than a rich cheesecake. It reminds me of when we moved to the United States. Etienne and I landed in New york, at Ellis Island. We stayed the night in New York and we tasted our first cheesecake. I will never forget the rich flavors and the sweetness. It will forever be our reminder of the sweet life we came to seek…and found.
If you subscribe to receive my post via email, you will need to visit my website to view video.