While it's always fun to find a new author or new series to start, there's something comforting about reading a new release in a series I've been following. It's kind of like catching up with old friends and following along on one of their adventures…albeit from the safety of my sofa. When I found out that Barbara Ross was coming out with FOGGED INN, the latest installment in her Maine Clambake Mystery series, I was thrilled and couldn't wait to dive in.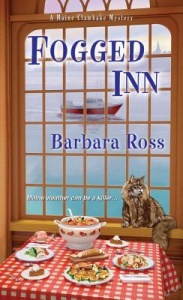 Julia Snowden has decided to stay in Busman's Harbor, Maine, over the winter to continue her relationship with Chris Durand. Gus, owner of the town's "residents only" breakfast and lunch restaurant, offers to let them use his restaurant during the evening to serve dinner and live in the apartment above. They both snatch the chance since winter is the down season with little work to go around and they agree to name their "restaurant" Gus's Too.
Five weeks into their new venture, Julia is awakened by Gus yelling up the stairs to the apartment about a dead body in the walk-in refrigerator. It turns out to be the stranger who had sat at their bar the evening before. The police determine it's murder and close the restaurant down while they investigate. With free time on her hands and the loss of their income, Julia determines to start asking questions to find answers when the police don't seem to be making any progress.
She remembers that in addition to the stranger there were four other couples in the restaurant, all retiree aged and all ignoring each other. What made it unusual is that all four couples paid for their meal with gift certificates that had an expiration date added…which she didn't do. Julia believes the couples were brought there for a reason and had to have some connection to the dead man. Before she can give the gift certificates to the police, someone breaks into their apartment while they are sleeping and steals them…but the police still think it's just a coincidence.
A decades old photograph at the yacht club brings new light to Julia's investigation and threatens to expose long buried secrets, but just like the gift certificates, it too vanishes. When another dead body shows up and with her home repeatedly invaded, she knows she needs to piece the puzzle together before the answers are lost in Maine's pea soup fog.
Barbara has scored a home run with FOGGED INN and it's my favorite in her series by far! In addition to a well plotted mystery with an ending that is unique and brimming with surprises, the author has undercurrents of many emotions which makes the characters seem real. The strong theme of friendship was deftly woven throughout the story and struck a chord with me. I loved Barbara's use of a quote given by actor and writer, Mike O'Malley: "You cannot make any new old friends." It came at a very poignant time for me as a dear friend was recently diagnosed with an aggressive cancer and is starting the fight of her life. A good reminder to cherish those around us!
In addition to a great mystery, Barbara includes many delicious recipes at the back of the book…and I want to try them all! In the end, I chose to make Gus's Too Date Night Stuffed Chicken Breast with Lemon-Tarragon Sauce – yum! Chicken cutlets are wrapped around crispy, salty pancetta, creamy, nutty Fontina cheese, and fresh, vibrant spinach. The panko and Parmesan coating adds extra flavor and crunch to the chicken packet while the Lemon-Tarragon Sauce provides a nice earthy tang to the dish. Elegant enough for a date night or for company yet kid-friendly too…my granddaughters loved it! I made a video tutorial which is provided at the bottom of the page. Let me know if you like it because if it gets enough attention, I might take a shot at creating more tutorials and uploading them on Newsflare (https://www.newsflare.com/sellyourvideo) or similar sites to see if they can be sold online. Might as well make some profit if I can.
A special thank you to Barbara for allowing me to share her wonderful recipe with you!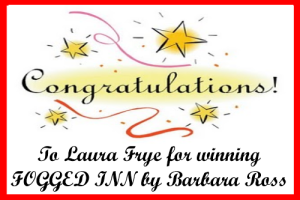 As a bonus for my readers I have a copy of FOGGED INN to give to one lucky winner! Please use the Rafflecopter box located below the recipe for a chance to win. Contest ends Friday, February 26, 2016 at 11:59 pm PST. Winner will be announced on this page and on Cinnamon & Sugar's Facebook page, as well as notified by email (so check your spam folder!) Open to U.S. residents only.
Gus's Too Date Night
Stuffed Chicken Breast with Lemon-Tarragon Sauce
Chris and Julia worked hard to develop a menu for Gus's Too that meets a lot of differing needs. Chris wants to cook good, fresh food that is fun and engaging. Julia wants the restaurant to offer couples stuck on the peninsula for the winter the possibility of a "date night." They both know the restaurant needs to be affordable. Gus is adamant that they not serve anything on his menu. Although the menu changes daily, Date Night Stuffed Chicken Breast is one of Chris's go-to offerings.
Ingredients
Chicken
4 – 6 ounces pancetta, cut into 1/4-inch cubes
8 chicken cutlets pounded 1/4-inch thick, 1/8-inch thick at the edges
1 – 2 cups baby spinach leaves
4 – 6 ounces Fontina cheese, cut into 1/8-inch cubes
2 cups panko bread crumbs
1 cup grated Parmesan cheese
1 cup all-purpose flour
3 eggs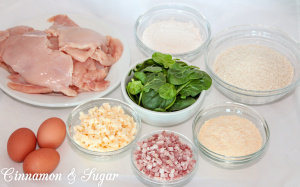 Sauce
3 tablespoons unsalted butter
3 tablespoons all-purpose flour
2 cups chicken broth, warmed
2 tablespoons lemon juice
1 tablespoon fresh tarragon, chopped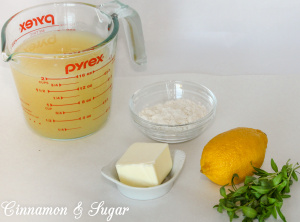 Instructions
Chicken
Fry the pancetta over medium heat until browned.
Lay each cutlet flat on a board. Put a small handful of spinach leaves and 1 tablespoon each of pancetta and Fontina cubes in the center.
Roll the cutlet into a packet, folding the sides into the center and pinching to seal. (My note: if you struggle with this, use a toothpick to secure. Just be sure to remove the toothpick before serving!)
Put the stuffed cutlets in the refrigerator for at least 1 hour to complete the sealing process.
Preheat oven to 350 degrees.
Mix bread crumbs and Parmesan in a bowl and put half on a plate.
Put flour on another plate.
Lightly beat eggs with a fork in a separate bowl.
Remove chicken from the refrigerator and roll each packet first in flour, being sure to shake off excess.
Roll the packet in the egg and finally in bread crumbs.
Place chicken on a wire rack set on a sheet pan. (Now is a good time to make sure all the toothpicks have been removed if you used them!)
Cook chicken for 40 – 45 minutes or until an instant read thermometer inserted in the center reads 165 degrees.
In the last twenty minutes or so of cooking time, make the sauce.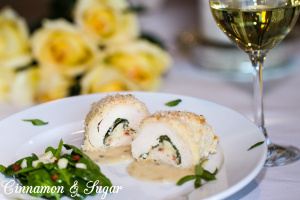 Sauce
Melt the butter in a saucepan over medium heat.
After butter stops foaming, add flour and whisk together constantly for 3 minutes.
Begin adding broth slowly, whisking together, and continue to slowly add broth, whisking all the while.
Cook on medium-low heat until sauce thickens, 3 to 5 minutes.
Add lemon juice and chopped tarragon and cook for 1 minute more.
Season with salt and pepper to taste.
Serves: 4
Tip
Toss baby spinach with a light vinaigrette made with lemon juice. Garnish with reserved pancetta and diced Fontina cheese for an easy salad that complements the flavors of the stuffed chicken breast.
If you subscribe to receive my blog post via email, you will need to visit my website to view video.