Elizabeth Kane Buzzelli is offering two lucky people a chance to be one of the very first readers of her newest book releasing July 12, 2016
Please be aware that this is a galley copy and is the UNcorrected version, but does have the cover art….so there will be some errors. However, I know her latest book will be a riveting tale!
Elizabeth Buzzelli also writes under the name Elizabeth Lee and is the author of two books that I've shared on my blog: A TOUGH NUT TO KILL and NUTS AND BURIED.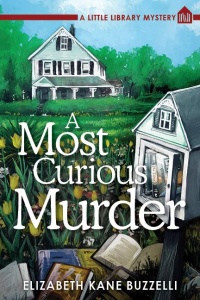 While I have not had a chance to read the galley myself (but I will, soon!) I will definitely be sharing my review along with a recipe from the author when the book releases. In the meantime, here is what Elizabeth Kane Buzzelli has to say about her book along with a brief overview:
In honor of Alice in Wonderland, and Alice's 150th birthday, I have written A Most Curious Murder, a mystery with Alice In Wonderland overtones and undertones.  Of course, there were murders in the original, and a great deal of madness, so how could I write anything less?  A couple of dead bodies, a Little Person who is a well-known expert on 'Alice', and Bear Falls, Michigan, a small Michigan town where everyone might be a suspect in the demise of two brothers.
Jenny Weston moves home to Bear Falls, located on the shores of Lake Michigan, to nurse her bruised ego back to health after a bitter divorce. It is a very strange town with tangled and damaged lives.  There is budding love.  There is old money. But the idyllic vision of her charming hometown crumbles when her mother's little library is destroyed.
The next door neighbor, Zoe Zola, a little person and Lewis Carroll enthusiast, suspects local curmudgeon Adam Cane, but when he's suddenly found dead in Zoe's fairy garden, all roads lead back to her. Jenny, however, believes Zoe innocent, so the two women team up to find the true culprit, investigating the richest family in Bear Falls, interrogating a few odd townspeople and delving into old, hidden transgressions–until another body turns up.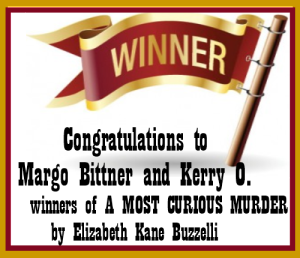 A huge thank you to Elizabeth for giving my readers a chance to win two galleys of A MOST CURIOUS MURDER! Please use the Rafflecopter box below to enter. Contest ends Saturday, February 27, 2016 at 11:59 pm PST. Winner will be announced on this page and on Cinnamon & Sugar's Facebook page, as well as notified by email (so check your spam folder!) Open to U.S. residents only.
One last thing, if you are a winner please leave a review (even if it's just a couple sentences) on Goodreads when you've finished reading. Remember, this is an uncorrected copy so please overlook any errors when writing your review. Amazon won't let you post until the book has actually released but it will be greatly appreciated if you can do so.