Elizabeth Lee has written another wonderful installment with her third book in the Nut House Mystery series, NUTS AND BURIED! In addition to terrific pecan recipes, such as Hunter's Scattershot Pecan Bread which she has graciously allowed me to share on my blog, Elizabeth provides a well plotted double mystery in this book.
With her degree in plant biology and bio-engineering, Lindy Blanchard is working hard to develop a strain of pecan trees that are drought resistant to benefit not only her family's pecan ranch but all the other farmers in Texas pecan country. She'd rather stay at home and work with her trees than attend the costume ball being held to introduce Eugene Wheatley's new bride, Jeannie, to the Riverville elite. She's also peeved that her "friend", Deputy Hunter Austen, was not invited. While Lindy's family may not be wealthy like the Wheatley's, her family holds a place of respect within the community and her grandmother, Miss Amelia, lays down the law: Lindy must attend.
Lindy, wearing a controversial costume depicting the first woman ever hanged in Texas, decides the new Mrs. Wheatley is a sweet, naive young woman, and may not be so bad after all, compared to Eugene's snooty sister, Elizabeth. As the newly married couple make the rounds, Eugene announces he is going to his gun room to prepare his gun collection for viewing. Not long after he leaves, a gunshot is heard and Eugene is found murdered.
It doesn't take long for Elizabeth to accuse the new bride and her family of murdering Eugene, since they're from the wrong side of the tracks. It doesn't help that Jeannie's brother has just been released from prison and her estranged mother has been gossiping about coming into money. Lindy is fairly certain that sweet Jeannie couldn't have had a hand in murdering her new husband. As Elizabeth begins making life extremely miserable for the bride, Lindy hides her with the 80-something-year-old Chauncey twins, way out in the country.
Miss Amelia has a very inquisitive mind and begins suspecting that Eugene's first wife's death may have been anything but an unfortunate hunting accident. What are the chances that both of them would be shot in the back with a high powered rifle? Lindy drags Hunter into helping her investigate the long-ago accident along with helping Miss Amelia find Eugene's murderer and clear the grieving bride's name.
I enjoyed how the author provides lots of colorful Texan characters and especially loved the feisty Chauncey twins! Elizabeth also has allowed Lindy and Hunter's relationship to grow, along with some bumps along the way, which provides a welcomed subplot with romance in this cozy mystery. I've heard that the author is currently immersed in writing and I am greatly looking forward to her next release!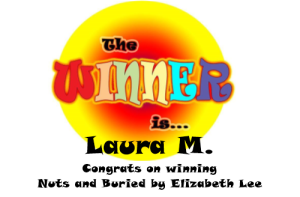 A huge thank you to Elizabeth for providing an autographed copy of NUTS AND BURIED to one lucky winner!
Please comment below to be entered. Contest ends Thursday, January 14, 2016 at 11:59 pm PST. Winner will be announced on this page and on Cinnamon & Sugar's Facebook page, as well as notified by email (so check your spam folder!) and will have 5 days to respond or another winner will be chosen.
And thank you to both Elizabeth and Patty Sumpter, her Culinary Consultant, for allowing me to share their very delicious pecan bread recipe! I have included a short video tutorial below on how to whip up this quick bread.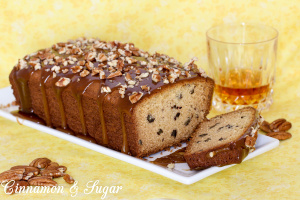 Hunter's Scattershot Pecan Bread
Ingredients
Bread
2 cups (10 ounces) all-purpose flour
2 teaspoons baking powder
2 teaspoons baking soda
1/2 teaspoon salt
1 cup (7 ounces) granulated sugar
1 cup sour cream
1/2 cup (4 ounces) butter, softened
2 eggs
1 tablespoon Garrison's Bourbon* (you can omit but increase vanilla to 1 tablespoon)
1 teaspoon vanilla
1 cup (4 ounces) chopped pecans
*I couldn't find Garrison's Bourbon so substituted quality Kentucky Bourbon
Glaze
1/3 cup firmly packed brown sugar
1/3 cup butter
1/4 cup (1 ounce) chopped pecans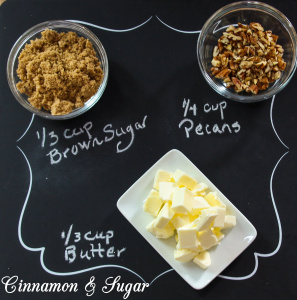 Instructions
Bread
Preheat oven to 350 degrees.
Combine flour, baking powder, baking soda and salt in a bowl. Set aside.
Combine all the remaining ingredients (sugar through vanilla), except the pecans, in a large bowl.
Beat at medium speed, scraping often, until well mixed.
Reduce speed to low and gradually add the flour mixture, beating until moistened.
Stir in 1 cup pecans.
Spoon batter into a greased 9 x 5-inch loaf pan
Bake for 60 – 65 minutes or until a toothpick inserted into the center comes out clean.
Cool in the pan for 10 minutes, then remove and allow to cool on a wire rack.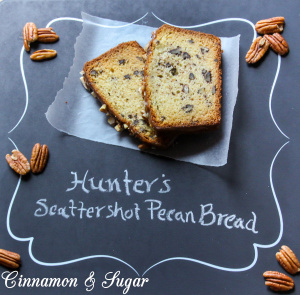 Glaze
Combine the brown sugar and 1/3 cup butter in a 1-quart saucepan. Cook over medium heat until mixture comes to a boil (3 – 4 minutes.)
Spoon glaze over warm loaf and sprinkle with 1/4 cup chopped pecans.
If you subscribe to receive my blog post via email, you will need to visit my website to view the video.
Tips
Sometimes you will see photos of my butter cut into cubes versus the whole stick. It's because I forgot to allow my butter to come to room temperature for the recipe. Cutting into cubes will hasten the softening process while you collect and measure the remaining ingredients.
Use a bamboo skewer to check the doneness of the bread since it will reach through the entire loaf.