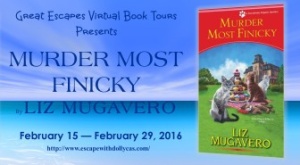 When I saw that MURDER MOST FINICKY by Liz Mugavero was going to be a part of the Great Escapes Virtual Book Tours I was very excited. While I have never read any books in this series (my misfortune!) lately I've been noticing other reviewers posting great things about this author and series so I knew I needed to add it to my reading list. As a bonus there are pet recipes included at the back of the book, which couldn't have come at a better time.
One year ago this month, my granddaughter, Emory, adopted a rescue puppy and named her Piper. Fortunately, Piper settled in super-quickly – there are so many dogs who really struggle to adjust to their new surroundings, especially if they've been passed from place to place so aren't sure if this is going to be just another temporary fixture. But, hopefully, with lots of love, and perhaps some CBD oil for dogs, they hopefully soon realise that they are in their forever home and can relax and bond with their humans. Of course celebrating Piper's adoption anniversary called for making special dog treats so Emory made Liz's Pumpkin Twists. Piper gave them two paws up and then proceeded to make it difficult to capture a photo without her trying to gobble up the dog treats! The author generously allowed me to share the recipe (provided by The Big Biscuit) and I've also included a video tutorial at the bottom of the page.
Kristan "Stan" Conner owns the Pawsitively Organic Food business but wants to expand into a shop in Frog Ledge, CT. Sheldon Allyn, known as Mr. Pastry, is interested in investing and helping her open a shop. When he puts together the Allyn Retreat for Top Chefs in Newport, R.I., to create a star menu for a collection of investors, Stan knows she'd better accept. She arrives at Sheldon's palatial mansion and meets four of the other five chefs involved in the retreat. The fifth chef, Pierre LaPorte, is a no show until Stan and her cat, Nutty, stumble upon his murdered body on the mansion's patio overlooking the ocean.
Of course the police take an extra close look at Stan since she found the body and are even more interested in her when they find out this isn't the first time she's been involved in a murder. But when another chef, Kyle McLeod, goes missing, he becomes the prime suspect. She's happy to let the police figure out this crime so she can concentrate on creating her cat dish masterpieces for the investors. Except her estranged sister contacts her and begs Stan to find Kyle and clear his name, and she can't say no. As she asks questions and digs into the past she finds most of the other chefs are hiding secrets, including her own sister. When another chef disappears Stan knows she'd better step up her investigation before there's another victim.
As much as Piper loved her Pumpkin Twists I loved MURDER MOST FINICKY! There were plenty of twists and turns in the plot while the author kept me guessing until the very end. The action started right from the very first page and continued with the collection of quirky characters that added to the appeal of the book. Even though this is the fourth book, it was easily read as a stand-alone…but be warned, you'll want to read the rest of these wonderful books once you finish the last page!

A very special thanks to Liz Mugavero for giving away two print copies of MURDER MOST FINICKY as part of the Great Escapes Virtual Book Tours! Please enter using the Rafflecopter below and good luck!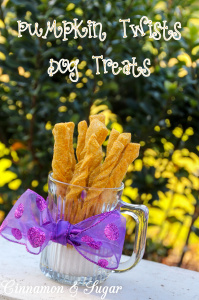 Pumpkin Twists Dog Treats
Ingredients
1/2 cup water
1 tablespoon Canola oil
1 egg
1/2 cup natural canned pumpkin
1-1/2 cups whole wheat flour*
1-1/2 cups unbleached flour
1/2 cup cornmeal
1 dash cinnamon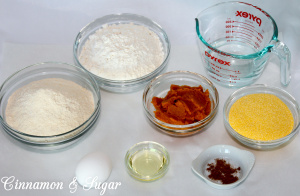 Instructions
Preheat oven to 300 degrees (F).
In a large bowl, combine water, oil, eggs, and pumpkin and whisk together.
Stir in the whole wheat flour, unbleached flour, cornmeal and cinnamon.
On a lightly floured surface, roll out dough to 1/4-inch thickness.
With a knife or pizza cutter, cut out strips 4 inches long and 1/2 inch wide.
Twist strips and place on a greased or parchment paper lined baking sheet.
Bake for 30 minutes, turn oven off and let cool inside for 20 -30 minutes.
Cool completely on a wire rack and store in a sealed container.
Treats may also be dehydrated to extend shelf life.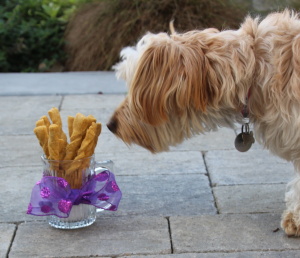 Emory with her rescue puppy, Piper. What a difference one year makes!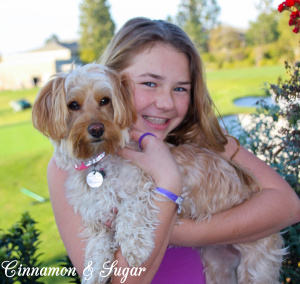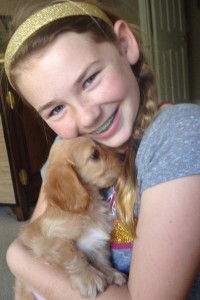 If you subscribe to receive my blog post via email you will need to visit the website to view video.