I have been a fan of Victoria Hamilton's Vintage Kitchen Mystery series and was delighted to find out that Victoria writes a Teapot Collector Mystery series under the name of Amanda Cooper. Recently I had the pleasure of reading her brand new release, THE GRIM STEEPER, the third book in her series and found I've been missing out!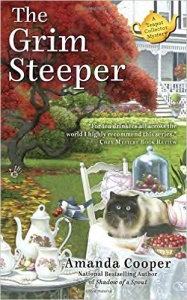 When her grandmother, Rose Freemont, is hospitalized with a suspected heart attack, Sophie Taylor begs to take time off from her sous chef de cuisine position in the Hamptons. Denied permission, she quits. Not that Sophie is a quitter by nature but her grandmother means the world to her and she feels that she should be back in Gracious Grove, New York, to help out.
Out of a job, Sophie returns to work in her grandmother's tearoom, Auntie Rose's Victorian Tea House. With Rose's health returning they plunge themselves into planning the Fall Fling, the town's Tea Party, which Cruickshank College is sponsoring. In the midst of the preparations, a scandal rocks the college, involving her maybe boyfriend, Jason Murphy. Dean Asquith has accused Jason of accepting bribes to inflate the grades of the school's star basketball player. Jason's reputation and job are on the line and when the Dean is found dead in front of Auntie Rose's Tea House, Sophie knows she's going to have to find the culprit since the police have Jason in their sights.
THE GRIM STEEPER is the epitome of a cozy mystery! I love how the author connects the reader to the small town feel of Gracious Grove, where every body knows every one. Sophie's grandmother is a sweet character and her group of teapot collectors, The Silver Spouts, adds charm and some humor when they decide to help with the investigation. The conflict between Sophie and her mother didn't seem forced and there's a hint of a mystery to what really happened between them. I'm hoping that relationship will be fully explored in the next book. Auntie Rose's Victorian Tea House is some place I'd love to visit, especially to browse their teapot collection…have I mentioned I have a "few" teapots myself? And of course no tearoom would be caught without having scones.
Amanda (aka Victoria) has graciously provided a delicious recipe for Cranberry Pecan Yogurt Scones. Healthy yogurt replaces some of the butter in the recipe while still providing tender, flaky pastries. The ruby, tart cranberries and the buttery crunch of the pecans add just the right amount of flavor. My taste testers were clamoring for the recipe before the scones barely cooled! I've also included a short video tutorial at the bottom of the page, so you can see how simple these are to mix up.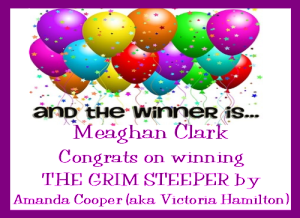 A huge thank you to Amanda Cooper (Victoria Hamilton) for providing an autographed copy of THE GRIM STEEPER to one lucky winner! Please use the Rafflecopter box located below the recipe for a chance to win. Contest ends Thursday, February 18, 2016 at 11:59 pm PST. Winner will be announced on this page and on Cinnamon & Sugar's Facebook page, as well as notified by email (so check your spam folder!) Open to Canadian and U.S. residents only.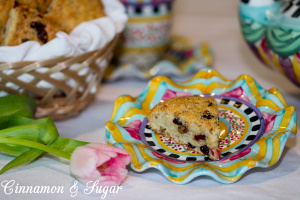 Cranberry Pecan Yogurt Scones
Makes eight generous sized scones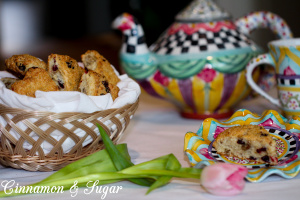 Ingredients
1-1/2 cups all purpose flour (use the 'lightly spoon into measuring cup and level' method)
1/4 cup white sugar
1 teaspoon baking powder
1/4 teaspoon baking soda
1/4 teaspoon salt
6 tablespoons (1/3 cup) cold butter – if you are using salted butter you can omit salt from the recipe.
1/2 cup dried cranberries
1/2 cup chopped pecans
1/2 cup plain yogurt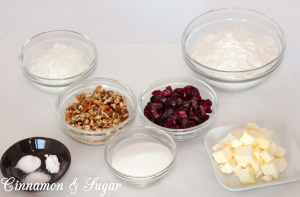 Instructions
Preheat oven to 425 degrees (F).
Sift together flour, sugar, baking powder, baking soda and salt (if you are using it).
Add in butter, bit by bit, mixing as you go. Rub it in with your fingers, if you like, but leave small pebbles of the cold butter in the mixture.
Stir in the cranberries and pecans, and then the yogurt. Mix gently, but thoroughly. It may take a bit to get all the dry ingredients worked into the yogurt.
Form dough into a ball. Place on a greased or parchment paper covered baking sheet and pat into a circle about a 1/2-inch thick.
Sprinkle with sugar – you could use turbinado or another decorative sugar for this, if you want, but plain sugar works just fine.
Cut into eight pie shaped segments, but don't separate the wedges!
Bake at 425 degrees (F) for about 20 minutes, or until edges are slightly crisp and the top is lightly browned. It may need as little as 18 minutes, or as much as 22, but don't over or under bake the scones!
The scones will break apart nicely into perfect wedges. These are delicious warm or cold, with butter or not, and also stand up well to preserves or jams like Cranberry Apple conserve or cherry jam. Perfect with tea of any kind!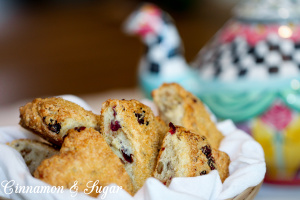 If you subscribe to receive my blog post via email you will need to visit my website to view the video.