While Valentine's Day may be mostly about vibrant pinks and reds and chocolate reigns supreme, sometimes a special, romantic dinner calls for an understated elegant dessert to end. Orange Cinnamon Crème Brûlée from Leslie Budewitz's latest release, GUILTY AS CINNAMON, is the perfect choice! Leslie's recipe steeps cinnamon, thyme and orange peel in a custard base to add a complex subtlety to this decadently creamy dessert that is crowned with a crunchy bittersweet layer of yumminess.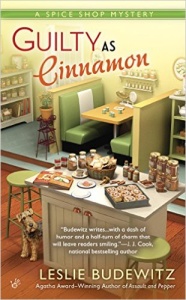 While you may think that crème brûlée is an unobtainable culinary talent, it couldn't be further from the truth. Leslie's recipe provides easy to follow instructions (and I've provided a video tutorial because sometimes seeing what it's supposed to look like can go a long way to relieving fears – you can find it at the bottom of the page) and it doesn't take long to put this dessert together. Best of all, the custard can be made the day before and stored in the refrigerator, then a quick sprinkle of sugar and a zap with a kitchen torch (or oven broiler) and voilà, a sublime ending to your perfect dinner.
GUILTY AS CINNAMON, the second book in "A Spice Shop Mystery" series, finds Pepper Reese getting ready to expand her spice shop located in Seattle's Pike Place Market. She's starting a bridal registry in addition to several chefs purchasing her wares for their local restaurants. A soon-to-be new restaurant owner, Tamara Langston, arrives at the Spice Shop to make a few purchases and discuss sourcing her herbs and spices. She learns that Tamara, a sous chef for Pepper's ex-boyfriend, Alex, hasn't told her boss that she's resigning and opening her own restaurant…they both know that Alex is going to be furious.
The next evening Pepper and a friend go out to dinner and Pepper decides to take a peek in Tamara's new restaurant space…and finds the future restaurateur dead…killed with a ghost chile, known as bhut capsicum, that Tamara had just purchased from Pepper's own shop. It doesn't take long for the police to arrest Alex, since he verbally threatened Tamara in front of the entire restaurant staff when he found out she was leaving his restaurant. Even though Alex has a temper, Pepper is sure he is innocent and when he begs her to find the real killer, she can't say no. As she talks to people asking questions, she finds several people had motives for wanting the chef dead. Pepper also finds long buried secrets threatening to be exposed may have led to the crime and leads back to her ex-boyfriend and ex-husband, Officer Tag Buhner. When threatening notes are left for her and when her business almost goes up in flames, Pepper knows she's getting close to the killer and she'd better figure it out before she becomes the next victim.
I loved GUILTY AS CINNAMON, from its clever title to the cover art to the vivid descriptions of the sights, sounds, smells and tastes of Seattle, to the tightly woven plot! The author has allowed Pepper to be human, experiencing real life complex issues with love and betrayal, insecurities, and daily struggles while giving her a chance to grow as a person through the choices she makes. Pepper also has a wonderful supporting cast and I like how Leslie has included a list of the characters at the beginning of the book. It made for a nice reference as I read. Of course I would be remiss to not mention the many fabulous recipes that are included with the book and it was difficult to choose which one to showcase. However, I have to say, I was beyond happy with the results of the Orange Cinnamon Crème Brûlée and I'll be making it again…soon! Thank you, Leslie, for allowing me to share your incredibly delicious recipe!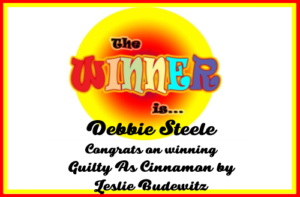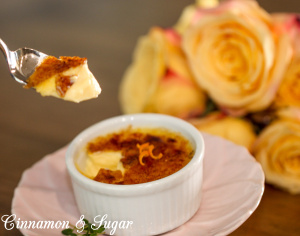 Orange Cinnamon Crème Brûlée
On this, Pepper and Tag agree: the very best crème brûlée ever!
Serves 4 – 5
Ingredients
2 cups heavy cream
1/2 cup white sugar (divided use)
Zest of 1 orange, removed in wide strips with a peeler
1 cinnamon stick
6 to 8 strands of fresh thyme
4 egg yolks
1/2 teaspoon vanilla extract
4 teaspoons turbinado sugar, for topping (or regular white sugar)
Strips of orange peel or thyme sprigs for garnish (optional)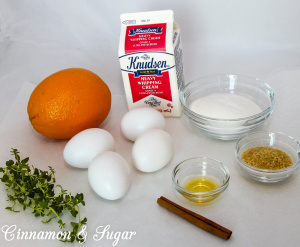 Instructions
Preheat the oven to 325 degrees (F).
In a small saucepan, combine the cream, 1/4 cup sugar, orange zest and cinnamon stick.
Roll the thyme strands back and forth between your palms, over the pan, to release the essential oils, then toss the thyme into the pan. Whisk to combine.
Bring the mixture to a boil, then remove from the heat and strain into a bowl to cool. (This step infuses the cream with the aromatics – the zest, thyme, and cinnamon.)
In a large bowl, whisk together the egg yolks, remaining 1/4 cup sugar and vanilla.
When the infused cream is cooled to the touch, slowly pour it into the egg mixture and whisk to combine. (Cooling the cream avoids curdling the eggs.)
Place four 4-ounce ramekins or custard cups in a large baking dish or roasting pan.
Carefully fill the ramekins with the custard mixture.
Place the dish in the oven and carefully pour hot water into the pan, till it reaches about halfway up the sides of the ramekins.
Bake until the custard is set around the edges and slightly jiggly in the center, about 35 minutes.
Remove the baking dish from the oven.
Lift out the ramekins – tongs work nicely – and cool on a rack at room temperature. (Don't leave them in the hot water, as heat would continue to cook the mixture.)
When cool, move ramekins to the refrigerator to chill for at least an hour before the next step.
Just before serving, sprinkle a teaspoon of turbinado sugar evenly over the top of each dish.
Caramelize the sugar with a kitchen torch. The sugar will harden, turn golden, and become crunchy.
If you don't have a torch, broil the dishes 2 to 3 minutes until the sugar forms a crisp, golden top.
Garnish with a curvy strip of orange peel or a sprig of thyme.
Tip
Reserve a piece of the orange peel from the recipe and slice into long, skinny strips. Wrap the strips around a toothpick and secure the ends with a bit of tape. Allow the curled orange peel to air dry while you prepare the crème brûlée. Just before serving, slide the curled orange strips from the toothpick, snip off and discard the ends that were taped. Garnish as desired.
If you subscribe to receive my blog post via email, you will need to visit my website to view video.
Wondering what to do with those leftover egg whites? Check out this recipe for White Chocolate Macaroons from Daryl Wood Gerber or my Lemon Macarons!