Valentine's Day is all about pinks and reds, sweets and special desserts! I also enjoy finding cozy mysteries that have a bit of holiday theme in them so I was happy when I started reading FATAL RESERVATIONS, the sixth book in they Key West Food Critic by Lucy Burdette (aka Roberta Isleib). I've made several of Lucy's luscious desserts in the past from other books in her series so knew my family was in for a treat when I saw her recipe for Raspberry Cake. And I knew that it would be the perfect Valentine's Day cake with its gorgeous pink color thanks to the plentiful use of fresh raspberries and NO artificial food coloring.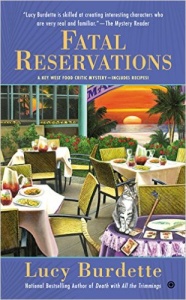 Hayley Snow is a food critic for style magazine, Key Zest, in Key West, Florida. Putting up with a new boss who bought half interest in the magazine, juggling her "sort-of" relationship with her other boss, Wally, and keeping her elderly roommate, Miss Gloria, out of trouble keeps her more than busy. When Miss Gloria points out the police fishing a body out of the harbor, Hayley is glad she didn't find it and isn't involved in anyone's death this time. That evening she attends the City Council's meeting on behalf of her magazine to cover the controversy over the application to open a Japanese floating restaurant, For Goodness Sake. She puts the gruesome police activity out of her mind especially as tensions mount when several other restaurant owners in the area speak out against the proposed restaurant. As the agenda moves on to working out a solution for lease renewals for the street performers for the Sunset Celebration, the meeting turns violent when one of the street vendors tries to strangle Hayley's tarot card reading friend, Lorenzo.
Not long after the meeting adjourns, Lorenzo calls Hayley and tells her that the police suspect he is the murderer of the flaming fork juggling performer, Bart Frontgate, the man pulled from the harbor that afternoon. Apparently Bart was involved in the controversial Sunset Celebration lease renewal issue, on the opposite side of Lorenzo, and they had been feuding for over a year. Hayley is certain that her friend is innocent and starts asking questions to clear his name. But when he disappears and she finds he's been hiding secrets, Hayley's loyalty is put to the test, especially when another murder takes place.
Lucy manages to capture the sights, sounds and flavors unique to Key West and makes you feel like you're on a long vacation with Hayley. Her characters are quirky yet charming and I love to see how they grow and develop with each subsequent book. In addition to a great story, I thoroughly enjoyed the quotes beginning each chapter… with the one contributed by the author from her book, DEATH WITH ALL THE TRIMMINGS, being my favorite: "Wally flashed a smile, tight as the rubber band around a bouquet of broccoli." Lucy creates vivid pictures using words as her paint!
A huge thanks to Lucy for allowing me to share her very special Raspberry Cake recipe! I have included a video tutorial at the bottom of the page on how to make the cake as well, with a couple tips for decorating it. Be sure to take a look at the sneak peek of the newest book in "A Key West Food Critic Mystery" series, KILLER TAKEOUT, debuting April 5, 2016!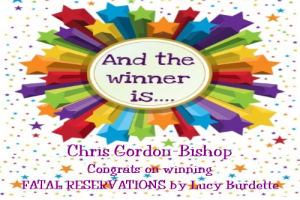 As a bonus for my readers I have a copy of FATAL RESERVATIONS to give to one lucky winner! Please use the Rafflecopter box located below the recipe for a chance to win. Contest ends Thursday, February 11, 2016 at 11:59 pm PST. Winner will be announced on this page and on Cinnamon & Sugar's Facebook page, as well as notified by email (so check your spam folder!) Open to U.S. residents only.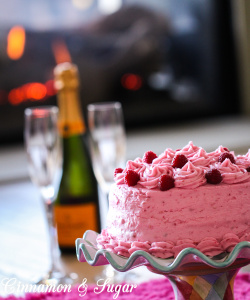 Raspberry Cake
Hayley imagines this cake could seal the deal with Wally on Valentine's Day. I think it would have, too – if only he'd tasted a bite before storming off the houseboat.
Serves 6 – 12, depending on the size of the slices.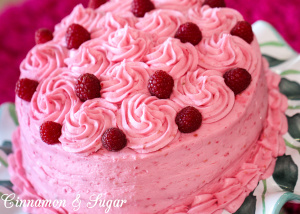 Ingredients
Cake
1-1/4 cups all-purpose flour
1-3/4 cups cake flour
1 tablespoon baking powder
2 cups sugar
3/4 teaspoon salt
2 sticks unsalted butter, softened but still cool, cut into cubes
4 eggs, room temperature
1 cup milk
1 teaspoon vanilla extract
1/2 teaspoon almond extract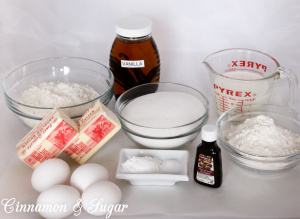 Frosting
1 (8-ounce) block cream cheese
1 stick unsalted butter
1 teaspoon vanilla
Confectioners' sugar**
2 boxes fresh raspberries – about 30 for the frosting and 40 or so for decoration
3 – 4 tablespoons good-quality raspberry jam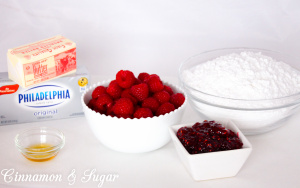 Instructions
Cake
Preheat the oven to 350 degrees (F).
Prepare two 9-inch cake pans by buttering them well, lining with parchment paper, and then buttering the parchment too.
Combine the flours, baking powder, sugar, and salt in the bowl of an electric mixer and mix at low speed.
Add the butter, a few cubes at a time, and continue beating on low for 1 to 2 minutes.
Beat the eggs in, one at a time, mixing well but minimally after each.
Mix the milk with the extracts.
Add 1/2 cup of the milk mixture to the flour mixture and beat until combines.
Add the remaining 1/2 cup of the milk mixture and beat for 1 minute.
Pour the batter evenly into the two prepared cake pans.
Bake until a toothpick inserted in the center comes out clean and the cake springs back when touched, in the neighborhood of 25 minutes. Watch this because you don't want to over-bake.
Cool the cakes in the pans for 10 minutes.
Remove the cakes, one to a plate and the other to waxed or parchment paper, and allow them to cool to room temperature.
Frosting
Beat together the cream cheese and butter.
Add the vanilla and confectioners' sugar to taste. (The author used about 1 cup of sugar.)**
Now gradually beat in about 30 raspberries until your desired pink color is achieved.
Spread the plated cooled cake with a layer of frosting, then a layer of jam.
Layer on the other cake. Frost the top and sides and decorate with remaining berries.
Refrigerate until serving.
Tips
**I used close to 8 cups of confectioners' sugar for several reasons. 1) My family likes sweet frosting. 2) I knew I wanted to embellish using decorating tips so I needed extra frosting; 3) I wanted a dark pink frosting which meant I needed to use a lot more raspberries without resorting to artificial food coloring.
Here are my tips for getting the frosting just right since raspberries can greatly vary in size and juiciness factors.
After beating the butter, cream cheese and 1 cup of sugar together, add the raspberries a few at a time and check the consistency before adding more. If you want a darker pink, add extra confectioners' sugar, 1/4 cup at a time, alternating with adding a few raspberries to the frosting until you reach the desired shade and the desired consistency.
If you are piping the frosting onto the cake you will want the consistency to be stiff which means extra confectioners' sugar.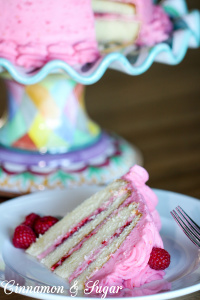 If you subscribe to receive my posts via email, you will need to visit my webpage to view the video.
Lucy Burdette's next book, KILLER TAKEOUT, is releasing April 5, 2016! Here's a sneak peek!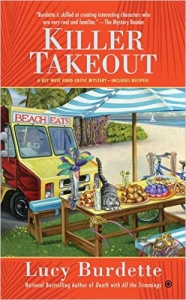 It's Fantasy Fest at Key West, and food critic Hayley Snow is ready to celebrate. But a killer seems intent on crashing the party. . .
Every year, Key West's weeklong Mardi Gras–style festival has tourists and locals alike lining up for costumed revelry and delicious eats. Key Zest magazine has assigned Hayley to write a piece on the fest's grab-and-go food, so she's planning on hitting up the mobile eateries while checking out the party preparations.
Hayley's office mate, Danielle, recently elected Queen of Fantasy Fest, is also buzzing between festivities and fundraisers. But when a former royal rival gets taken out, Hayley needs to put down her party hat and her pen and figure out who served up a side of murder—before Danielle gets crowned a killer. . .