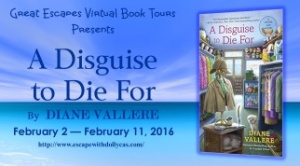 I am very excited to be a part of the Escape with Dollycas' Great Escapes Virtual Book Tour today showcasing A DISGUISE TO DIE FOR by Diane Vallere! The just released first book in a brand new series, Diane Vallere takes the reader on a fun, entertaining read! Plus she includes some delicious recipes, like the Salvadorian Shrimp Salad I'm sharing below, and ideas for creating your own costumed detective party.
Margo Tamblyn has been living in Las Vegas working as a magician's assistant. She enjoys the job, except for getting cut in half, but when her father has a heart attack, she rushes home for a few days to help him run his costume shop, Disguise DeLimit. Home is Proper City, Nevada, a couple hours from Las Vegas, and her father has owned the costume shop since before she was born. Being raised by a single dad, Margo has dressed herself using items from Disguise DeLimit, so she has a certain flair depending on her mood for the day….maybe she'll be a cowgirl, or a 60's hippie, or Nancy Drew… She's also found that she can hide herself behind whatever costumes she's wearing, so no one ever learns who she really is.
The town's spoiled rich "kid", Blitz Manners, waltzes into the shop and throws a huge amount of money at them demanding they plan and outfit his detective-themed costume birthday party for 40 people in 24 hours. Margo is ready to pass on the job until she realizes her dad and her best friend and party planner, Ebony Welles, need the money. So she consents and uses her considerable creative talent to put it together. They manage to make the party a success until she walks into the catering kitchen and sees Ebony holding a carving knife while standing over a very dead Blitz.
The police are very interested in Ebony but the party planner disappears when long-buried secrets about her past are threatening to be exposed. Along the way Margo meets Tak Hoshiyama, whom her father tells her she can trust. But she's not so sure after she finds out he could be dating the detective investigating the murder. Is he using her to find Ebony? All Margo knows is that she has to find the real killer and clear her friend's name.
Diane is a terrific writer and hooks you from the very first page. I loved the variety of characters she developed and how they interact with one another. The author does a wonderful job in making a flawed character so likable and I found myself wanting everything to work out for Margo. The plot is fast paced and kept me guessing until the big reveal!
I have also included a video tutorial at the bottom of the page on how to make this Shrimp Salad – including how to peel and devein shrimp. Let me say I found quite a few shrimp missing after cooking and before I had a chance to put the salad together…they are so incredibly delectable! I think the shrimp will make an impressive appetizer on their own or served over rice for a heartier meal.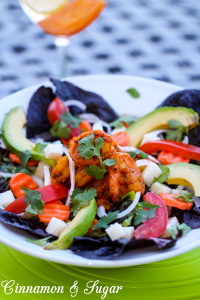 Catch-22 Salvadorian Shrimp Salad
Makes 2 big salads or 4 smaller salads
Ingredients
Shrimp
1 pound uncooked, peeled shrimp
2 tablespoons butter
1 packet Goya Sazón seasoning (for lower sodium, use 1 teaspoon achiote/annatto)**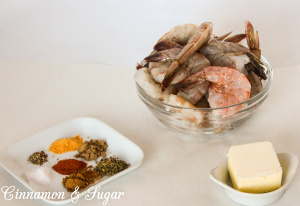 Salad
1 small head lettuce
1/2 carrot, sliced
1 Roma tomato
1 cup jicama, sliced
1 avocado, sliced
1/2 cup white onion
1 bunch cilantro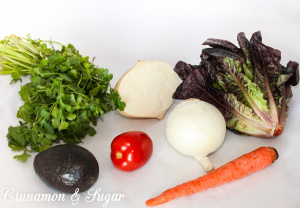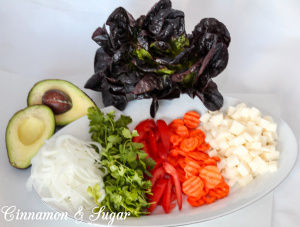 Dressing: Fresh Salsa Roja (Red Salsa)
Olive oil
1/4 cup white onion, chopped
1 clove garlic, chopped
1 jalapeno, chopped
2-3 Roma tomatoes
1 teaspoon dried oregano
Salt
Pepper
1/4 cup cilantro
Instructions
Shrimp
Over medium heat, melt the butter in a pan then add the Sazón and stir for a minute.
Add the shrimp and cook for 3 minutes.
Remove from heat and let cool.
Salad
Tear lettuce onto plate.
Chop and add: carrot, tomato, jicama, avocado, white onion.
Add cooked shrimp and drizzle any pan juices on top.
Tear cilantro and add on top.
Dressing
Place all ingredients in blender.
Puree until smooth, adding water if necessary.
Serve with salad.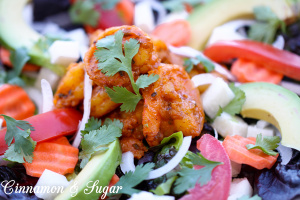 **To make your own Goya Sazón:
Ingredients
1/4 teaspoon ground coriander
1/4 teaspoon ground cumin
1/4 teaspoon ground annatto seeds (achiote) or turmeric or sweet paprika
1/4 teaspoon garlic powder
1/4 teaspoon salt
1/4 teaspoon oregano
1/8 teaspoon ground black pepper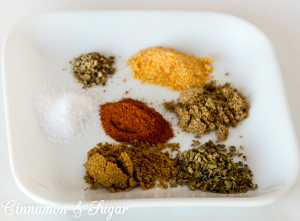 Instructions
Mix all ingredients together. This is enough for 1 pound of shrimp.
Tip
I found Goya Sazón at my grocery store on the International aisle next to the Latin items. I've read that Goya now makes an MSG-free Sazón, but my market did not carry it. Thus I made my own.
I found the ground annatto seeds (achiote) in the spice section with the McCormick spices.
Click on Sangria to see the recipe for the perfect libation to drink with this dish!
If you subscribe to receive my blog post via email you will need to visit my website to view the video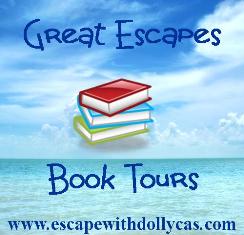 I received an ARC in exchange for my honest review. All opinions are my own.