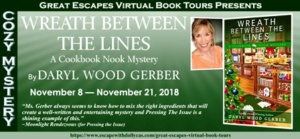 WREATH BETWEEN THE LINES is the seventh book in the Cookbook Nook Mystery series by Daryl Wood Gerber. The front cover of the book draws the reader in with its coziness and I love the Christmas feeling it imbues. The author effectively captures and continues the Christmas-y feeling throughout the entire book despite some of the residents of Crystal Cove acting more Scrooge than Santa. Protagonist Jenna Hart co-owns the bookstore and bakery, Cookbook Nook, with her Aunt Vera. The Cookbook Nook and their California coastal town are gearing up for a wreath-themed festival.
I loved all the descriptions of the creative wreaths each business designed to go with the theme of their shops. It adds to the festive feel of good cheer throughout the town. Jenna is also pulling out all stops to decorate her bookstore and make sure there are plenty of Christmas cookbooks for her customers. I have a love/hate relationship with all the cookie and cake cookbooks Jenna mentions and stocks for the holiday… they all sound amazing and I found that I ended up purchasing more cookbooks than I really need so that I can read and drool over all the recipes and photos of seasonal goodies.
When Jenna's father's good friend is accused of murdering a drifter, I found it incredibly sweet that Jenna steps in to protect the elderly man since her father is out of the country. I greatly enjoyed the influence her father can assert with the investigating police, even when he's off the pages, so that Jenna can investigate and keep him "in the loop". Ms. Gerber weaves in a tight tale of estranged family, squabbling spouses, cranky neighbors, a cookie contest, and an A cappella competition to keep the reader engrossed and turning pages. With so many people hiding secrets, the naughty list of suspects kept me guessing who the culprit was. Even though there was a lot going on, the author expertly pulls the threads together and provides a satisfying conclusion, making every page a joy to read.
One of the fun things I love when reading Ms. Gerber's books, is the amazing amount of recipes she provides at the back of the book. WREATH BETWEEN THE LINES is no exception and you'll be drooling as you read over the holiday recipes she's created. I love giving out gifts of delicious goodies during the Christmas season, so I was excited to see her recipe for White Christmas Crackle. It may seem odd to start with a base of saltine crackers but trust me, the crunch and the combination of sweet and salty is to die for. The festive touch of cranberries and pistachios on the layer of white chocolate will have your recipients begging for more! I also greatly appreciate that this recipe can be made up to two weeks ahead of time or stored in the freezer for even longer to free up those precious moments enjoying the season.
Amazon Synopsis
The holidays are Jenna Hart's favorite time of year, but just as she's decorating the Cookbook Nook for all the festive events, her imperious older sister makes a surprise visit, anxious that her husband's been more naughty than nice. To make matters worse, her father's good friend Jake shows up on her doorstep with a frantic report that his friend has been murdered—trussed with Christmas lights and impaled with a tree star.
Worried that Jake was the intended victim, Jenna makes a list of suspects and checks it twice. Swapping her Santa's hat for a sleuthing cap, she gets busy investigating Jake's long-lost sister, his Grinch of a neighbor, and a stamp collector who covets Jake's most treasured piece. When Jake himself is poisoned and nearly dies, Jenna knows she'll have to do whatever it takes to corner the culprit before it's lights out for Jake.
GIVEAWAY ALERT
A huge thank you to Daryl Wood Gerber for hosting 2 separate Rafflecopter giveaways — 1 via the Great Escapes Virtual Book Tours and 1 via this blog. See below for details.

Great Escapes Virtual Book Tour Giveaway
A special thanks to Daryl Wood Gerber for providing THREE awesome prizes, including winner's choice of her books and Amazon gift cards! Contest ends November 20, 2018 at 11:59 pm and books are limited to U.S. residents while gift cards are open worldwide. Please use the Rafflecopter box located below the recipe to enter. The contest is administered by Great Escapes Virtual Book Tours and the winner will be announced on this page as well as notified by email (so check your spam folder!)
***
Cinnamon & Sugar Blog Giveaway
One winner will receive their choice of a print copy from the first six books in the Cookbook Nook Mystery series and is open to U.S. residents only. Contest ends Sunday, November 18, 2018.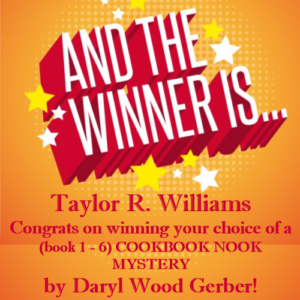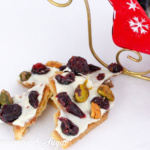 White Chocolate Crackle
From Jenna: I remember having this crackle at a Christmas party when I worked at Taylor & Squibb. One of the assistants made it and gave me the recipe. Until now, I'd never felt comfortable making it, but I'm getting pretty good with candy recipes. I'm a demon with fudge. This doesn't require a candy thermometer, just good eyeballing to know when something is ready to go. Enjoy!
Ingredients
40

salted saltine crackers (or gluten-free matzo, if you need to eat gluten-free)

1

cup

unsalted butter

1

cup

packed dark brown sugar

2

4-ounce

bars white chocolate, chopped into bits

Toppings, including pistachio pieces and dried cranberries
Instructions
Preheat oven to 350 degrees (F). Line a baking sheet with foil. Spread the crackers on the foil in a single layer and fold up the edges of the foil to contain the crackers.

In a small saucepan, melt the butter and brown sugar over medium heat. Simmer for 5 minutes. Stir constantly. It will turn a nice brown toffee color. Pour the mixture over the crackers and spread to cover.

Bake the cracker and toffee mixture in the oven for 5 minutes. Remove from oven and sprinkle the chopped white chocolate over the toffee.

Let stand for 2 - 4 minutes until the white chocolate melts, then spread evenly over the toffee.

Top with chopped pistachio pieces and dried cranberries for a nice Christmas color.

Chill in the refrigerator for about 2 hours. Peel away the foil and break the crackle into pieces.

Store in an airtight container and refrigerate for up to 2 weeks. This may be frozen for 1 month if you like to prepare ahead. Makes great gifts wrapped in decorative cellophane bags.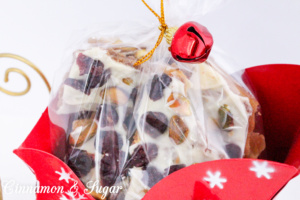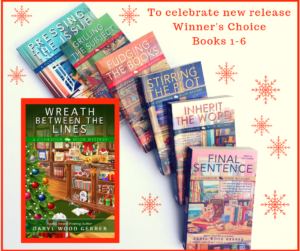 Pin to Pinterest:
If you receive my blog post via email you will need to visit my website to view the video.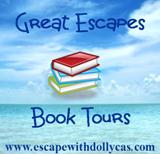 TOUR PARTICIPANTS
November 8 – The Book's the Thing – REVIEW, RECIPE GUEST POST
November 8 – My Journey Back – SPOTLIGHT
November 9 – That's What She's Reading – SPOTLIGHT
November 9 – Mystery Thrillers and Romantic Suspense Reviews – SPOTLIGHT
November 10 – Here's How It Happened – SPOTLIGHT
November 11 – Moonlight Rendezvous – REVIEW
November 12 – A Chick Who Reads – REVIEW
November 12 – Reading Is My SuperPower – RECIPE GUEST POST
November 13 – Cinnamon, Sugar, and a Little Bit of Murder – REVIEW
November 13 – A Holland Reads – SPOTLIGHT
November 14 – Laura's Interests – REVIEW
November 14 – Island Confidential – SPOTLIGHT
November 15 – My Reading Journeys – REVIEW
November 16 – The Avid Reader – REVIEW
November 16 – Valerie's Musings – REVIEW
November 17 – cherylbbookblog – REVIEW
November 18 – Lisa Ks Book Reviews – REVIEW, AUTHOR INTERVIEW
November 18 – Varietats – SPOTLIGHT
November 18 – Cozy Up With Kathy – REVIEW, RECIPE GUEST POST
November 19 – Books a Plenty Book Reviews – REVIEW
November 19 – Carole's Book Corner – SPOTLIGHT
November 20 – Carstairs Considers – REVIEW
November 20 – The Montana Bookaholic – REVIEW, RECIPE GUEST POST
November 20 – Escape With Dollycas Into A Good Book – REVIEW
I was provided an advance copy with the hopes I would review. All thoughts and opinions are my own.