A SCANDAL IN SCARLET, the fourth book in the Sherlock Holmes Bookshop Mystery series by Vicki Delany, is probably my favorite in the series so far! I've enjoyed watching the protagonist, Gemma Doyle, grow over the course of the stories and with this new release, she seems to have come into her own. She is still overly observant, but has learned to tone down her abruptness which makes her more relatable. Ms. Delany captures the spirit of Sherlock Holmes by developing Gemma's orderly sense of intellect in noticing clues and helping to solve murders. I especially enjoyed the Sherlockian vibes portrayed with her foray into disguising herself in this book. I hope to see more of the disguises in future books, whether or not it helps Gemma find clues.
Not only is Gemma a terrific character but the author has also developed good supporting characters, such as Gemma's best friend, Jayne Wilson. They have a great friendship and work relationship since Jayne is part owner in Mrs. Hudson's Tearoom. I love how Jayne is willing to drop everything in order to protect and help Gemma out to solve the mystery while providing a bit of comic sidekick humor. Detective Ryan Ashburton is another welcome addition to the story, helping to bring out a tender side of Gemma. I've enjoyed watching their relationship blossom in a sweet manner while he's learned to be more accepting of Gemma's intellect and deducing skills. Ms. Delany intertwines a long ago, unsolved crime and a current day murder with great skill. She provides plenty of suspects for the crimes which kept me guessing. She also provides plenty of action with good pacing, keeping the reader engaged and turning pages. The exciting conclusion wrapped up the threads of the story and has me waiting impatiently for the next installment!
Ms. Delany has created two inviting settings with this series: Gemma's Sherlock Holmes Bookshop and Emporium and Jayne's Mrs. Hudson's Tearoom. I adore how Gemma offers Sherlock-themed book title recommendations to her customers and I've started reading some of those suggestions. It's always fun to find new authors and new series! While A SCANDAL IN SCARLET does not have recipes, Jaynes serves all sorts of delectable goodies at Mrs. Hudson's Tearoom, such as Strawberry Cake. Ms. Delany has graciously developed a recipe for this delightful cake for me to share. Tender, moist vanilla cake is topped with loads of fresh strawberries. Cut into wedges, this strawberry cake is as delicious as it is beautiful without having to rely on frosting. It's the perfect treat to serve with a cup of hot tea or coffee any time of the day!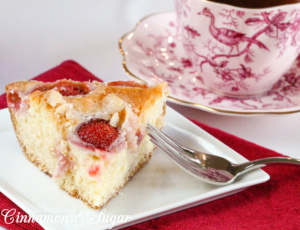 Amazon Synopsis
Gemma and Jayne donate their time to raise money for the rebuilding of a burned out museum―but a killer wants a piece of the auction.
Walking her dog Violet late one night, Gemma Doyle, owner of the Sherlock Holmes Bookshop, acts quickly when she smells smoke outside the West London Museum. Fortunately no one is inside, but it's too late to save the museum's priceless collection of furniture, and damage to the historic house is extensive. Baker Street's shop owners come together to hold an afternoon auction tea to raise funds to rebuild, and Great Uncle Arthur Doyle offers a signed first edition of The Valley of Fear.
Cape Cod's cognoscenti files into Mrs. Hudson's Tea Room, owned by Gemma's best friend, Jayne Wilson. Excitement fills the air (along with the aromas of Jayne's delightful scones, of course). But the auction never happens. Before the gavel can fall, museum board chair Kathy Lamb is found dead in the back room. Wrapped tightly around her neck is a long rope of decorative knotted tea cups―a gift item that Jayne sells at Mrs. Hudson's. Gemma's boyfriend in blue, Ryan Ashburton, arrives on the scene with Detective Louise Estrada. But the suspect list is long, and the case far from elementary. Does Kathy's killing have any relation to a mysterious death of seven years ago?
Gemma has no intention of getting involved in the investigation, but when fellow shopkeeper Maureen finds herself the prime suspect she begs Gemma for her help. Ryan knows Gemma's methods and he isn't happy when she gets entangled in another mystery. But with so many suspects and so few clues, her deductive prowess will prove invaluable in A Scandal in Scarlet.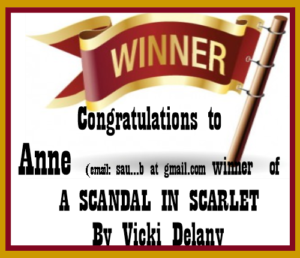 A special thanks to Vicki Delany for providing a winner with a hardcover copy of A SCANDAL IN SCARLET. Contest ends Tuesday, November 27, 2018 at 11:59 pm PST and is limited to U.S. and Canadian residents only. Please use the Rafflecopter box located below to enter. The winner will be announced on this page and on Cinnamon & Sugar's Facebook page, as well as notified by email (so check your spam folder!)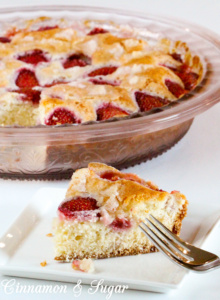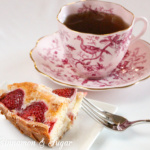 Strawberry cake as served in Mrs. Hudson's Tea Room
This makes a coffee-cake like cake. It's un-iced, and cut into wedges to be served. It's perfect with coffee.
Ingredients
1-1/2

cups

all-purpose flour

1-1/2

teaspoons

baking powder

1/2

teaspoon

salt

6

tablespoons

unsalted butter, softened

1

cup

plus 2 tablespoons sugar

1

large egg

1/2

cup

milk

1

teaspoon

pure vanilla extract

1

pound

strawberries, hulled and halved
Instructions
Preheat oven to 350 degrees. Butter a 10-inch pie plate.

Sift flour, baking powder, and salt together into a medium bowl.

Mix butter and 1 cup sugar on medium-high speed in electric mixer until pale and fluffy, about 3 minutes. Reduce speed to medium-low; mix in egg, milk, and vanilla.

Reduce speed to low; gradually mix in flour mixture. Transfer batter to buttered pie plate.

Arrange strawberries on top of batter, cut sides down and as close together as possible. Sprinkle remaining 2 tablespoons sugar over berries.

Bake cake 10 minutes. Reduce oven temperature to 325 degrees. Bake until cake is golden brown and firm to the touch, about 45 - 55 minutes. Let cool in pie plate on a wire rack.

Cut into wedges to serve.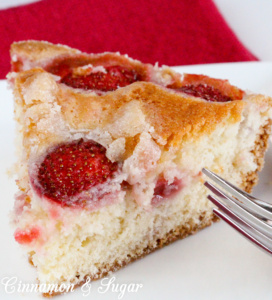 Pin to Pinterest: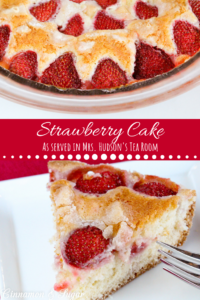 If you receive my blog post via email you will need to visit my website to view the video.
I was provided an advance copy with the hopes I would review. All thoughts and opinions are my own.