THE COLORING CROOK is the second book in the Pen & Ink Mystery series by Krista Davis. I greatly enjoyed examining the cover, which is meant to be used as a coloring page. The details of the line drawings includes clues and pieces of the story… kind of like a "Find the Picture" type of layout, which brought back fond memories of solving those types of puzzles and coloring with my granddaughter. I wish I had a few spare moments to join the coloring hobby for relaxation but, unfortunately, I already have more hobbies than I know what to do with, lol! For those who do like to color, this is a great addition to the book.
Once the reader opens the book, Ms. Davis provides some intriguing historical information in the acknowledgements about a famous adult coloring book that was created in the 1700's! Then the reader is introduced to the protagonist, Florrie Fox. Florrie is a very sweet, slightly old-fashioned, young woman whom I find charming. In her free time she designs and publishes adult coloring books. She also manages the Color Me Read bookstore. With the author's strong descriptive voice, Color Me Read is a place I can see in my mind and a place that I would dearly love to hang out at.
Tragically one of the elderly ladies who has joined the book store's coloring club, Hues, Brews, and Clues, is murdered. Florrie then discovers a mysterious skeleton that has been hidden behind a walled in bookcase in the murdered woman's attic. The plot is fast-paced once the murder takes place and there is a slew of characters and suspects. I appreciated the list of "Cast of Characters" at the front of the book which helped keep them straight. The wrap-up holds a satisfying reveal but felt a bit rushed. Overall THE COLORING CROOK is an entertaining read with a delightfully artistic protagonist!
Florrie and her friends enjoy several yummy treats in the book and Ms. Davis includes several recipes at the back of the book to indulge any sweet tooth. I was drawn to her recipe for Salted Chocolate Brownies because, well… chocolate! I've also noticed that salt really brings out the flavor of chocolate and enhances the enjoyment. I love that these brownies don't use a lot of flour and instead are more fudgy than cake-y, which is the type of brownie my family prefers. The richness of each bite will melt in your mouth and honestly, these are the perfect bars to serve as the base for a brownie sundae!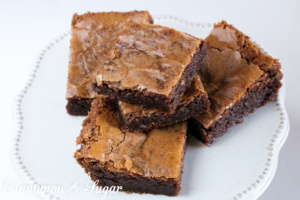 Amazon Synopsis
Life is looking rosy for Florrie Fox, manager of the Color Me Read bookstore in Georgetown, Washington D.C. She's working on an adult coloring book of gardens, her romance with Sergeant Eric Jonquille has entered a new chapter, and the bookstore's weekly coloring club is a source of friendship and entertainment. No member is more vibrant than Dolly Cavanaugh. Dolly likes to say she was blessed with beauty and cursed with lousy husbands, but at least she has a grown daughter and a stunning brownstone to show for it!

When Dolly's love of garage sales results in her showing up at Color Me Read with a rare book in hand, Florrie is astounded. The Florist, the earliest known coloring book, was first published in 1760. An original copy would be worth a fortune—and someone else knows it. That same evening, Florrie finds Dolly dead on the floor of her apartment, a corner of a coloring book page clutched in her hand. As Florrie delves into Dolly's past and her personal effects, she discovers a skeleton in the closet—literally—and a whole lot of shady suspects. One of them is an expert in the fine art of murder, but can Florrie draw the right conclusion?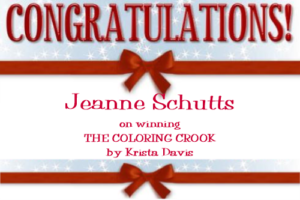 A special thanks to Krista Davis for providing a winner with a print copy of THE COLORING CROOK. Contest ends Monday, December 3, 2018 at 11:59 pm PST and is limited to U.S. residents only. Please use the Rafflecopter box located below to enter. The winner will be announced on this page and on Cinnamon & Sugar's Facebook page, as well as notified by email (so check your spam folder!)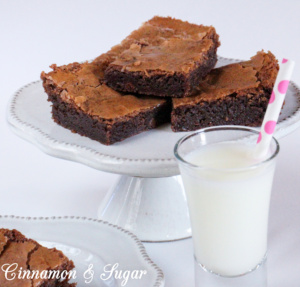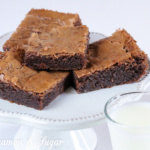 Salted Chocolate Brownies
Ingredients
1

8-by-8-inch

baking pan

1/2

cup

(1 stick) unsalted butter, plus extra for greasing pan

1/2

cup

semisweet chocolate chips

2

eggs

1

cup

sugar

1/2

cup

flour, plus extra for greasing pan

1/4

teaspoon

fine sea salt

1/4

teaspoon

baking powder

1-1/2

teaspoon

vanilla

Flaked sea salt like Maldon
Instructions
Preheat oven to 350 degrees Fahrenheit. Grease and flour the baking pan.

Melt the butter. (Krista does this in a glass Pyrex measuring cup in the microwave.) When melted, add the chocolate chips and stir until they melt. Set aside.

Beat the eggs with the sugar until thick and cream-colored. Beat at least 2 to 3 minutes.

While they are beating, mix together in a separate bowl the flour, the 1/4 teaspoon fine sea salt, and the baking powder. Set aside.

Alternate adding the flour mixture and the butter mixture to the eggs. (Hint: After adding flour, beat at low speed.) When they are incorporated, add the vanilla. Beat well.

Pour into the prepared pan. Sprinkle with two pinches of flaked sea salt. Holding a knife tilted at an angle, gently swirl the salt into the batter. Bake 25 minutes. The edges should look firm. The middle should be firm enough not to quiver when gently shaken. Place on baking rack to cool. (Hint: It's easier to cut them while they are still slightly warm.)

Serve warm or cold. These freeze well. Those with midnight cravings might even find them quite delicious frozen.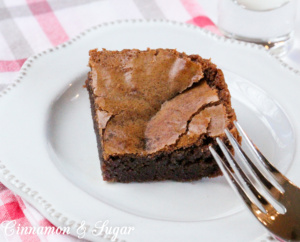 Pin to Pinterest: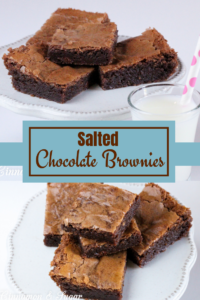 If you receive my blog post via email you will need to visit my website to view the video.
I was provided an advance copy with the hopes I would review. All thoughts and opinions are my own.