A MIDWINTER'S TAIL, the fourth book in the Lucky Paws Petsitting Mystery series by Bethany Blake has an adorable cover that invites the reader in and with the very first pages, the holiday spirit continues with the festive atmosphere and special foods. But don't be lulled into a comfortable sense of wellbeing because murder is right around the corner. Tender-hearted petsitter and pet bakery owner, Daphne Templeton, finds herself in the middle of another mystery and it's up to her to prove her best friend, Moxie's innocence. Daphne is such a well-developed character that brings humor to each scene. She is incredibly intelligent, having earned a PhD in Philosophy, yet the craziest incidents seem to always happen to her that had me laughing out loud. I also adore the characters of the animals that surround Daphne. They are every bit as developed as the human characters… each pet displays individual mannerisms, attitudes, and expressions that captured my imagination. I'll have to admit that Daphne's Basset hound, Socrates, is my favorite and steals most of the scenes he's in… but his little Chihuahua pal, Artie, is a close second.
The town of Sylvan Creek revolves around pets and I greatly enjoyed all the pet-themed store names and events that the author creates, such as the Bark the Halls Ball. Ms. Blake weaves a tight plot with the town's holiday festivities as the backdrop. With numerous people disliking Daphne and Moxie's high school nemesis (both from years before and currently) there are plenty of viable suspects when the woman is murdered. There are also heart-warming subplots that add to the holiday good cheer and leaves the reader with a delightful feeling of satisfaction.
Daphne bakes up all sorts of treats for her pets to sell in her shop Flour Power and luckily for the pets of readers, Ms. Blake provides several recipes at the back of the book. With the Christmas season as the setting for the book, I was drawn to trying out Ms. Blake's recipe for Pupper-Mint Candy Cane Twists… and my grand-pup loved them! I used beet powder to create the red hue for part of the dough and the green specks of mint adds a festive touch. This would be a fun project for little kids to make for their furry friends over the holidays and since the batch makes quite a lot, these would also make a nice gift for neighborhood dogs!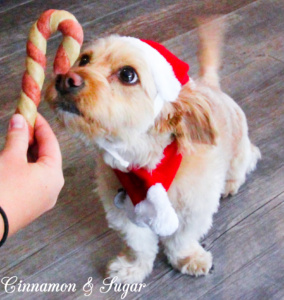 Amazon Synopsis
Professional pet sitter Daphne Templeton loves the holidays in Sylvan Creek, Pennsylvania. And nothing gets her into the spirit more than the town's annual Bark the Halls Ball. The whole community will be there to wag their tails, especially this year's special guest—Celeste "CeeCee" French, founder of a national chain of pet care franchises, who's returning home to announce plans for a bright new flagship store.

But not everyone's celebrating CeeCee's homecoming. Daphne's friend Moxie Bloom, owner of Spa and Paw, a unique salon for people and their pets, has plenty to growl about. So when CeeCee is found face down under Sylvan Creek's town Christmas tree, stabbed with a distinctive pair of professional-grade pet shears, suspicion lands squarely on Moxie. Despite Daphne's promises to Detective Jonathan Black, she quickly reprises her role as amateur sleuth. Ably assisted by her basset hound sidekick, Socrates, she must hurry to prove her friend's innocence before a killer barks again . . .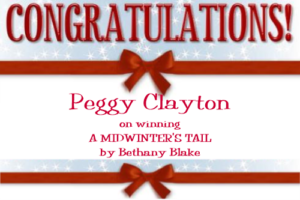 A special thanks to Bethany Blake for providing a winner with a print copy of A MIDWINTER'S TAIL. Contest ends Wednesday, December 5, 2018 at 11:59 pm PST and is limited to U.S. residents only. Please use the Rafflecopter box located below to enter. The winner will be announced on this page and on Cinnamon & Sugar's Facebook page, as well as notified by email (so check your spam folder!)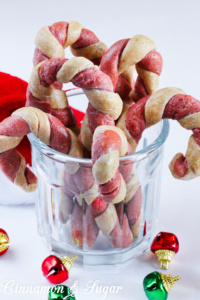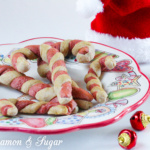 Pupper-Mint Candy Cane Twists
These treats are not only fun for the holidays, but the fresh mint can also freshen up your pup's breath, so he or she is ready to mingle at the season's many social gatherings. NOTE: Just be sure to use fresh mint leaves. Extracts and oils can be too strong for pets.
Ingredients
3

cups

flour, best suited to your dog's diet: whole wheat, barley, rice, sorghum... whatever suits your pup best. Feel free to use a mix. I find that actually works best.

1/2

cup

nonfat powdered milk

1/2

teaspoon

baking powder

2

large

eggs

1

cup

chicken broth

4 - 5

mint leaves

2

teaspoons

pet-friendly food coloring (see below for tips)

1

large

egg, for a wash
Instructions
Preheat your oven to 350 degrees and line a baking sheet with parchment paper.

Whisk together the flour(s), powdered milk, and baking powder. Then whisk the eggs into the chicken broth. Add the wet ingredients to the dry ingredients, stir until combined, and knead into a dough. You may want to add extra flour, a teaspoon at a time, if the dough is too sticky. Divide the dough into two parts and let it rest for a moment while you complete the next steps.

Make a paste with the mint by chopping it, adding a bit of water, and muddling it with a mortar and pestle. If you don't have a mortar-pestle set handy, use a small metal bowl and the back of a spoon. The amount is so tiny that it doesn't really make sense to use a food processor. And it doesn't have to be a perfect paste. Even finely chopped mint is great.

Knead the mint into one of the dough balls.

Add the pet-safe food coloring to the other ball. NOTE: Pet-friendly dyes are readily available online, but you can also use a touch of beet juice. Think about how beets, which are actually good for dogs, stain your hands!

Roll out your two doughs separately, forming rectangles of approximately the same size. Cut both doughs into strips, and roll the strips into "snakes." Form candy canes by twisting two snakes together and shaping into the traditional form. Beat the remaining egg in a bowl and use a pastry brush to apply egg wash to each cookie.

Bake the cookies for about 12 minutes. You'll want to watch them because cooking time will depend upon thickness. Cool thoroughly before serving to your pet.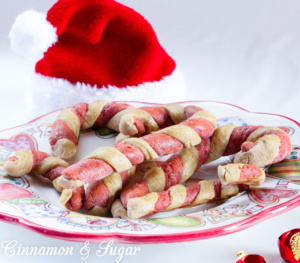 Pin to Pinterest: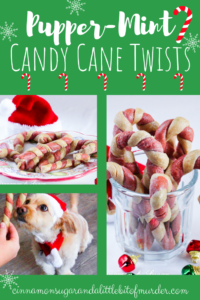 If you receive my blog post via email you will need to visit my website to view the video.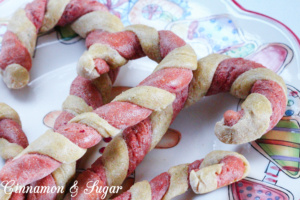 I was provided an advance copy with the hopes I would review. All thoughts and opinions are my own.