Today I'm joining Berkley's blog tour celebrating the February 8th release of HOMICIDE AND HALO-HALO, the second book in the Tita Rosie's Kitchen Mystery series by Mia Manansala. I just loved the first book and had high expectations for this second book… and boy did Ms. Manansala deliver! In fact, I think this one is even better! The story reflects the sentiments of the author's heartfelt note about her personal struggle with the pandemic and everything that has ensued. It was clearly evident that the protagonist, Lila Macapagal, shared her creator's same state of mind. There is an undercurrent of her emotional struggles from not only events that have happened to her over the course of her life, but also the PTSD triggered by a murder in book one. This brought a feeling of genuineness to the story and an authentic relatability as Lila tries to avoid facing her issues by working hard and staying constantly busy. I admire the author for tackling serious issues such as emotional and mental health, along with harassment and others, in her book, yet still delivers an entertaining whodunit.
Lila and her supporting characters—friends and family alike—are well developed, each with their own unique characteristics. I appreciate the peek into the lives of Lila's close-knit Filipino family from their banter, and dare I say meddling, to their amazing food-centric world. Ms. Manansala's descriptions of the meals shared and served at her aunt's restaurant are all mouthwatering.
With a plot centered around the local beauty pageant, I expected the usual vapid beauty queens vying for the crown with swimsuit and evening gown struts down the runway. Instead, I loved seeing an updated version based on what matters in life: intelligence and giving back to the community, along with celebrating strong, empowered women. The author uses the backdrop of those who want to keep the pageant status quo and those who want to be forward thinking, for the murder. With a strong plot, the suspects mount when the head judge is murdered. Lila, as one of the judges, starts asking questions and uncovers some unpleasant facts about the victim. Ms. Manansala dishes up clues while whetting your appetite to find out what happens next with each page… and has me anxiously waiting for the next book in the series!
I can't say enough about the food descriptions… I was hungry throughout and want to try every single recipe included in the back of both the books. I'm reprising the recipe from the first book in the series, Ube Crinkles. First off, the color of the cookies is gorgeous! None of my local markets carried ube (halaya) jam, but I managed to score some Okinawan purple sweet potatoes from a Japanese market, so I decided to use that and make the jam myself. Click here for the recipe: HALAYA. While a bit time consuming, I loved the final results and could easily eat the jam by the spoonful. There are all sorts of recipes on Pinterest that call for ube jam as well! Once the cookies were cooled, the mild, cakey texture paired well with a cup of tea, and the coating of powdered sugar added some extra sweetness. Ube Crinkles are delicious as they are unique and provide a welcome splash of color on cookie platters!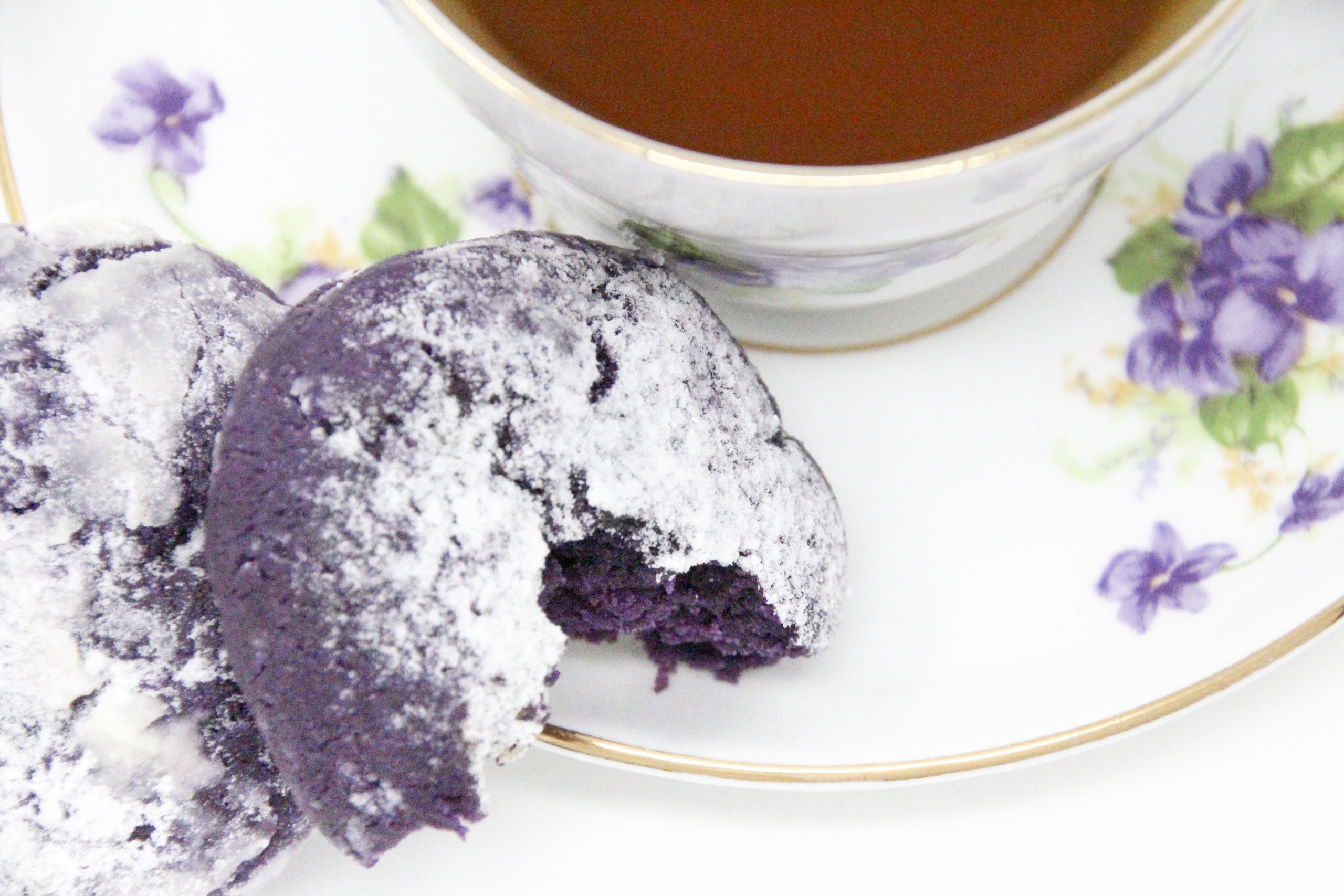 Amazon Synopsis
Things are heating up for Lila Macapagal. Not in her love life, which she insists on keeping nonexistent despite the attention of two very eligible bachelors. Or her professional life, since she can't bring herself to open her new café after the unpleasantness that occurred a few months ago at her aunt's Filipino restaurant, Tita Rosie's Kitchen. No, things are heating up quite literally, since summer, her least favorite season, has just started.
To add to her feelings of sticky unease, Lila's little town of Shady Palms has resurrected the Miss Teen Shady Palms Beauty Pageant, which she won many years ago—a fact that serves as a wedge between Lila and her cousin slash rival, Bernadette. But when the head judge of the pageant is murdered and Bernadette becomes the main suspect, the two must put aside their differences and solve the case—because it looks like one of them might be next.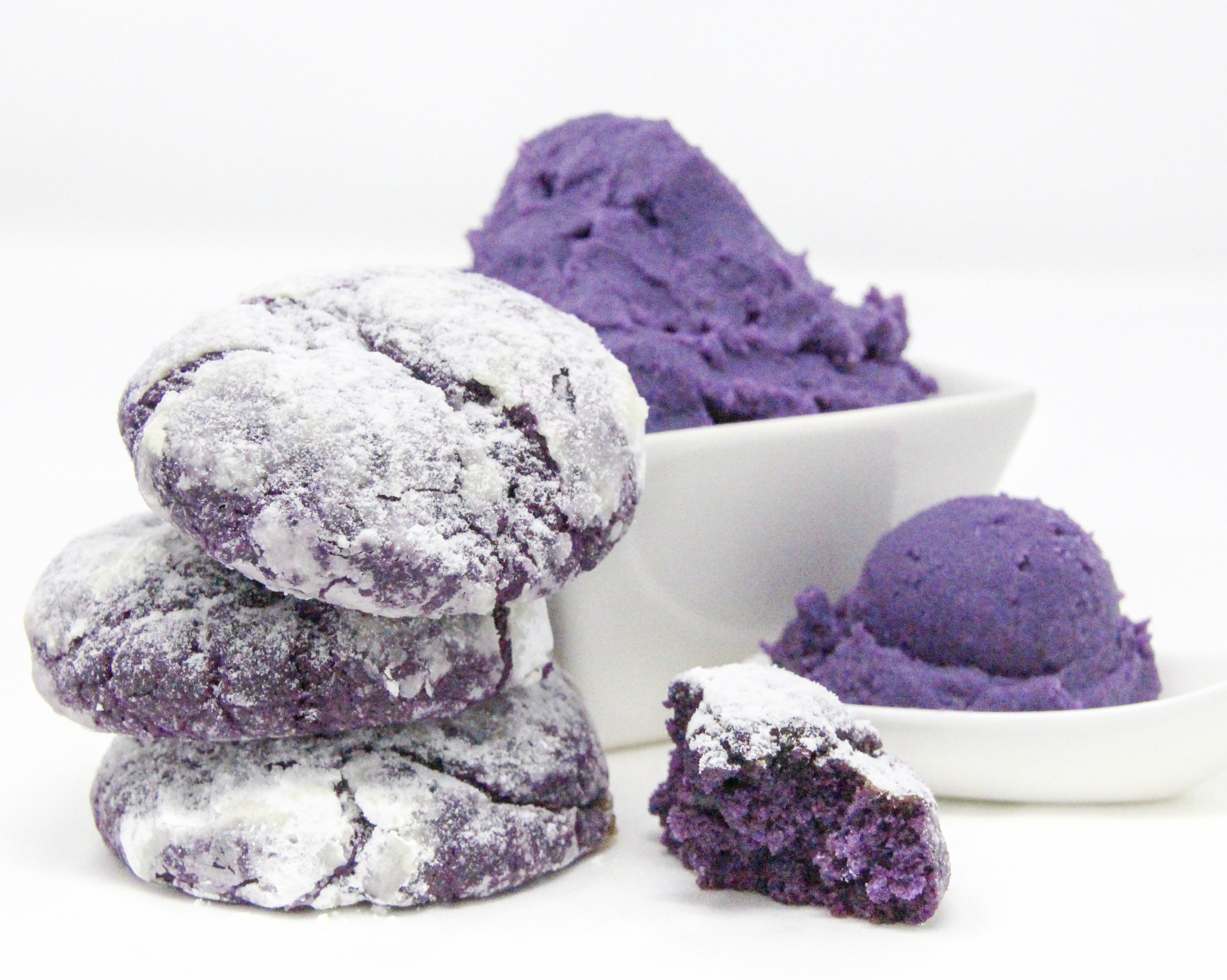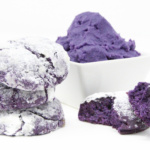 Lila's Ube Crinkles
Ube has a subtle, delicate flavor - think mild sweet potato with vanilla overtones. This simple, chewy cookie that Lila created allows that flavor (and lovely color) to shine.
Yield: 3-1/2 dozen cookies, using a medium-sized (2-3/4") scoop
Ingredients
3

cups

all-purpose flour

2

teaspoons

baking powder

1/2

teaspoon

salt

1

cup

butter, room temperature

1

cup

brown sugar (white granulated sugar is fine, but the brown sugar adds a little something special)

2

eggs

1-1/2

cups

ube jam (halaya)

1

tablespoon

ube flavoring (I used the McCormick Ube Flavor)

2

cups

powdered sugar
Instructions
Preheat oven to 350 degrees (F) and line cookie sheets with parchment paper.

Whisk all the dry ingredients in a bowl - flour, baking powder, and salt.

Cream together butter and sugar, using a mixer, until well combined. Add the eggs in, one at a time, mixing well after each addition.

Add in ube jam and flavoring and mix at high speed until fully incorporated. Once the mixture is a lovely, uniform violet color, turn the speed down to low and gradually add in the dry ingredients. Mix until just combined.

Cover the bowl with cling wrap and chill for a few hours or overnight. Do not skip this step as the dough is very sticky and hard to work with while warm.

Using a medium-sized cookie scoop, roll the cookie dough into balls (or scoop with a spoon and shape into roughly 2-3/4" sized balls) and coat with powdered sugar.

Bake on lined cookie sheets at 350 degrees (F) for 10 minutes or until firm around the edges and slightly underdone in the center (but not doughy). Enjoy!
Pin to Pinterest: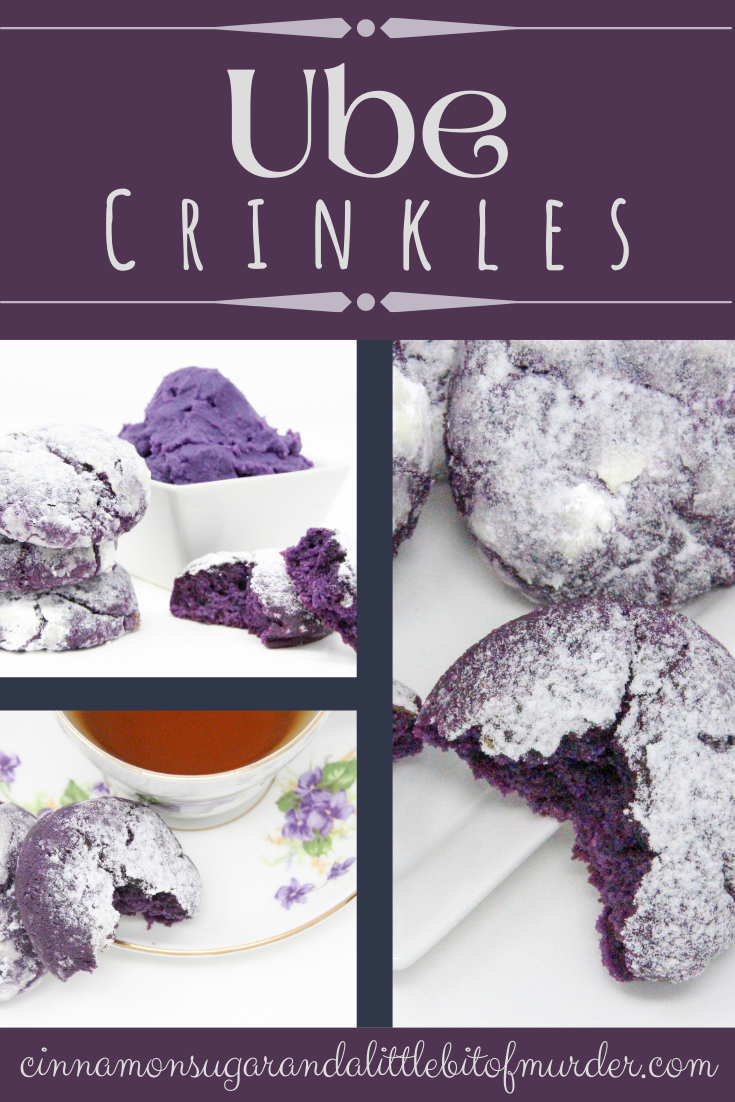 Many thanks to Berkley for providing me with an advance copy. All thoughts and opinions are my own.