Debut novel ARSENIC AND ADOBO, is the first in the new Tita Rosie's Kitchen Mystery series by Mia P. Manansala. This cozy mystery has been highly anticipated and it delivered all it promised and more! Combining a fresh take on diversity surrounding a group of strong Filipino women and their community, the characters, particularly protagonist Lila Macapagal, makes the story come to life. Her humor is a bit snarky around the edges but it elevates the voice of the story and makes Lila more relatable. Despite the setbacks she's experienced, (a failed relationship and her chef's career going nowhere which necessitated the need to flee back home and move in with her aunt), Lila still has a desire to succeed. The supporting characters are just as well developed as the protagonist, and they each bring strengths to the story. Ms. Manansala uses her family to immerse the reader in the Filipino culture via several avenues. First off is the food – so many delectable dishes are mentioned and I'd advise to not read while hungry! Second is the language – there's a glossary at the beginning but the author does an admirable job of making sure there is context provided within the story. And the familial interaction between Lila, her aunt, her grandmother, along with her honorary "calendar" aunties named so because of their birth names, April, May, and June.
The mystery sets up quickly and the pace is spot on. With Lila's Tita Rosie's restaurant close to bankruptcy and a landlord intent on closing her down, she decides to do everything in her power to rescue the family business even when it appears hopeless. On top of the money issues, Lila's ex-boyfriend had been publishing nasty reviews about the restaurant, driving away what little business they had. No spoilers here, but the way the murder of her ex is set up and then takes place, adds a creative flair. Naturally Lila is the prime suspect. I liked that she's intelligent and quite methodical about searching for clues on who else might have wanted the nasty reviewer dead. There were enough suspects to keep me guessing and Lila has some assistance in the form of her high school best friend and her attorney brother, along with the brother of the lead detective. The author's plotline surrounding the aspects of the murder centers on a heartbreaking social issue that our nation is experiencing. I appreciated that Ms. Manansala writes with sensitivity, instead of shock value, and treats the victims with dignity. As the reveal fell into place, the threads of the plot and subplot were wrapped up succinctly, and left the reader with a hint of what's to come in future books. I can't wait!!
As I mentioned above, oh my goodness, the food! There are several recipes at the back of the book and I can't wait to try them all. Numerous years ago, I worked with and became close friends with a Filipino woman. She LOVED to cook and frequently shared her homeland dishes with me and all I can say is YUM! Ms. Manansala's recipes brought back fond memories of spending time with my friend and sharing our lives over platefuls of delicious food. While my friend tended to stick to preparing savory dishes, if you know me, you know I adore cookies and I couldn't wait to try the recipe for Lila's Ube Crinkles provided in the book. First off, the color of the cookies is gorgeous! None of my local markets carried ube (halaya) jam, but I managed to score some Okinawan purple sweet potatoes from a Japanese market, so I decided to use that and make the jam myself. I've included the recipe below. While a bit time consuming, I loved the final results and could easily eat the jam by the spoonful. There are all sorts of recipes on Pinterest that call for ube jam as well! Once the cookies were cooled, the mild, cakey texture paired well with a cup of tea, and the coating of powdered sugar added some extra sweetness. Ube Crinkles are delicious as they are unique and provide a welcome splash of color on cookie platters!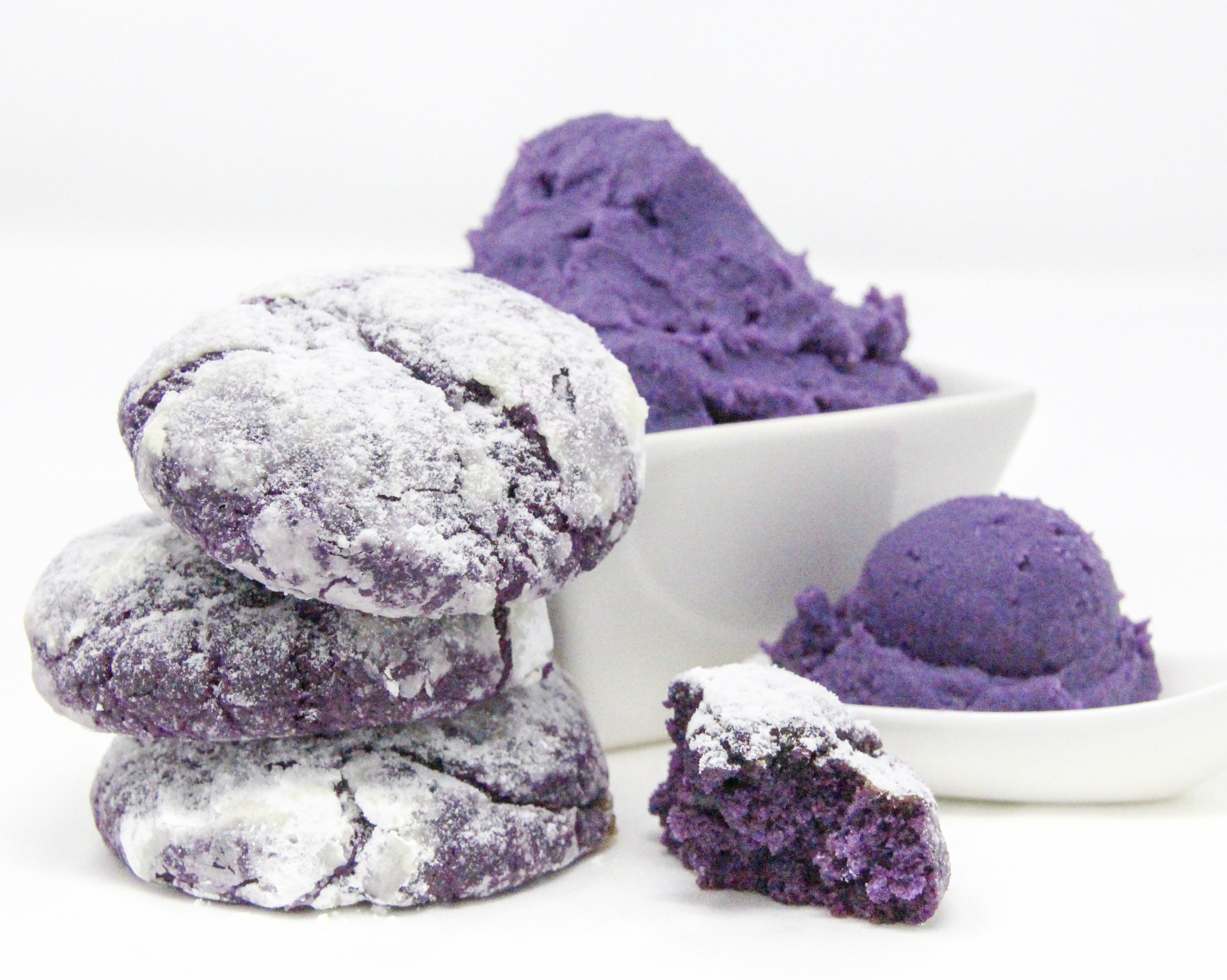 Amazon Synopsis
The first book in a new culinary cozy series full of sharp humor and delectable dishes—one that might just be killer….
When Lila Macapagal moves back home to recover from a horrible breakup, her life seems to be following all the typical rom-com tropes. She's tasked with saving her Tita Rosie's failing restaurant, and she has to deal with a group of matchmaking aunties who shower her with love and judgment. But when a notoriously nasty food critic (who happens to be her ex-boyfriend) drops dead moments after a confrontation with Lila, her life quickly swerves from a Nora Ephron romp to an Agatha Christie case.
With the cops treating her like she's the one and only suspect, and the shady landlord looking to finally kick the Macapagal family out and resell the storefront, Lila's left with no choice but to conduct her own investigation. Armed with the nosy auntie network, her barista best bud, and her trusted Dachshund, Longanisa, Lila takes on this tasty, twisted case and soon finds her own neck on the chopping block…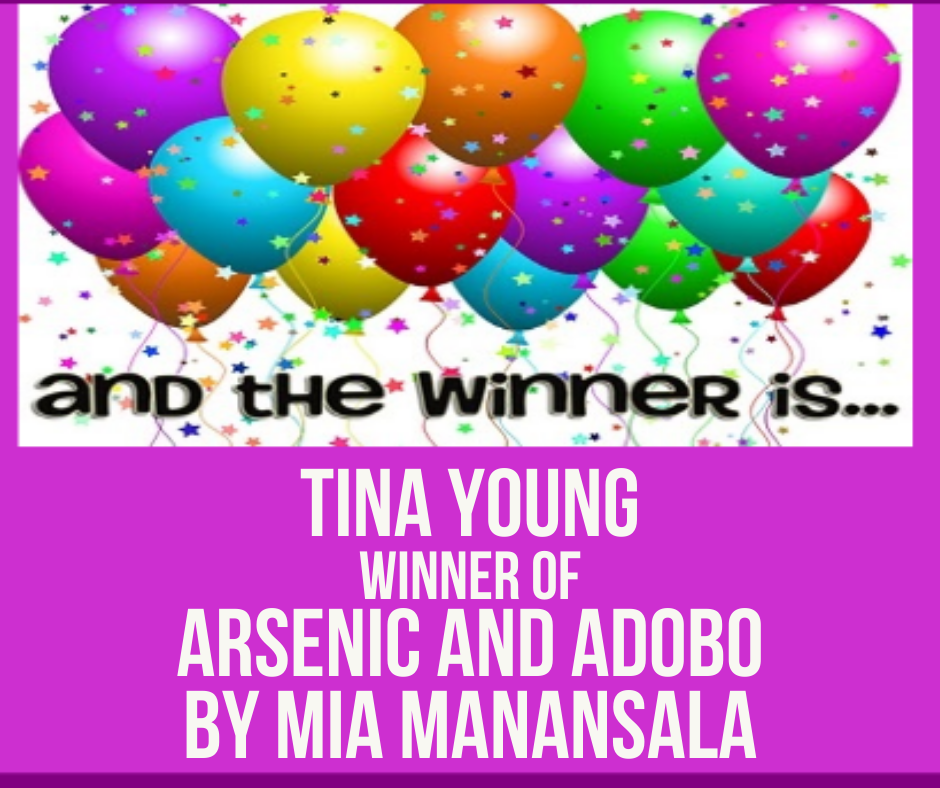 A special thanks to the publisher, Berkley, for providing a winner with a print copy of ARSENIC AND ADOBO! Contest ends Wednesday, May 12, 2021 at 11:59 pm PST and is limited to U.S. residents. Please use the Rafflecopter box located below to enter. The winner will be announced on this page and on Cinnamon & Sugar's Facebook page, as well as notified by email (so check your spam folder!)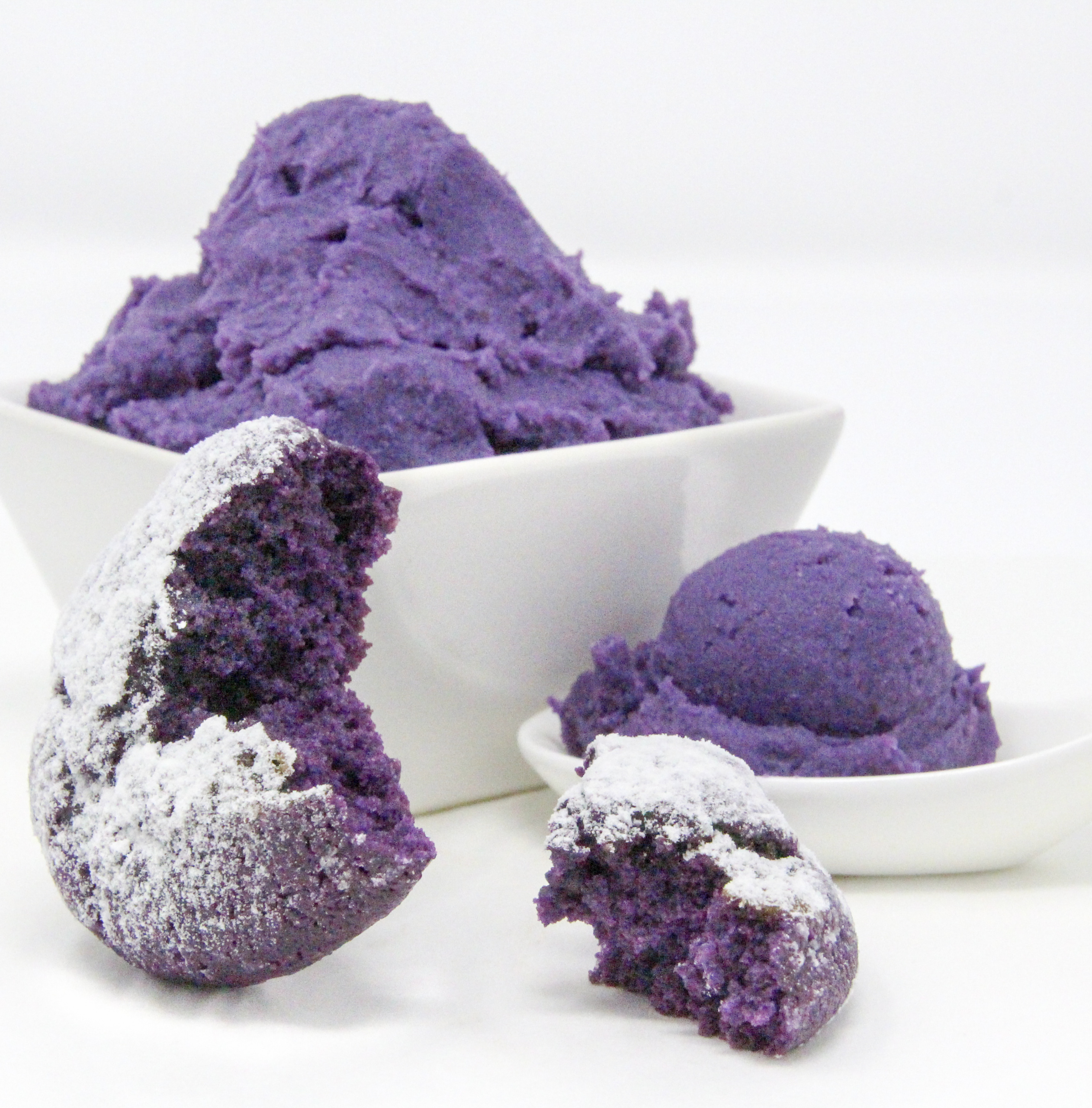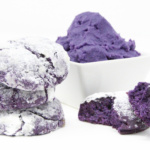 Lila's Ube Crinkles
Ube has a subtle, delicate flavor - think mild sweet potato with vanilla overtones. This simple, chewy cookie that Lila created allows that flavor (and lovely color) to shine.
Yield: 3-1/2 dozen cookies, using a medium-sized (2-3/4") scoop
Ingredients
3

cups

all-purpose flour

2

teaspoons

baking powder

1/2

teaspoon

salt

1

cup

butter, room temperature

1

cup

brown sugar (white granulated sugar is fine, but the brown sugar adds a little something special)

2

eggs

1-1/2

cups

ube jam (halaya)

1

tablespoon

ube flavoring (I used the McCormick Ube Flavor)

2

cups

powdered sugar
Instructions
Preheat oven to 350 degrees (F) and line cookie sheets with parchment paper.

Whisk all the dry ingredients in a bowl - flour, baking powder, and salt.

Cream together butter and sugar, using a mixer, until well combined. Add the eggs in, one at a time, mixing well after each addition.

Add in ube jam and flavoring and mix at high speed until fully incorporated. Once the mixture is a lovely, uniform violet color, turn the speed down to low and gradually add in the dry ingredients. Mix until just combined.

Cover the bowl with cling wrap and chill for a few hours or overnight. Do not skip this step as the dough is very sticky and hard to work with while warm.

Using a medium-sized cookie scoop, roll the cookie dough into balls (or scoop with a spoon and shape into roughly 2-3/4" sized balls) and coat with powdered sugar.

Bake on lined cookie sheets at 350 degrees (F) for 10 minutes or until firm around the edges and slightly underdone in the center (but not doughy). Enjoy!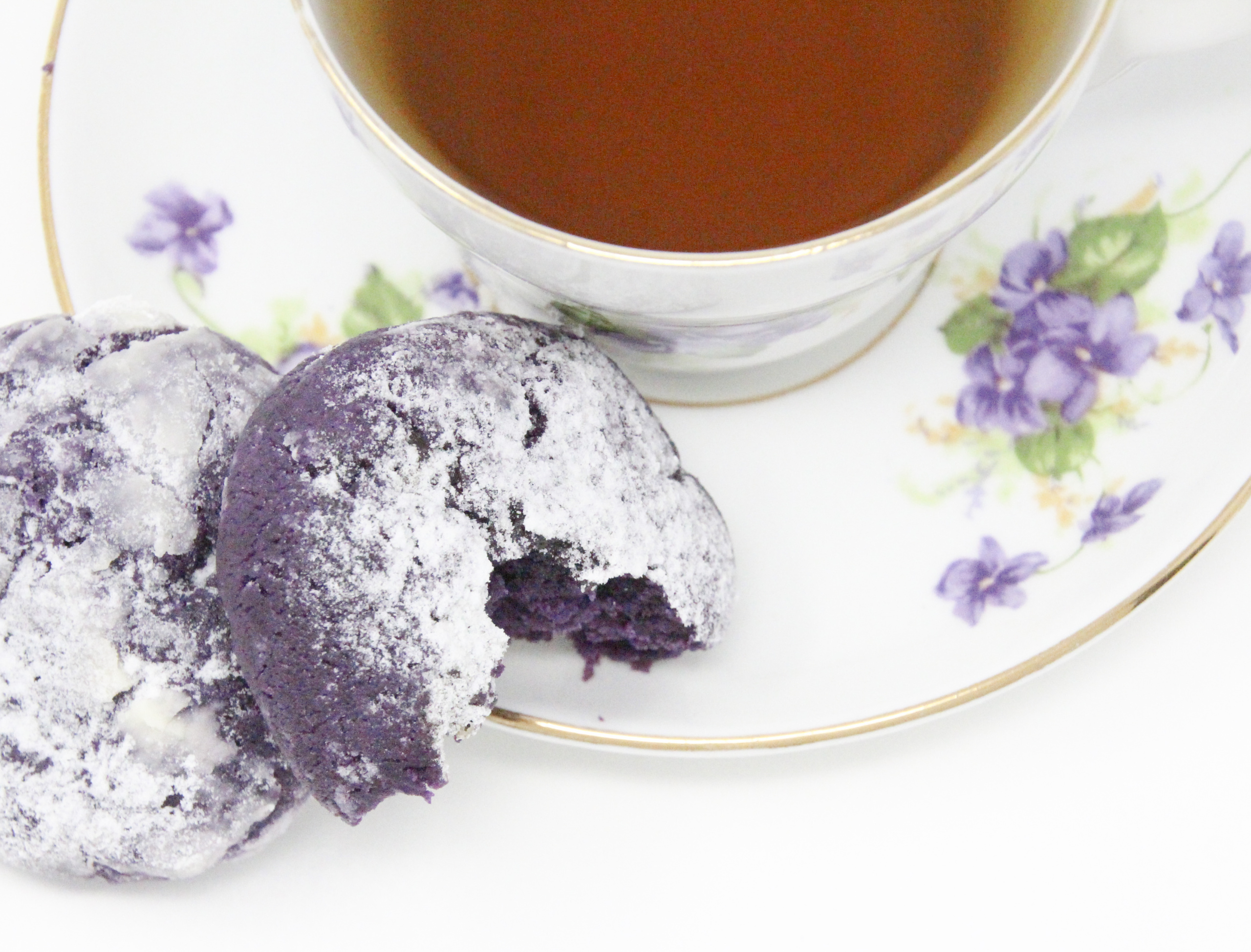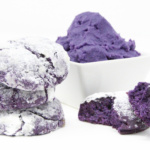 Ube Jam - Halaya
Ingredients
1

(12-ounce) can evaporated milk

1/2

cup

packed brown sugar

2-1/4

pounds

fresh ube or purple yam*

1

(10-ounce) can condensed milk

1/2

teaspoon

salt

2

teaspoons

ube flavoring

1/4

cup

unsalted butter, softened and cut into small cubes
Instructions
Cut scrubbed fresh ube (or purple yams) into medium-sized chunks and place in a Dutch oven pot. Add enough water to fully cover the ube. Bring to a boil and cook until ube can easily be pierced with a fork. (About 30 minutes.)

Drain the water from the ube and allow to cool until the chunks can be easily handled without burning your hands. (About 20 minutes). While still warm, peel and discard the skins. Return the ube chunks to the Dutch oven.

Add the evaporated milk, sweetened condensed milk, brown sugar, ube flavoring, and salt to the ube. Using an immersion blender**, puree until fairly smooth.

Over medium heat, stir the ube jam until it begins to thicken. Reduce heat to medium-low. Continue to stir constantly to prevent the ube mixture from burning and cook until mixture is quite thick (approximately 20 minutes).

Add half of the butter and stir until incorporated. Add the remaining butter and stir until completely incorporated.

Ube jam is done when the mixture does not return when you drag your spoon down the middle of your pan. It could take around 30 minutes of cooking to get to this point.

Transfer to glass jars with tight-fitting lids. Allow to cool slightly, then refrigerate. The jam will continue to thicken as it chills.
Notes
This recipe makes approximately 3 cups of ube jam.

*If using frozen grated ube, use 2 packages and thaw before using. Skip instruction steps 1 -2.

**If you don't have an immersion blender, you can use a potato masher (although the resulting jam will have small chunks) or grate the cooked ube chunks prior to adding the milks and sugar.

Ube jam will keep refrigerated for up to 7 days. If longer storage is desired, freeze and allow to defrost before proceeding with adding to a recipe.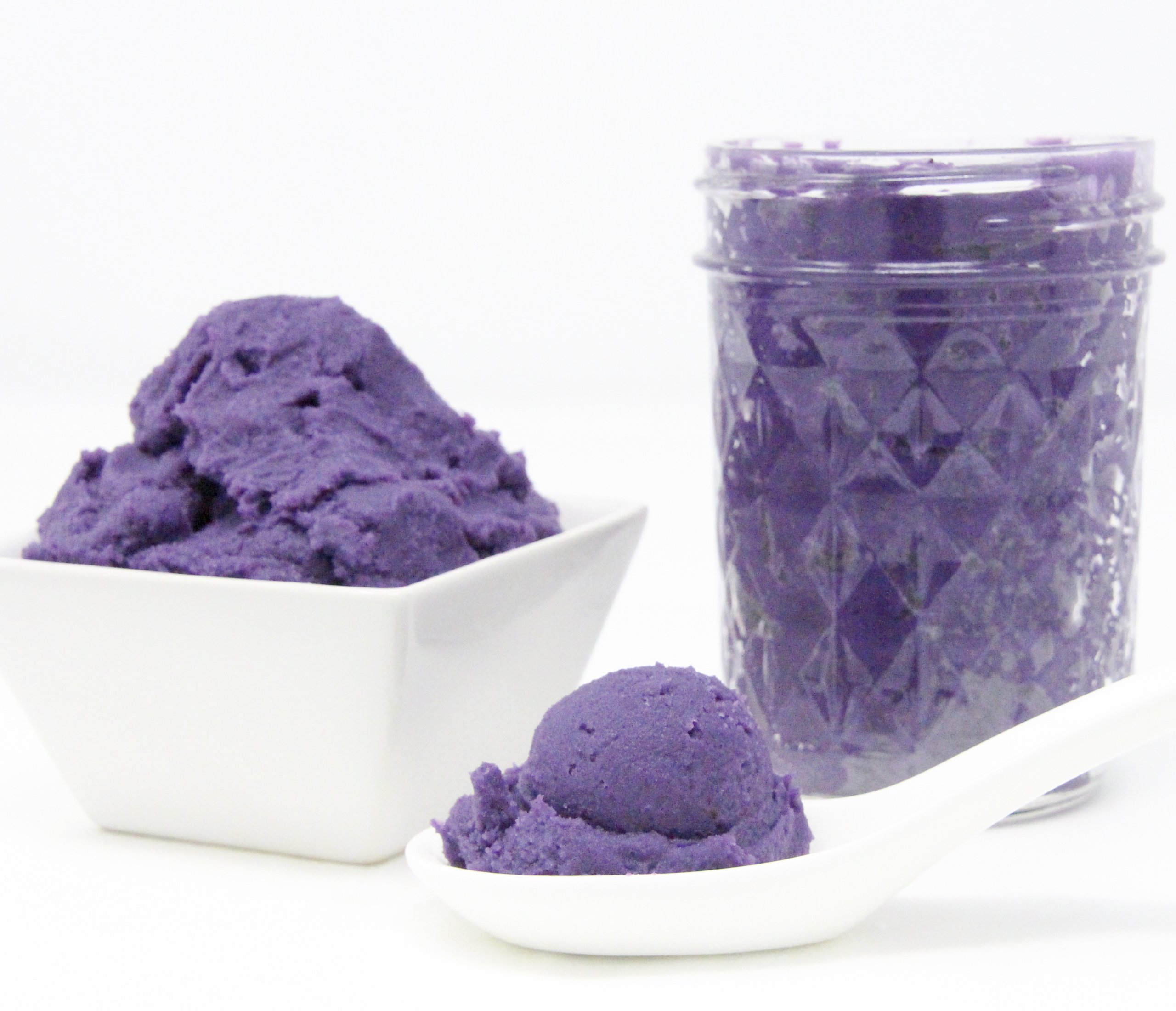 Pin to Pinterest: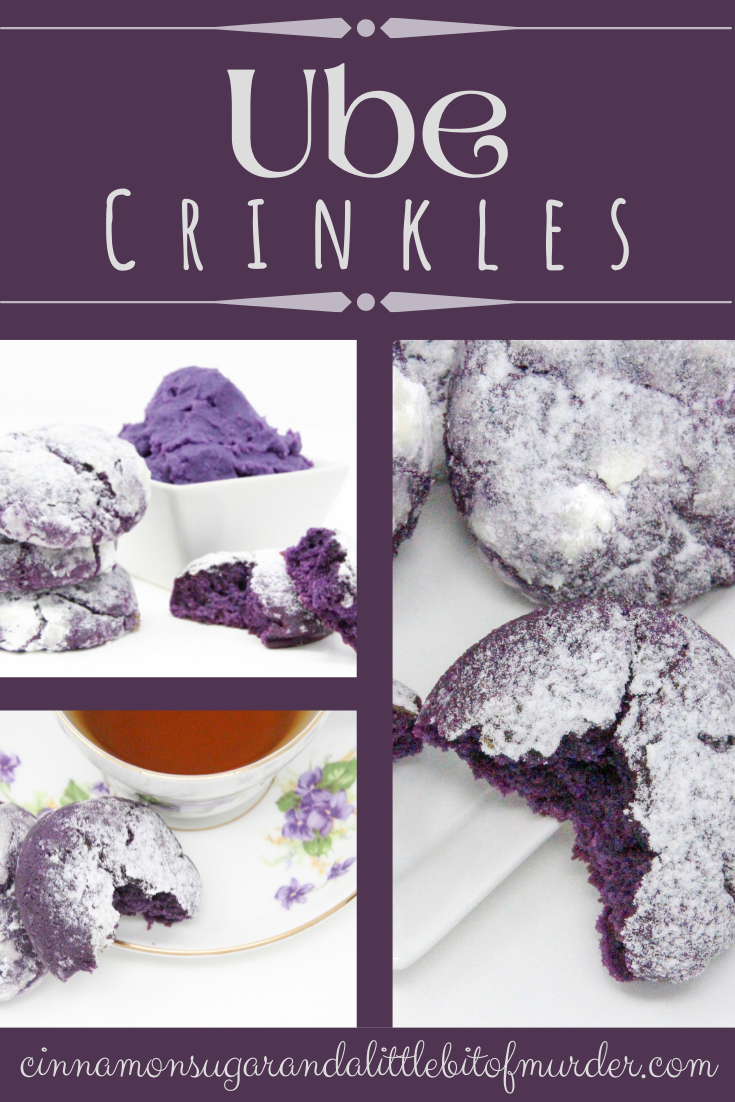 I was provided with an advance copy. All thoughts and opinions are my own.