KNEE DEEP IN DOUGH, the tenth book in the Cookies & Chance Mysteries by Catherine Bruns, is another terrific addition to a long- enjoyed series! While this can be read as a stand-alone, the author's strength is in her character development over the course of the series. The protagonist, Sally Muccio, and her husband, dreamy Mike Donovan, are celebrating their third wedding anniversary and life couldn't be better with their eight-month-old daughter, Cookie, by their side. Not only has the protagonist grown and changed (like we all do in life) but the core cast of characters have as well. Sally's parents are still a hoot and not only is her father still blogging as Father Death but he now owns a mortuary and Sally's mother is designing a funerary clothing line. Ms. Bruns knows how to create scenes for maximum hilarity and Knee Deep In Dough doesn't disappoint. While some of the characters are quirky, there's never a doubt that Sally and her family are loving, kind, and deeply supportive of each other, and never more so with this new book. I'm always tentative about a cozy mystery series where the protagonist is a mother and there's a baby or child involved. Ms. Bruns handles the situation with sensitivity and, given the support Sally receives from her family, it put my mind at ease so I was able to sit back and enjoy the story as it unfolded.
The murder mystery starts out early and when Officer Brian Jenkins, a longtime friend of Sally's, becomes the main suspect, she feels the need to come to his assistance. Afterall, Brian had saved Sally's life on more than one occasion and she feels she owes him a debt. Plus, the victim was a friend of Sally's from high school days before she moved away. As Sally begins to ask questions, it's obvious the victim and Brian were/are hiding secrets. Uncovering the truth isn't easy and it doesn't take long before she's attracted the attention of the killer. The clues are sprinkled throughout the story and with a fast-paced plot, I didn't want to put the book down. It certainly proved to be a "just one more chapter" read until I'd finished the very last page. With a heart pounding reveal, and a couple surprising twists I didn't see coming, Ms. Bruns has proven once again to be an accomplished storyteller!
Sally owns her cookie bakery, Sally's Samples, and so many delectable goodies are mentioned on the pages. I had the honor of providing a recipe for the book and when I found out the season in the book was summer, I wanted to have something that was reminiscent of summertime treats from my childhood. My family made s'mores around a campfire after a long day spent hiking in the woods or on a lake boating with my cousins and the memory appealed to me. But in all honesty, the last time I had a s'more a few years ago as an adult, I was disappointed. The marshmallows were overburnt, the chocolate didn't melt, and the graham crackers were too dry. Instead, I decided to create a S'mores Cookie Bars so that the perfect ration of graham crackers, chocolate, and marshmallows could be had and no campfires were required. My husband took a stack of the S'mores Cookie Bars to share with his golf buddies and the overwhelming consensus was, they were one of the very best treats I'd had them taste so far!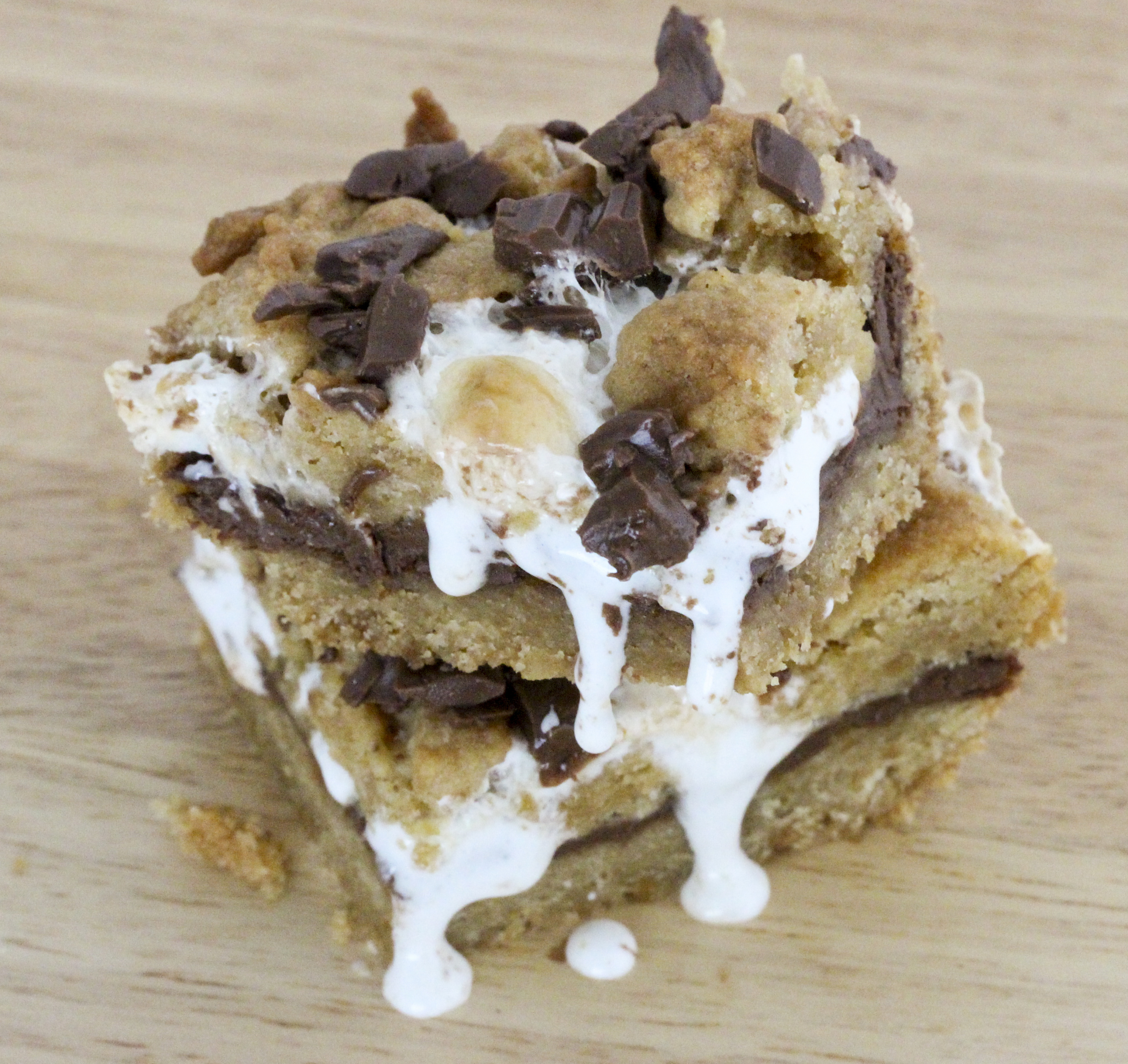 Amazon Synopsis
For once, baker Sally Muccio's life isn't a recipe for disaster. She's happy to be out celebrating her wedding anniversary… that is until she spies her friend Officer Brian Jenkins with a gorgeous blonde who is not his newlywed wife. The woman's name is Kelsey Sherman, and it turns out she once dated Brian. Which doesn't make Sal feel any better about the situation, but she decides to mind her own business and enjoy her evening.
Only before the night is over Kelsey is dead from a gunshot wound, and Brian is found standing over her body. To make matters worse, the bullet is confirmed to have come from his own gun. Brian swears he had nothing to do with the murder, and Sal believes him, even if the rest of the town's convinced that he's a total crumb. With nowhere else to turn, Brian asks for help to prove his innocence. But when the tables turn and someone tries to kill Sal as well, she might come out of this mess battered for life.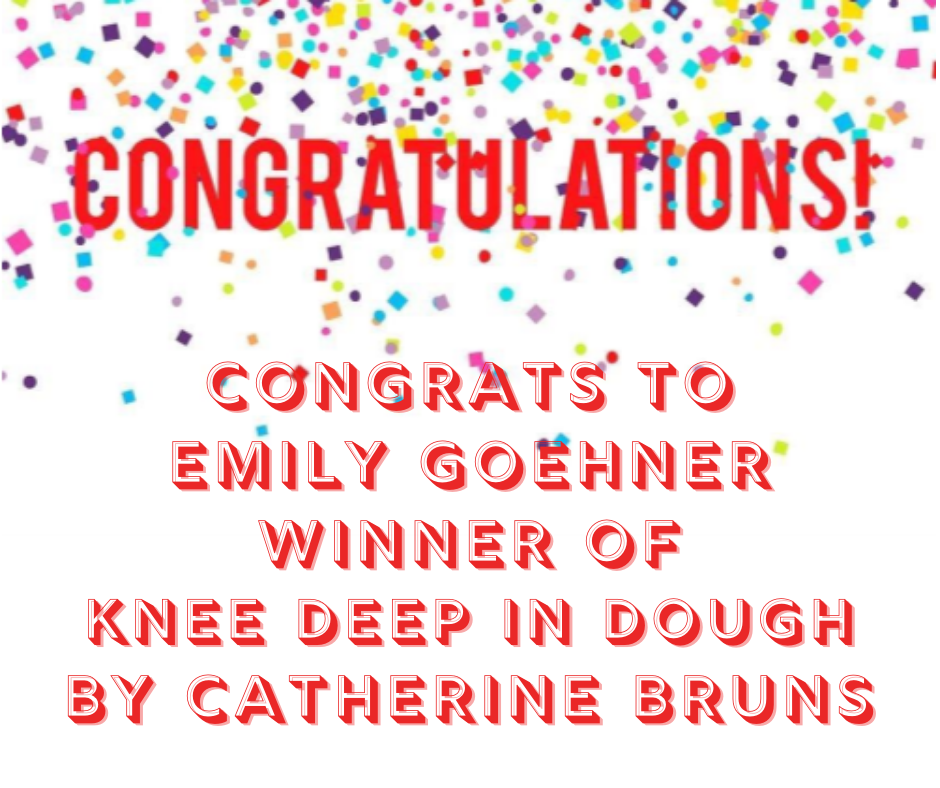 A special thanks to Catherine Bruns for providing a winner with a print copy of KNEE DEEP IN DOUGH! Contest ends Sunday, May 16, 2021 at 11:59 pm PST and is limited to U.S. residents. Please use the Rafflecopter box located below to enter. The winner will be announced on this page and on Cinnamon & Sugar's Facebook page, as well as notified by email (so check your spam folder!)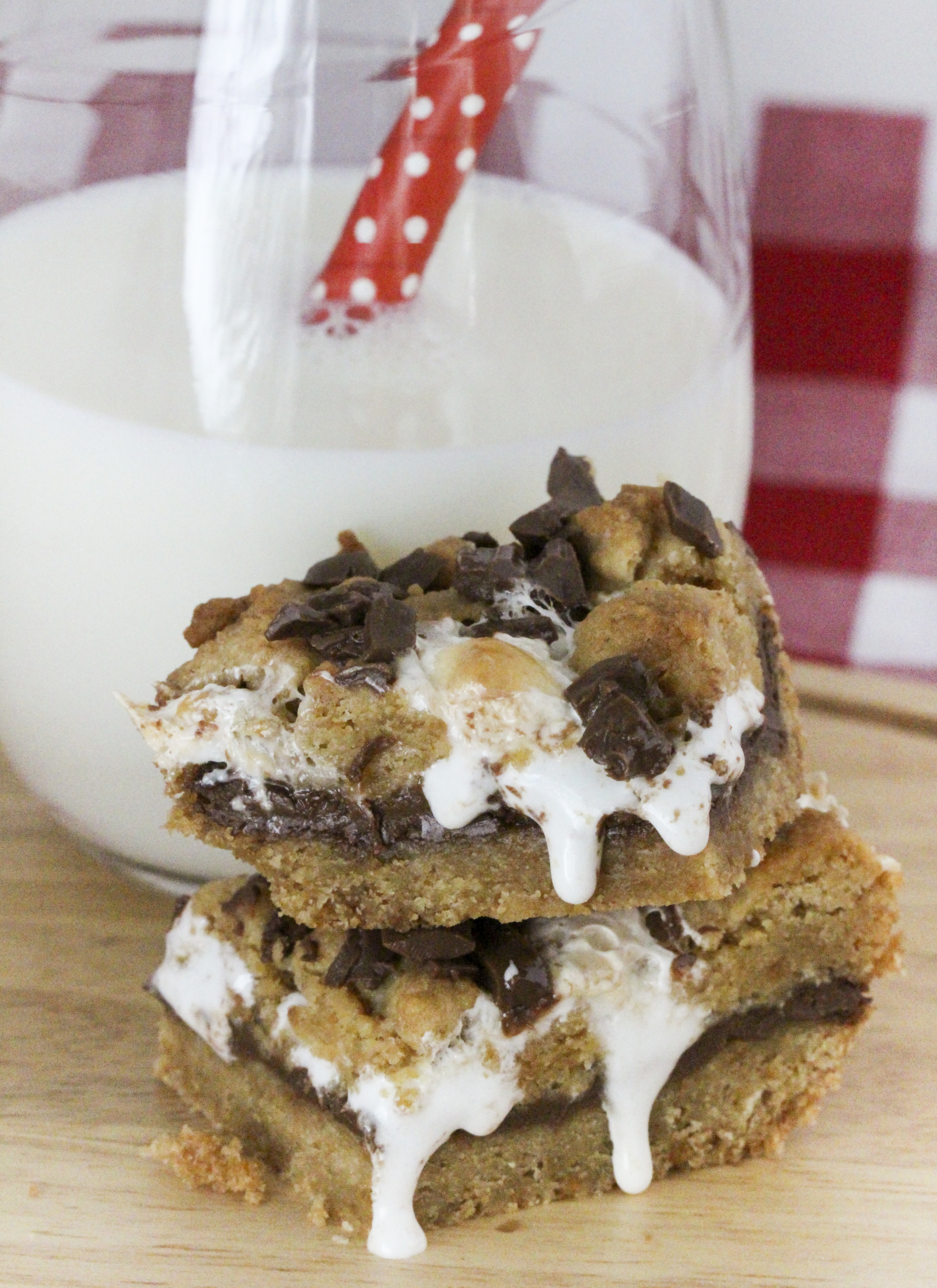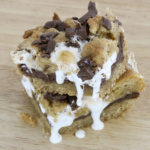 S'mores Cookie Bars
Ingredients
1/2

cup

unsalted butter, softened

1/2

cup

granulated sugar

1/4

cup

light brown sugar, packed

1/2

teaspoon

salt

1

egg

1

teaspoon

vanilla extract

1-1/4

cup

all-purpose flour

1

cup

graham cracker crumbs

1

teaspoon

baking powder

6

(1.55-ounce) Hershy's Milk Chocolate bars, divided

1

(7-ounce)

container marshmallow creme

3/4

cup

mini marshmallows
Instructions
Preheat oven to 400 degrees (F).

Create a foil sling for a 9-inch square baking dish. Fold 2 long sheets of foil to fit the inside of the baking dish then place them perpendicular to each other, allowing extra foil to hang over the edge of dish. Spray foil with non-stick cooking spray.

Using an electric mixer, cream together the butter with the granulated and brown sugars, and salt, about 2 minutes. Beat in the egg and vanilla.

Stir in the flour, graham cracker crumbs, and baking powder. The mixture will be crumbly.

Reserve 1 cup of the dough and press the remaining dough into the prepared baking dish to form the crust.

Cover the crust with 5 chocolate bars, breaking bars as necessary to cover evenly. (Try to leave the bars as whole as possible.) Coarsely chop the remaining chocolate bar and set aside.

Spray a spatula with non-stick cooking spray and use to spread the marshmallow fluff over the chocolate bars.

Sprinkle the marshmallow fluff with mini marshmallows and the reserved cookie dough mixture.

Bake for 22 - 24 minutes or until the top looks golden brown. Remove the dish from the oven and sprinkle with the chopped chocolate bar.

Allow the bars to completely cool until the chocolate has set, about 4 hours. Do not refrigerate.

Using the foil sling, remove the S'mores Cookie Bars from the dish and place on a chopping board. Peel off the foil and cut into bars with a knife spritzed with non-stick cooking spray.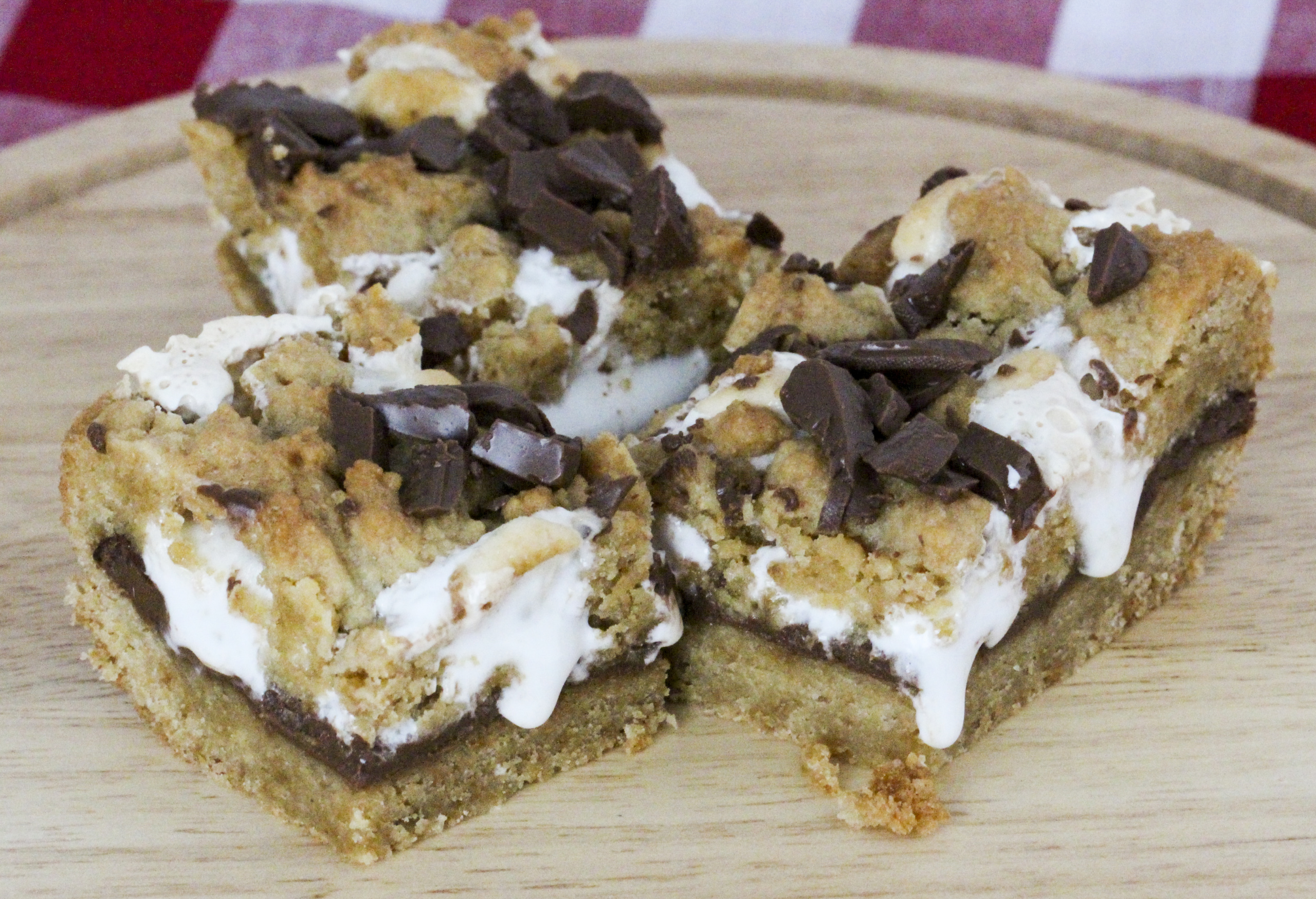 Pin to Pinterest: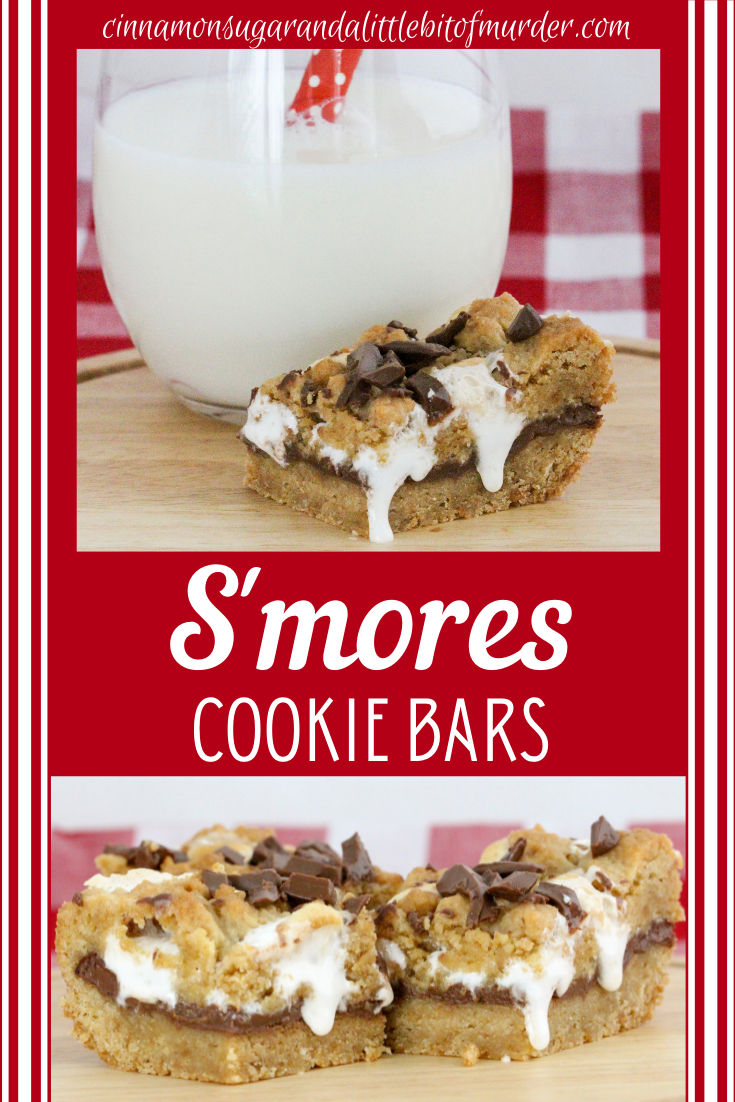 I was provided with an advance copy. All thoughts and opinions are my own.