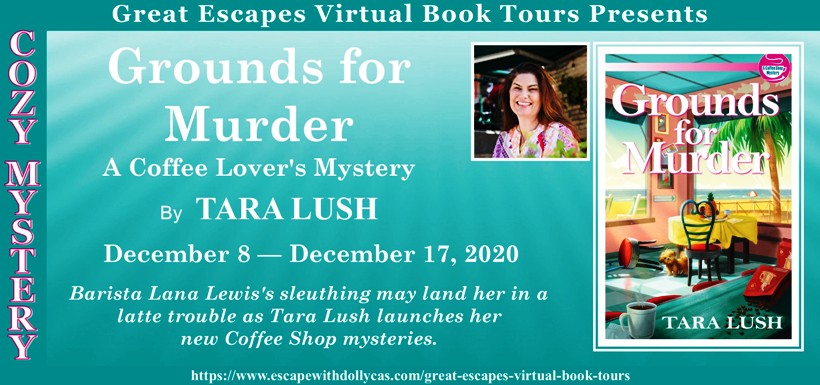 I'm delighted to be participating in the Great Escapes Virtual Book Tour introducing GROUNDS FOR MURDER! This debut cozy mystery in the Coffee Lover's Mystery series, by Tara Lush, pulled me in from the very beginning and kept me glued to the pages throughout this fast-paced story until the very end. The protagonist, Lana Lewis, has not only lost her investigative reporter job but her marriage disintegrated at the same time. Distraught, she's moved back to her childhood home on Devil's Island, Florida. Situated on the Gulf of Mexico, the setting has location, location, location, which Ms. Lush describes in alluring detail. A vacation destination it is! Despite being bereft over the loss of a job she loved, she puts her feelings aside and takes over managing her family's coffee café, Perkatory. Ms. Lush has created a string of quirky characters with zippy, and often, snarky dialog. I felt like she accurately captures the essence and lifestyles of single, twenty-something-year-olds (along with Lana's bohemian dad, whose an absolute hoot!) living in a location that embraces free spirts and partying. While at times it may push the boundaries of traditional cozies, I found it made the scenarios and characters more realistic without crossing the line.
The mystery revolved around the lothario barista who worked for Lana, until he quit the day before his death. Although she wasn't a fan of his lifestyle, Fabrizio brought in a steady stream of women who'd buy her coffee for a chance to partake of the Casanova's latte art. While hunky Noah, the investigating officer, would rather label the barista's death as accidental or self-inflicted, Lana can't quite believe it. She uses her skills honed as a journalist to investigate and ask questions. Ms. Lush writes a well-plotted whodunit with some twists to keep the story moving. As Lana delves into Fabrizio's life, she finds almost too many suspects. It kept me guessing and turning pages to see what Lana uncovers next. With the adorable Shih Tzu puppy, Stanley, who adds cuteness galore, along with her new misfit best friend, I can't wait to find out what's next in store for Lana.
Running a coffee café along with providing treats to sell alongside the caffeinated beverages, Lana does quite a bit of baking. She comes up with a quick and simple recipe for Tropical Krispie Treats, a nod to the beach vibes of the island. With the simple addition of candied pineapple and sweetened coconut, the longest part of making this no-bake recipe is waiting for the bars to firm up after pressing the mixture into the pan. Sweet and crunchy, the hint of pineapple citrus and rich coconut will have you dreaming of a warm, beach-y getaway.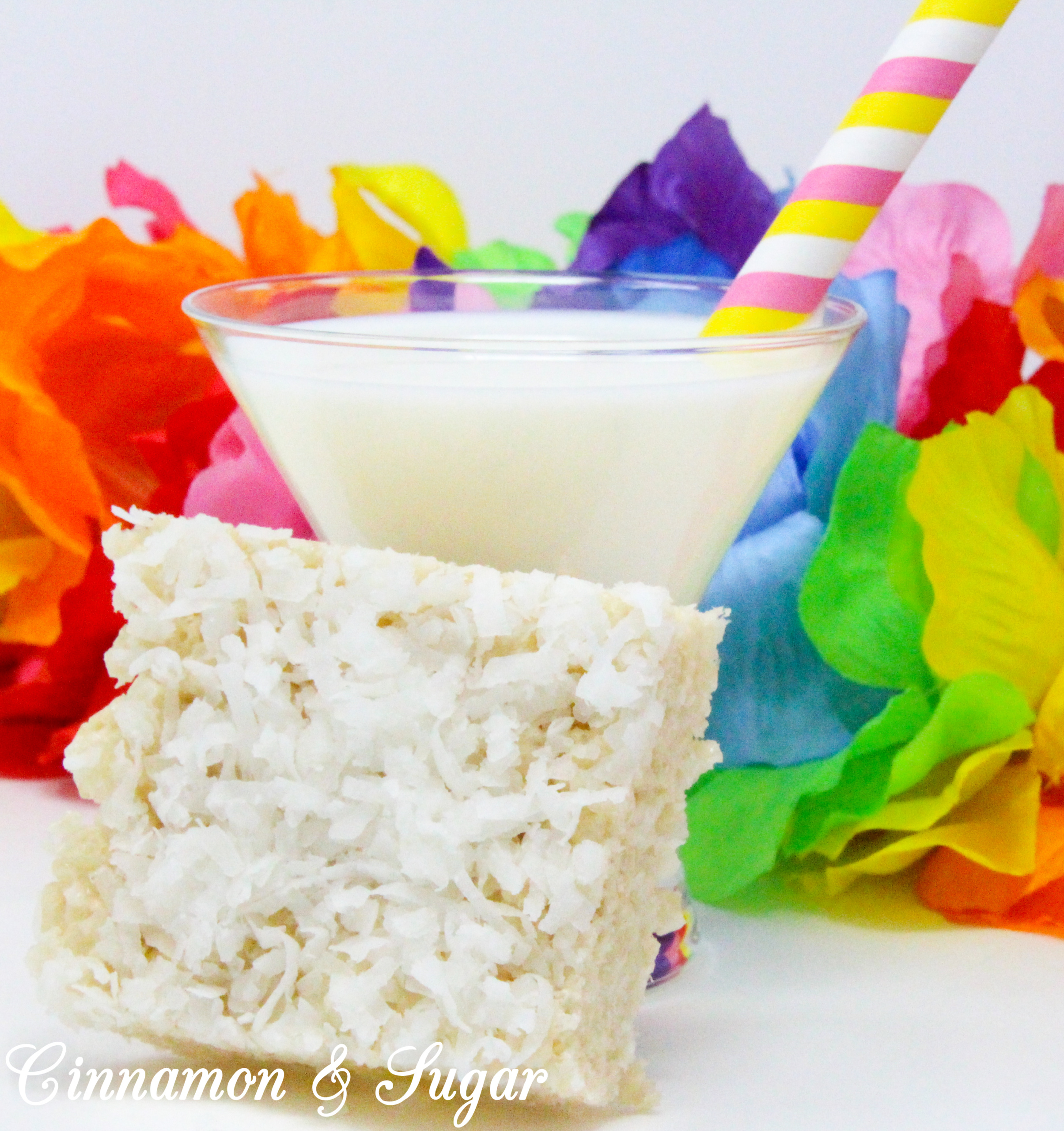 Amazon Synopsis
When Lana Lewis' best — and most difficult — employee abruptly quits and goes to work for the competition just days before the Sunshine State Barista Championship, her café's chances of winning the contest are creamed. In front of a gossipy crowd in the small Florida town of Devil's Beach, Lana's normally calm demeanor heats to a boil when she runs into the arrogant java slinger. Of course, Fabrizio "Fab" Bellucci has a slick explanation for jumping ship. But when he's found dead the next morning under a palm tree in the alley behind Lana's café, she becomes the prime suspect.
Even the island's handsome police chief isn't quite certain of her innocence. But Lana isn't the only one in town who was angry with Fabrizio. Jilted lovers, a shrimp boat captain, and a surfer with ties to the mob are all suspects as trouble brews on the beach.
With her stoned, hippie dad, a Shih Tzu named Stanley, and a new, curious barista sporting a punk rock aesthetic at her side, Lana's prepared to turn up the heat to catch the real killer. After all, she is a former award-winning reporter. As scandal hangs over her beachside café, can Lana clear her name and win the championship — or will she come to a bitter end?

A special thanks to Tara Lush for providing one lucky winner with a $20 Amazon gift card. Contest ends December 17, 2020 at 11:59 pm PST, and is administered by Great Escapes Virtual Book Tours. Please use the Rafflecopter box located below to enter. The winner will be announced on this page and on Cinnamon & Sugar's Facebook page, as well as notified by email (so check your spam folder!)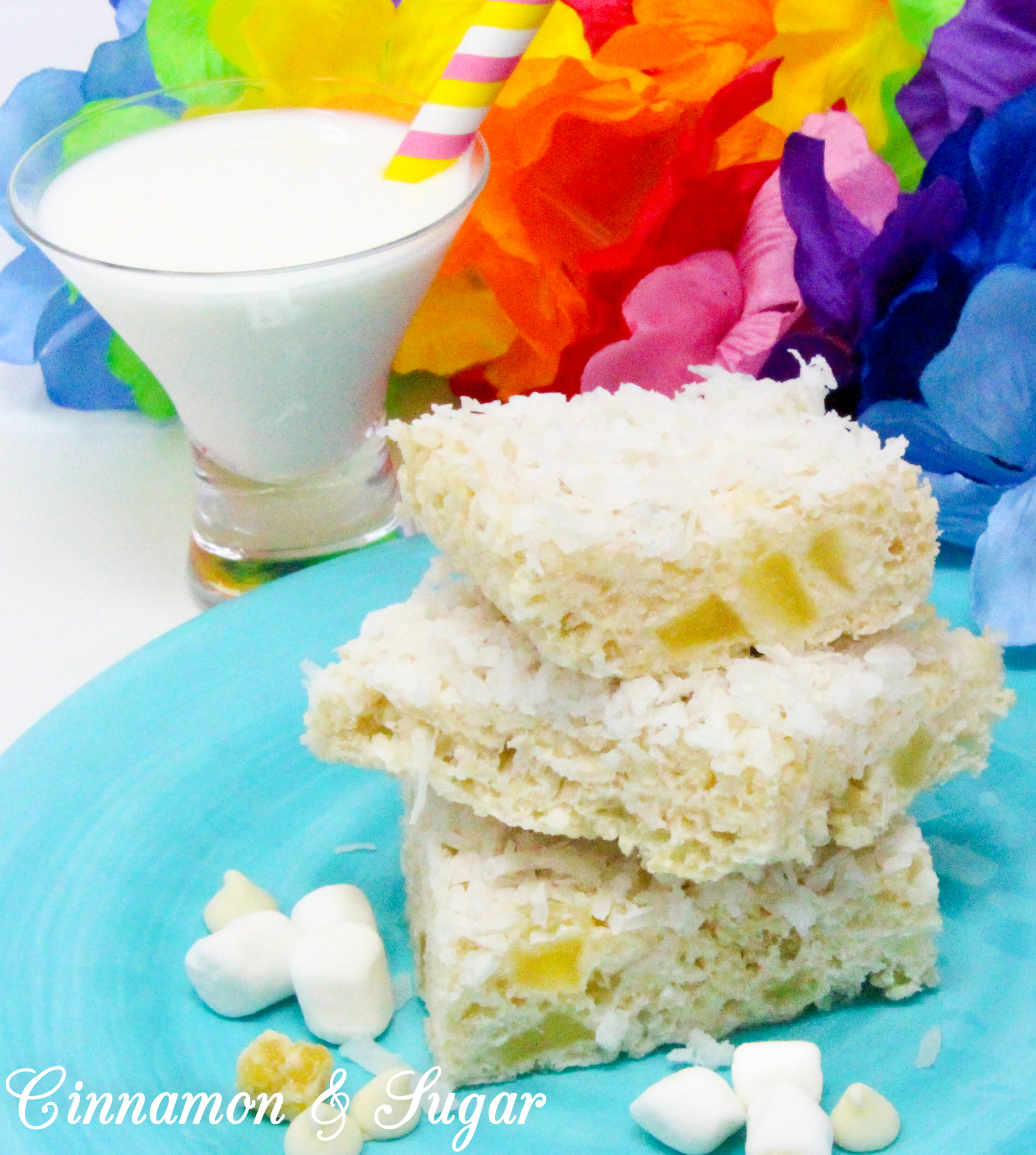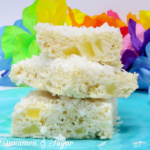 Tropical Krispie Treats
From Author Tara Lush: I love to cook. I also love simple recipes! I have a day job and write fiction so it's not like there's a ton of time left over. Baking needs to be simple. And delicious. In my book, GROUNDS FOR MURDER, heroine Lana Lewis is a coffee lover whose family owns a café. She bakes treats to sell to her customers, but they all have only a handful of ingredients. In that spirit, here's one of my favorite recipes that helped inspire my heroine's baking passion!
Ingredients
1

(10-ounce)

bag mini marshmallows

1/4

cup

butter

3

ounces

white chocolate chips

1-1/2

teaspoons

vanilla extract

5

cups

toasted rice cereal (Rice Krispies or similar)

1-1/2

cups

sweetened coconut flakes

1

cup

diced dried pineapple
Instructions
Melt butter in a large saucepan over medium heat. Add marshmallows and allow them to melt, then add chocolate and stir until combined. Add vanilla.

Remove saucepan from stove. Mix the dry ingredients in and stir.

Pour everything into a pan of your choice (I use a foil-lined, 9x13-inch glass pan). Top with extra coconut if you wish.

Chill in fridge, then cut into squares and enjoy with coffee and a great book!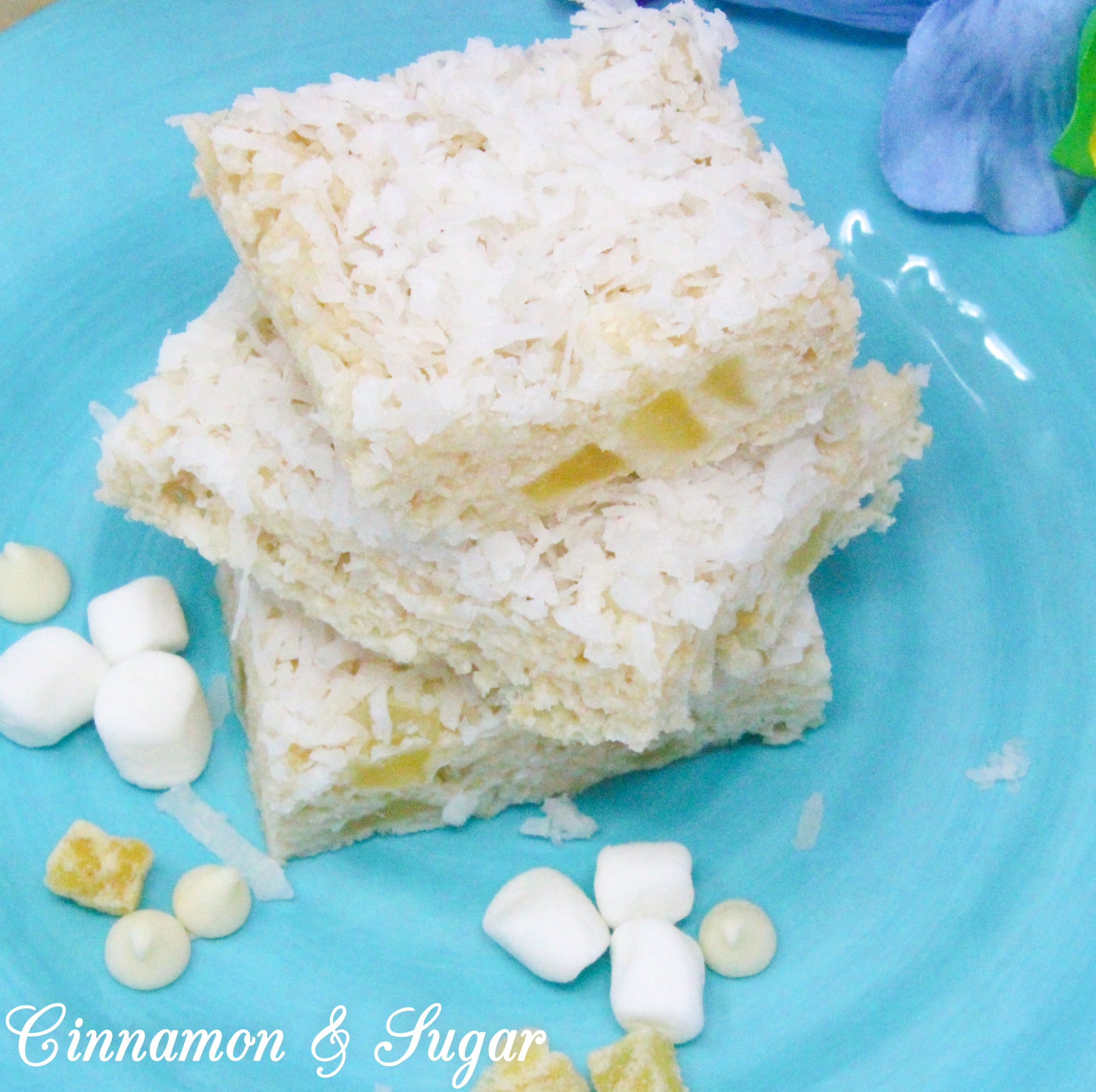 Pin to Pinterest: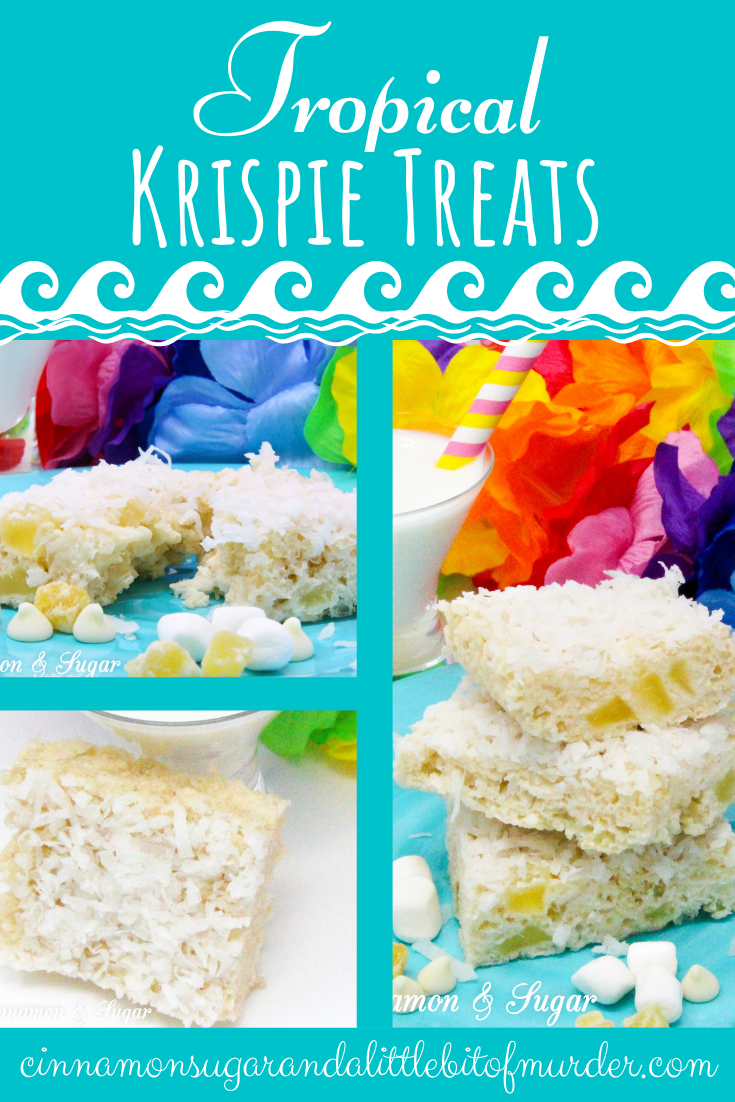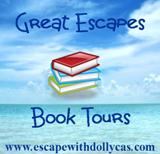 OUR PARTICIPANTS
December 8 – I'm Into Books – SPOTLIGHT
December 8 – Maureen's Musings – RECIPE POST
December 9 – The Avid Reader – REVIEW
December 9 – Escape With Dollycas Into A Good Book – REVIEW
December 10 – Ruff Drafts – GUEST POST
December 10 – Mysteries with Character – REVIEW
December 10 – Socrates Book Reviews – SPOTLIGHT
December 11 – Elizabeth McKenna – Author Blog – SPOTLIGHT
December 11 – My Reading Journeys – REVIEW
December 12 – Diane Reviews Books – REVIEW
December 12 – FUONLYKNEW – SPOTLIGHT
December 12 – MJB Reviewers – SPOTLIGHT
December 13 – Cozy Up With Kathy – AUTHOR INTERVIEW
December 13 – Christy's Cozy Corners – GUEST POST
December 14 – Author Elena Taylor's Blog – AUTHOR INTERVIEW
December 14 – Sapphyria's Book Reviews – REVIEW
December 14 – Mystery Thrillers and Romantic Suspense Reviews – SPOTLIGHT
December 15 – Cinnamon, Sugar, and a Little Bit of Murder – REVIEW, RECIPE POST
December 15 – Literary Gold – SPOTLIGHT
December 16 – Reading, Writing & Stitch-Metic – SPOTLIGHT
December 16 – eBook Addicts – RECIPE POST
December 16 – Books a Plenty Book Reviews – REVIEW
December 17 – Melina's Book Blog – REVIEW
December 17 – Celticlady's Reviews – SPOTLIGHT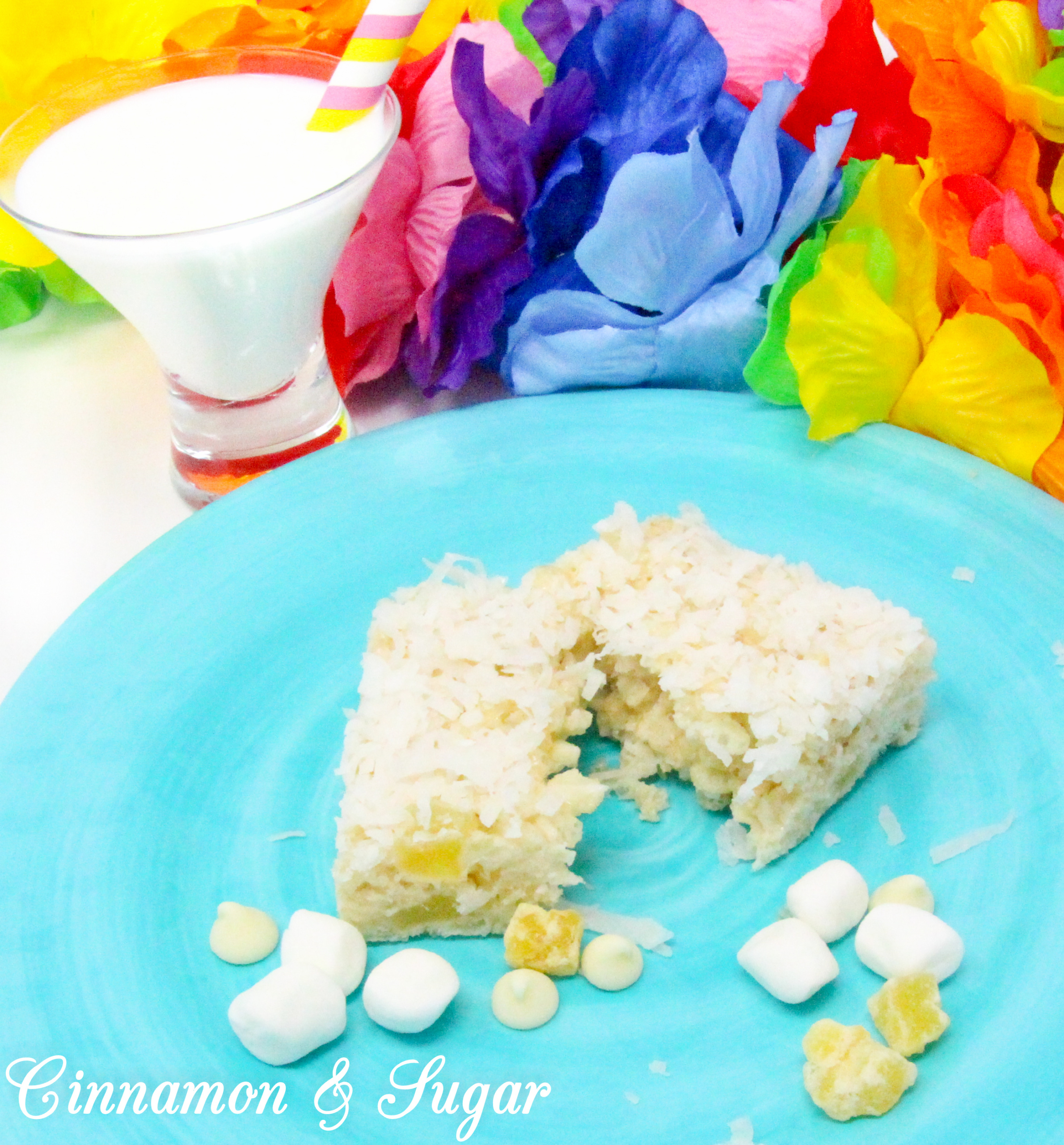 I was provided with an advance copy. All thoughts and opinions are my own.