WEDDING BEAR BLUES is the fourth book in the shamelessly adorable Teddy Bear Mysteries by Meg Macy. This newest addition features Valentine's Day as the backdrop for protagonist Sasha Silverman and her family-owned Silver Bear Shop and Factory. Love should be in the air with chocolates, roses, and teddy bears galore but instead a bridezilla and the worst best man ever take all the joy out of the holiday. I truly enjoy Sasha and her family. They work well together and I love how her mom has gotten involved in local politics and is running for mayor. Rounding out their core family are two sets of aunts and uncles. The extended family gives greater insight into the characters of the Silverman family, which is all good. The auxiliary characters, however, don't have many qualities to make them likeable, including the ring bearer dog and the bratty flower girl. Still, the interaction between these characters ramps up the tension as the scene careens toward the murder.
When the bride's sister is accused of the murder, Sasha and her sister are pulled into proving her innocence. The author does an admirable job of setting up reasons why so many people could have killed the worst best man ever. I was convinced multiple times that I'd figured it out only to change my mind a few pages later. Along with the main murder plot, there are subplots interwoven to add to the storyline. Why does their teddy bear shop competitor want to buy a neighboring house? Is he trying to sabotage their business? The author also includes a heartwarming thread for raising both awareness and funds for pediatric brain cancer which I applaud. On the other hand there is a small subplot involving creepster men who use teddy bears for nefarious reasons involving kids. While there is nothing graphic and nothing happens on page, it left me with an icky feeling. Despite that one small item, as the story concludes and the reveal comes to light, Ms. Macy pulls all the threads together into a cohesive plot that left me satisfactorily surprised.
While there aren't any recipes in the book, there are multiple mentions of yummy food that Sasha enjoys from her favorite coffee shop and bakery, Fresh Grounds. I was instantly drooling over her description of decadent chocolate-drizzled raspberry scones and decided I need to create a recipe! Infused with lemon oil and lemon peel, plus frozen raspberries (for both convenience and to keep the raspberries intact while mixing) the rich, flaky scone is drizzled on top with dark chocolate. The combination of raspberries and chocolate is pure heaven while calling to mind the flavors and color of Valentine's Day.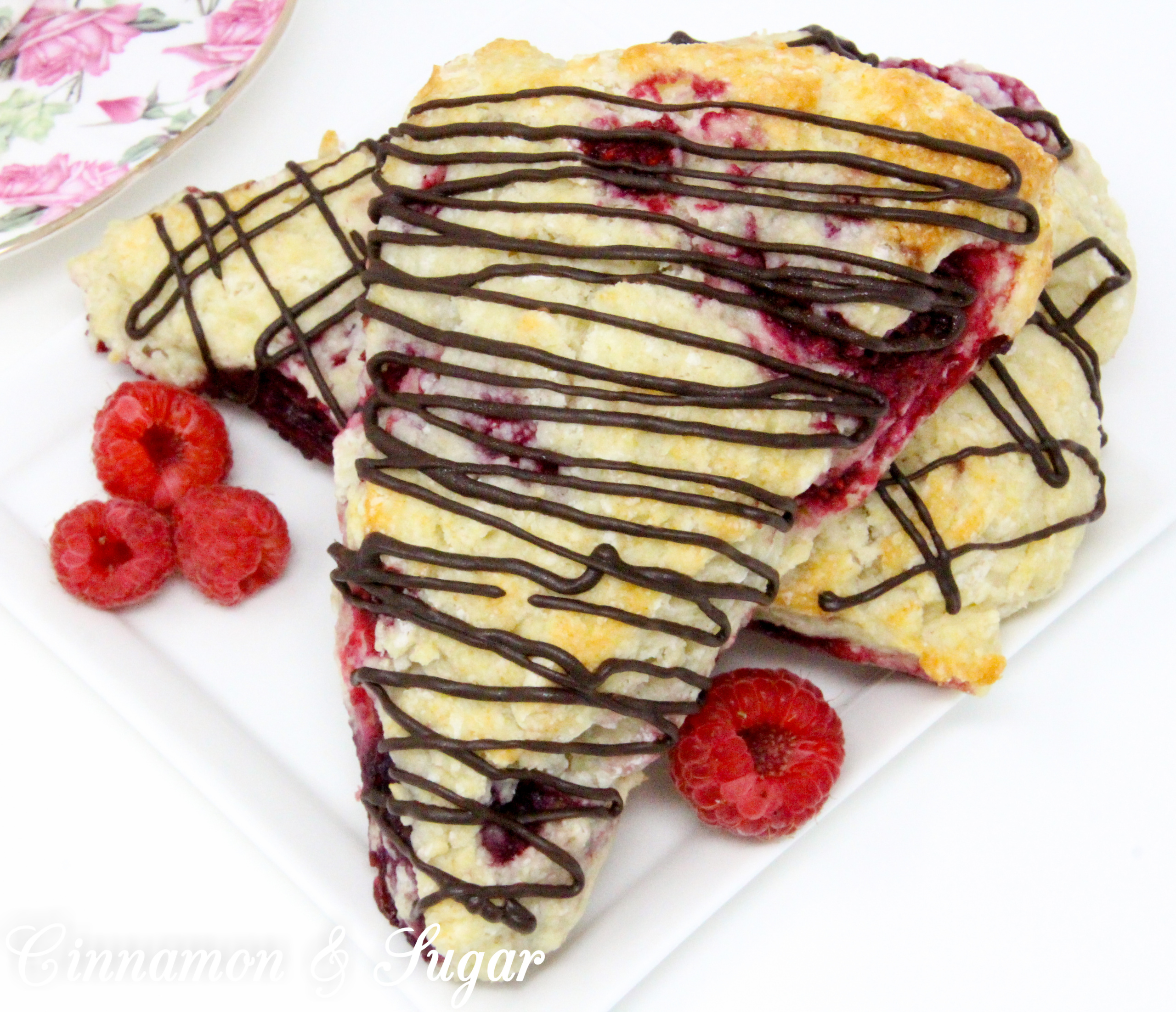 Amazon Synopsis
When a heartless killer ruins a Valentine's Day wedding, teddy bear shop manager Sasha Silverman vows to solve the crime . . .
At the Silver Bear Shop and Factory, Sasha will be selling plenty of bride and groom teddy bears come springtime. But this Valentine's Day weekend, she'd take any of those silent, stuffed couples over the real thing. Sasha and her sister Maddie are bridesmaids at Cissy Davidson's upcoming wedding in Silver Hollow. Cissy is fuming over the worst choice of best man—the jerk who broke her sister Debbie's heart—and the groom-to-be won't budge in his decision. At the rehearsal dinner you could cut the tension with a wedding cake knife.
That is, until best man Dylan is found dead, impaled with an ice pick. Although jilted Debbie is the most likely suspect—the blood on her dress doesn't help her case—the bride begs Sasha to prove her sister's innocence. If anyone's going to walk down the aisle, Sasha will first need to find the cold-hearted killer who iced Dylan . . .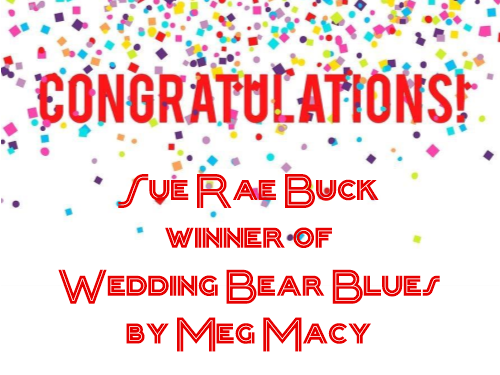 A special thanks to Meg Macy for providing a winner with a print copy of WEDDING BEAR BLUES.  Contest ends Monday, January 4, 2021 at 11:59 pm PST and is limited to U.S. residents. Please use the Rafflecopter box located below to enter. The winner will be announced on this page and on Cinnamon & Sugar's Facebook page, as well as notified by email (so check your spam folder!)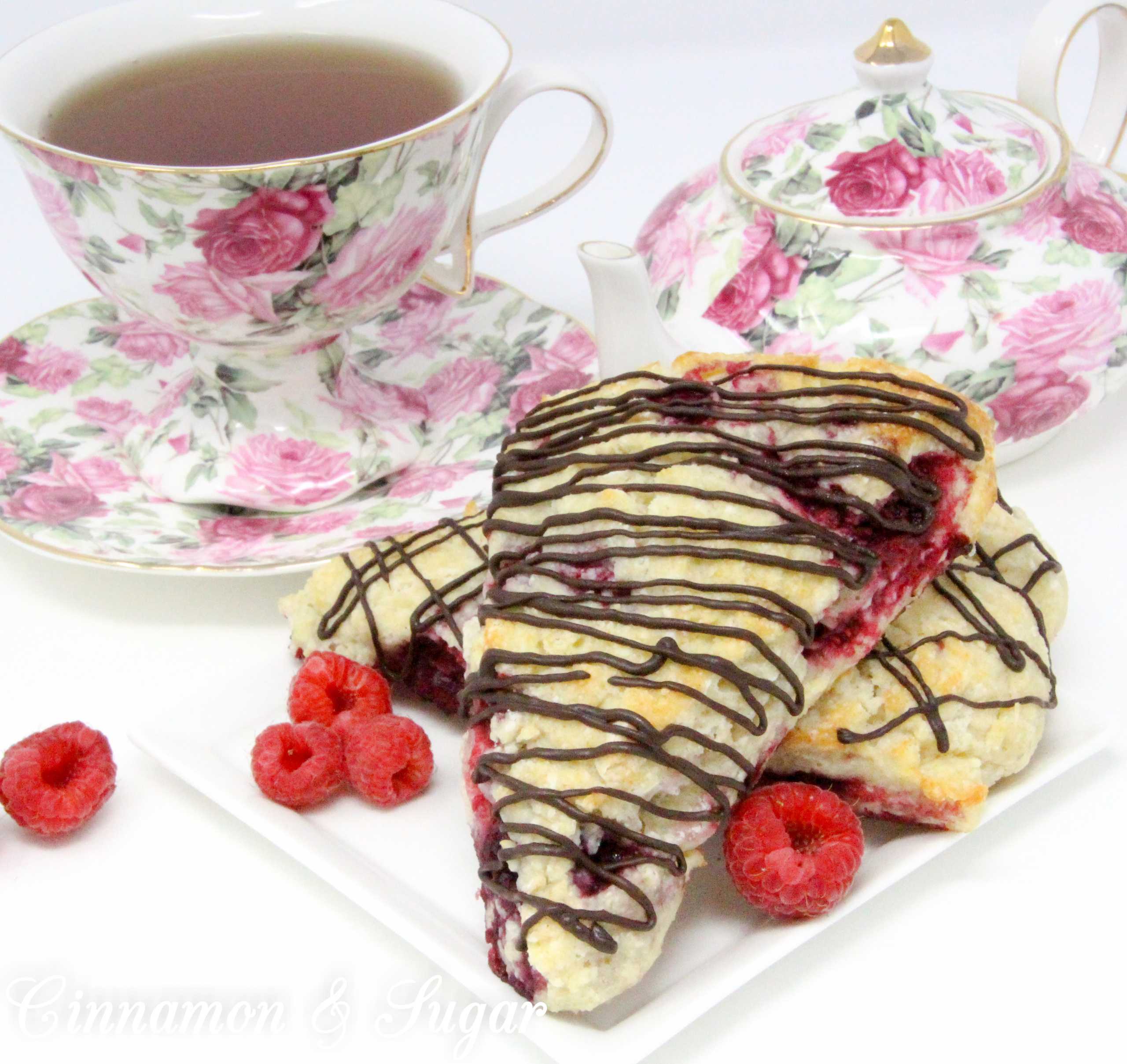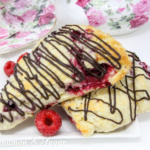 Raspberry Scones with Dark Chocolate Drizzle
Ingredients
1

cup

frozen raspberries

2

tablespoons

confectioners' sugar

1

cup

whole milk

1

egg

1

teaspoon

vanilla extract

3

cups

(15 ounces) all-purpose flour

1/3

cup

granulated sugar

1

tablespoon

baking powder

1

teaspoon

salt

3/4

cup

unsalted butter, cut into small pieces and chilled
For the drizzle:
1/3

cup

dark chocolate, coarsely chopped
Instructions
Preheat oven to 425 degrees (F).

Place the frozen raspberries in a bowl and sprinkle the confectioners' sugar over. Stir until the berries are coated then place the bowl in the freezer until needed.

Whisk together the milk, egg, and vanilla extract. Set aside.

Place the flour, granulated sugar, baking powder, salt and half the chilled butter into the bowl of a food processor. Pulse about 15 times until the butter is incorporated. Sprinkle the remaining chilled butter over the top of the flour mixture and pulse about 10 times until butter is small pea-sized pieces.

Place the flour mixture in a large mixing bowl and stir in the frozen berries. Pour the milk mixture in and gently stir until dough forms. There can be some dry bits of flour remaining.

Place the dough on a well-floured surface and bring together into a ball, kneading a couple of times if necessary. Pat the ball into a 9-inch circle and cut into 8 wedges.

Transfer the scone wedges to a parchment-lined baking sheet. Bake for 20 - 25 minutes, until tops are golden.

Remove from oven and allow to cool on a wire rack.
For the drizzle:
Place the dark chocolate in a microwave-safe bowl. Heat on 70% power for 30 seconds. Stir well and heat in 10 second intervals at 70% power, stirring well after each cycle, until chocolate is melted.

Place the melted chocolate into a piping bag, or a ziplock plastic bag, and snip the corner off. Drizzle over the scones and serve.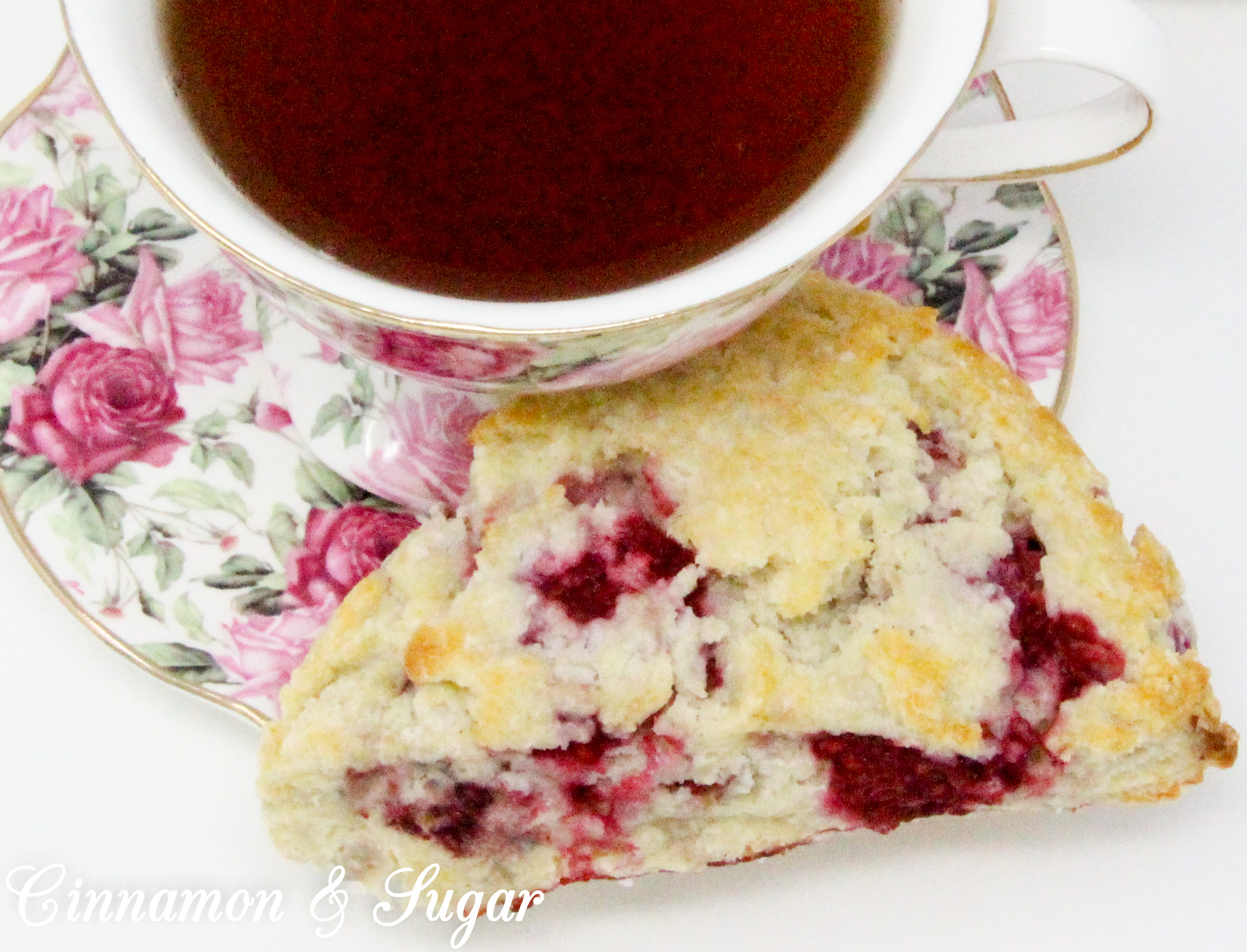 Pin to Pinterest: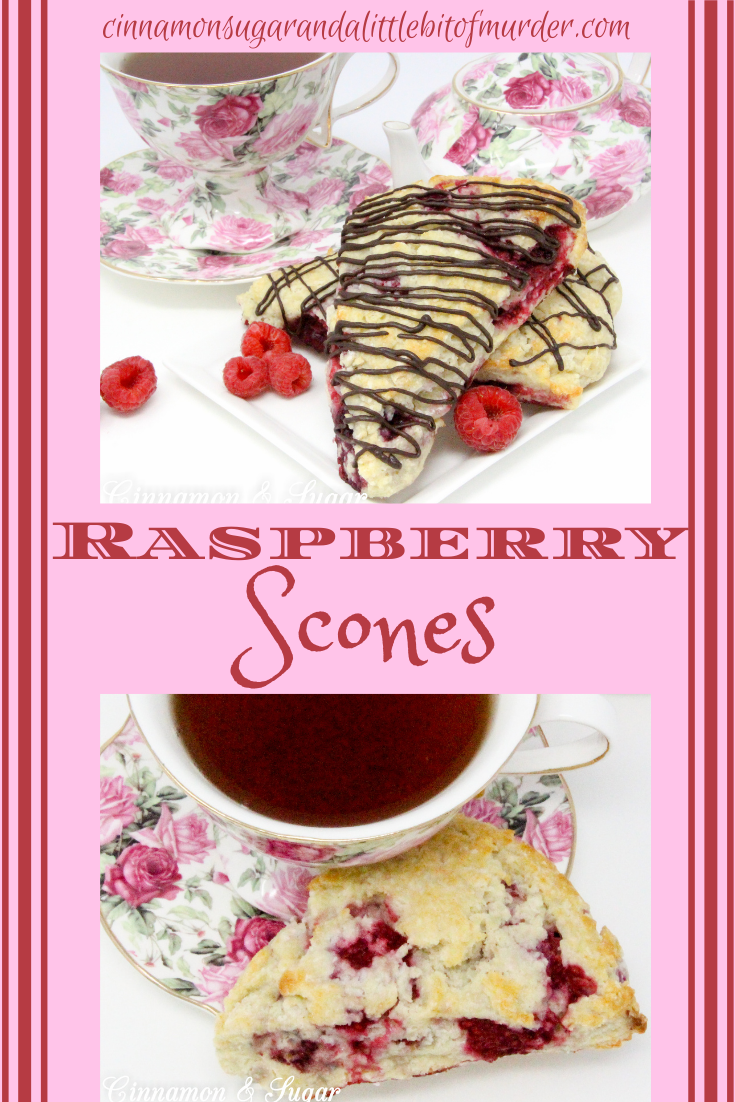 I was provided with an advance copy. All thoughts and opinions are my own.