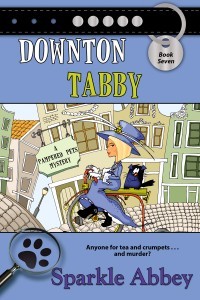 While both of my granddaughters are puppy people, all of my nieces and nephews are kitty lovers. When I saw that Sparkle Abbey (the pen name for the authors Mary Lee Woods and Anita Carter) had a new book releasing a few weeks ago, titled DOWNTON TABBY, I knew I wanted to read it. I love clever twists on titles and Sparkle Abbey writes enjoyable pet cozy mysteries as well as providing yummy treat recipes for our furry friends. Since I had already made Caro's Good Dog Treats for my grand-puppy, Piper, I knew I needed to make Toria's Catnip Cookies for Aristo-cats for the kitties in my family.
Caro Lamont is a pet therapist residing and working in Laguna Beach, California (not too far from where I live!) and finds herself involved in another murder. Her office mate, Graham Cash, runs a quick errand and asks Caro to watch his Scottish Fold tabby cat, Toria. When he doesn't come back, she begins to worry so takes Toria to Graham's home. Even though Graham isn't home, his car is there and his roommate/business partner is floating face down in their swimming pool, an electrical cord wrapped around his neck.
Caro is concerned that Graham has been kidnapped but Detective Malone thinks he may be guilty of murder. Caro doesn't intend to solve the crime but wants to ask questions hoping that people who won't talk to the police will talk to her and she can pass the information along to Detective Malone. It doesn't take her long to become more involved than she planned, trying to figure out suspects from all the characters surrounding her while trying to find Graham and clear his name. To make matters worse her ex-husband shows up, threatening to make her life miserable once again and interfering with her relationship with her boyfriend, Sam.
DOWNTON TABBY was a very fun read! Lots of quirky characters and I enjoyed all the information about the pets Caro works with. And Toria's Catnip Cookies for Aristo-cats was a huge hit with all of my tabby taste testers!
Thank you, Sparkle Abbey, for allowing me to share your recipe!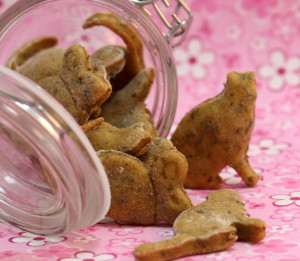 Toria's Catnip Cookies for Aristo-cats
These are preservative free and contain no artificial coloring. They are Toria-tested, and she guarantees even the most high-class kittens will not find them lacking. Not recommended for people to nibble on…
Ingredients
1 cup (5 ounces) of all-purpose flour
1/4 cup (1.4 ounces) of whole wheat flour
2 tablespoons of wheat germ
2-4 tablespoons of catnip
1/3 cup milk
2 tablespoons of vegetable oil
1 tablespoon of molasses
1 egg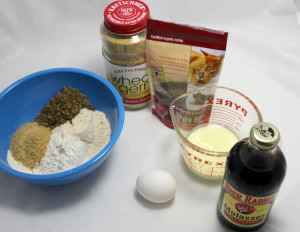 Instructions
Toria oversaw the prep work. Even staying below the stairs while the treats were baking to assure the highest of quality.
Preheat the oven to 350 degrees.
Combine the dry ingredients in a bowl (flours, wheat germ, and catnip).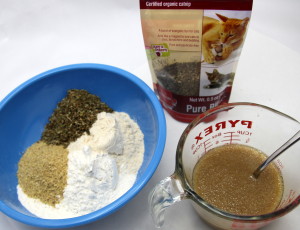 Add the wet ingredients (egg, milk, vegetable oil, and molasses).
Mix until thoroughly blended and then work the mix into a dough.
Lightly flour your work surface. I use wax paper or parchment paper on my counter top to make cleanup easier.
Remove a portion of the dough and use a rolling pin to flatten the dough until it's about a 1/4 of an inch thick.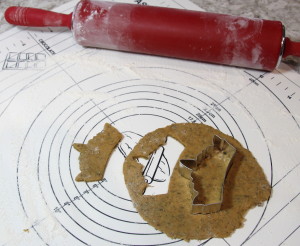 Cut the dough using a cookie cutter of your choice. I had a crown-shaped one that seemed to please Toria, but there are many fun choices available.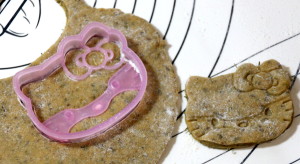 Place the cut cookies on a very lightly greased or parchment paper lined cookie sheet.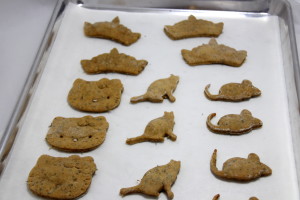 Bake them for 10 – 15 minutes, or until they are crisp and lightly browned.
Once they've cooled, I'd recommend putting them in several small freezer bags. It's important to remember since these are preservative free, they can spoil and so should be refrigerated. Also, unless you have several cats or your cat entertains frequently, it's best to divide the treats up and freeze them. Then when you're ready to use the treats you can take a bag from the freezer, let it thaw for several hours, and you're ready for afternoon tea.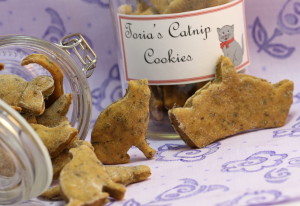 Tip
Measure vegetable oil before molasses and the molasses will slide right out of the tablespoon.
Gallery of Family Kitties