When I saw that July 12th is National Pecan Pie Day I got excited because my family loves pecan pie! I was all set to make my pie and then I hesitated…pecan pies feel like they belong to Thanksgiving and Christmas to me. If I made it now, in July, would the pie lose it's prestige during the holidays?
On the other hand, July feels more like cookies and cupcakes….desserts that are easy to transport and eat out of hand at picnics, the beach or park snacks, or bbq events. What if I took the flavors of pecan pie and made it into a cookie? I gathered up my trusty pie recipe (from the back of the Karo Corn Syrup bottle!) and started experimenting. I was also inspired by a friend (thanks, Vanessa!) who said she added Bourbon to the icing for my Maple Bacon Cookies so I decided to try the flavor in my Pecan Pie Cookies. Bourbon was a natural fit with the earthy, buttery flavors of the pecans and elevated the cookie to something more than "just a cookie."
Now when the holidays come around I am going to be torn between making my traditional pie or making these cookies…guess I'll have to make both! If you prefer to not use the Bourbon, by all means substitute 2 teaspoons of vanilla for each tablespoon of Bourbon called for.
Bourbon Pecan Pie Cookies
Note: if you would prefer to omit the Bourbon, substitute 2 teaspoons vanilla extract in both the cookie dough and filling for each tablespoon of Bourbon called for.
Ingredients
Cookies
1 cup (7.2 ounces) light brown sugar, packed
3/4 cup butter or vegan margarine, room temperature
1 egg, room temperature
1 tablespoon Bourbon
2 cups (10 ounces) all-purpose flour
1 teaspoon baking powder
1/2 teaspoon salt
Filling
1/2 cup (2.5 ounces) coarsely chopped pecans – measure after chopping
1/2 cup (3.6 ounces) light brown sugar, packed
2 eggs, vigorously whisked
1 tablespoon butter or vegan margarine
2 tablespoons corn syrup (light or dark)
1/4 teaspoon salt
1 tablespoon Bourbon
Optional: 3 – 4 tablespoons mini semi-sweet chocolate chips
Instructions
Cookies
Whisk flour, salt and baking powder together in a medium-sized bowl and set aside.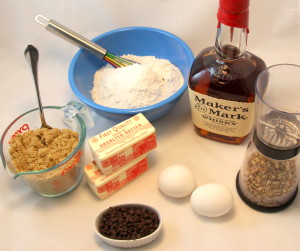 In the bowl of a standing mixer, cream the butter and brown sugar together, approximately 2 minutes on medium speed.
Add the egg and once it's incorporated, add the Bourbon and beat until creamy using medium speed.
Reduce the mixer to low and slowly add the flour mixture, beating until incorporated.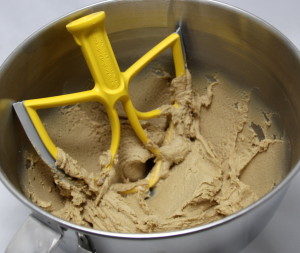 Refrigerate the dough 30 – 60 minutes, then prepare the filling.
Preheat the oven to 350 degrees while you start preparing the filling.
Filling
In a small saucepan, combine butter, pecans, brown sugar, corn syrup, Bourbon, salt and whisked eggs.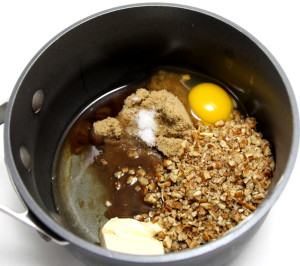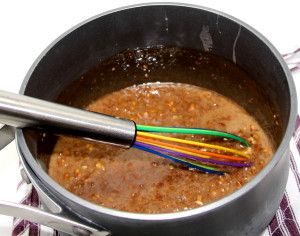 Heat on medium-low, stirring constantly, until it begins to thicken, about 3 minutes. The mixture should reach 165 – 170 degrees.
Remove from heat and place in the refrigerator to cool to about 85 – 90 degrees while you scoop the cookie dough.
Procedure
Remove cookie dough from the refrigerator and scoop tablespoon sized balls of dough.
Place on a parchment lined baking sheet.
If the dough starts getting too soft to work with, return to the refrigerator for a few minutes.
Using a 1/4 teaspoon measuring spoon, press large wells into the center of the dough.
To keep the measuring spoon from sticking, dip into granulated sugar after each press.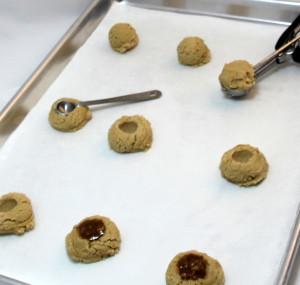 Fill each cookie with about 1/2 teaspoon of the lukewarm filling.
If using mini chocolate chips, sprinkle a few (or a lot!) on top of the filling.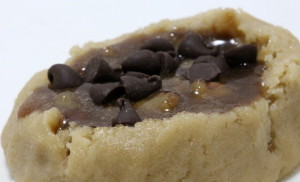 Bake at 350 degrees for 10 – 13 minutes, rotating baking sheet half way through baking time.
Once the edges are lightly golden brown around the edges, remove the pan and cool 5 minutes before transferring to a wire rack.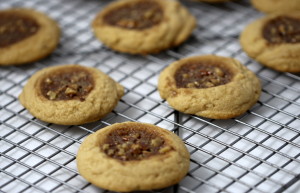 Cool completely.
Store in an airtight container with parchment paper between the cookie layers to prevent the cookies from sticking to each other.