Summer brings the opportunity for long, leisurely evenings on the patio and nothing is better than smoked meat for dinner! One of my favorites is pork tenderloin – it's an easy, no fuss cut of meat that is meltingly tender. While not flavorful on it's own, an easy marinade prior to smoking and a quick port wine sauce raises it to a level of sophistication without negating the simplicity. My 10-year-old granddaughter, Emory, adores this dish so much she told me recently that I needed to make it every single week! We settled on me making it once a month, minimum, but I know I could eat it more often than that….
If you don't own a smoker I've included directions below for roasting the pork instead.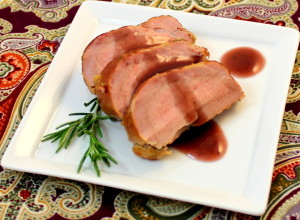 Smoked Pork Tenderloin with Port Wine Sauce
Ingredients
1 package of 2 pork tenderloins (approximately 2-1/2 pounds total)
1/4 cup orange juice for spritzing during smoking
Marinade
2 cloves fresh garlic
1-1/2 teaspoons kosher salt
1 teaspoon sugar
1/2 teaspoon fresh ground pepper
1 teaspoon dried rosemary OR 2 teaspoons fresh rosemary
2 tablespoons olive oil
1/2 cup white wine
Port Wine Sauce
1 cup low-sodium chicken broth + 1 tablespoon
1 cup ruby port
1/2 teaspoon salt + pepper to taste
1/4 teaspoon thyme
2 teaspoons cornstarch
1 tablespoon butter, chilled
Instructions
Pork
Trim and remove silver skins.
Place pork into a large ziplock bag.
Marinade
Crush garlic, rosemary, salt, pepper and sugar together.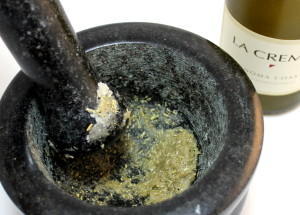 Whisk wine and oil together, then add garlic mixture.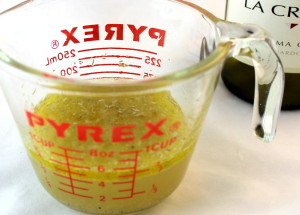 Pour over pork and seal bag.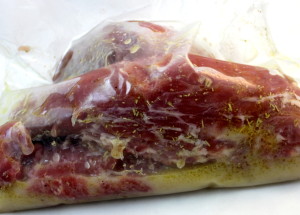 Refrigerate at least 2 hours and up to 8 hours.
When ready to smoke, remove pork from marinade and place on platter. No need to pat dry.
Allow to sit at room temperature for 20 minutes before smoking.
Smoking Pork
Clean grill and spritz with non-stick grilling spray.
Heat smoker to 240 degrees.
Place pork tenderloins in smoker and cook until internal temperature reaches 140 degrees, approximately 2 – 2-1/2 hours.
Spritz meat with orange juice every 30 minutes while smoking.
Once meat reaches 140 degrees remove from smoker and place on a clean platter and cover with foil.
Allow pork to rest for 15 minutes.
Roasting Pork
Preheat the oven to 425 degrees.
Remove pork from marinade and pat dry.
Place in a shallow roasting pan and allow to sit at room temperature for 20 minutes prior to cooking.
Roast for approximately 20 minutes until internal temperature reaches 140 degrees.
Once it reaches 140 degrees, remove from oven and cover with foil.
Allow the meat to rest 15 minutes then slice and serve with port wine sauce.
Note: The exterior color of the pork will be fairly pale, but once you slice and add port wine sauce it won't matter. If you desire a browned surface, roast for 15 minutes then broil the meat for a few minutes. Use care to not overcook the pork.
Port Wine Sauce
Place 1 cup chicken broth, thyme and port wine into a medium saucepan.
Heat over medium-high heat until it just comes to a boil, then lower heat to low.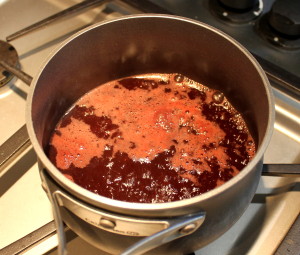 Simmer liquid until it reduces to 1 cup total, approximately 10 – 12 minutes.
Place cornstarch into a small bowl and mix in 1 tablespoon chicken broth, stirring until smooth.
Slowly add the cornstarch mixture into the port wine mixture, whisking constantly.
Cook about 1 – 1-1/2 minutes, whisking constantly, until mixture thickens.
Remove from heat and whisk in the cold butter until smooth.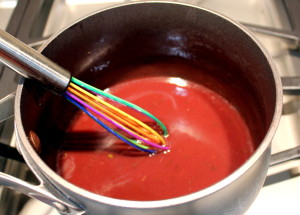 Season with 1/2 teaspoon salt and pepper to taste.
Serving
Slice the rested pork crosswise into 1/2 inch pieces.
Drizzle port wine sauce over pork and enjoy!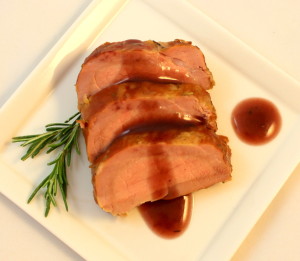 Tip
You can make the sauce ahead of time then gently reheat over low, whisking often until it is thoroughly warmed. Do not allow it to come to a simmer or boil as it will "break" the cornstarch thickener.