Many, many, many years ago my step-daughter, Briana, gave me a kitchen torch and a small photo filled Crème Brûlée cookbook. I was very excited about the gift and couldn't wait to try out several of the recipes. Unfortunately it coincided with discovering my husband was extremely intolerant of dairy products. I experimented with substituting soy milk for the cream but none of my efforts worked and we were left with inedible coagulated messes. This was LONG before vegan and dairy-free diets were wide spread and there were no other choices or recipes to guide us. Plus I didn't have a lot of culinary experience to draw from back in those days.
It was a rough road for my husband giving up all the foods and desserts that he had loved so I shelved the book and tucked the torch into the back recesses of my pantry. Yes, I could have made this sublime dessert for the rest of us back then, but to show support and compassion I chose not to. But as time passed, new products hit the market and I became a better cook understanding how to create without dairy so my husband wouldn't feel left out. But in the back of my mind I remembered my first non-dairy Crème Brûlée attempts and didn't want to go there again.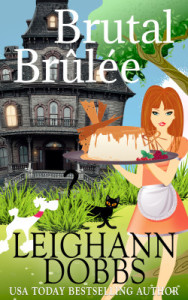 Then I read Brutal Brûlée by Leighann Dobbs. Her very short, cute culinary cozy, something I would call a "beach read", turned out to give me the confidence to try my hand at Crème Brûlée. Brutal Brûlée is the story of Lexy Baker (love the name!) whose grandmother invites her to a help a friend celebrate the opening of her bed and breakfast in an old, supposedly haunted, mansion. A production company is booked for the weekend to get to the bottom of the ghost story and the new owner wants to make a good impression. When the producer is murdered in a locked room it's up to Lexy and her grandmother and her iPad toting geriatric friends to discover who the culprit is. Lexy's grandmother and friends are fun characters and I liked their interactions with Lexy and her detective husband, Jack. Despite being a short book, Leighann manages to put together a mystery with some twists and turns and lets a reader connect with her characters. I will definitely be checking out more of the Lexy Baker cozy mysteries and trying other delicious recipes the author includes at the back of the book!
Leighann's Crème Brûlée recipe is super simple and I was fairly certain I could conquer it. Oh my…it was absolutely sublime…I think I swooned! The four simple ingredients come together quickly yet create the most luscious dessert! Another bonus is that the custard can be made a day ahead of time and all you have to do is sprinkle on the sugar and caramelize right before serving.
Of course my husband was green with envy so I decided to give a non-dairy version another try using full-fat canned coconut milk. It turned out great….definitely not as creamy and rich as Leighann's original recipe, but still well worth my efforts. The crunchy bittersweet caramelized sugar on the top adds to the wow factor and both Leighann's delectable recipe and my new non-dairy version will be regulars in my dessert rotation! I've included the adaptation below.
P.S. Check back Friday and I'll show you what to do with the leftover egg whites!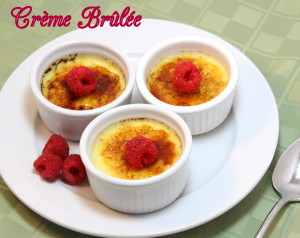 Crème Brûlée
Ingredients
2-1/2 cups heavy cream (for dairy-free use 2-1/2 cups full-fat canned coconut milk instead)
6 egg yolks
1 vanilla bean, split and scraped
6 tablespoons white granulated sugar
2 tablespoons brown sugar (or use white granulated sugar)
Instructions
Preheat oven to 325 degrees (F).
In a medium saucepan, combine cream (or coconut milk) and vanilla bean and bring to a boil, stirring constantly.
Remove from the heat and let sit for 15 minutes before removing the bean pod.
Beat egg yolks and 4 tablespoons of white sugar until creamy.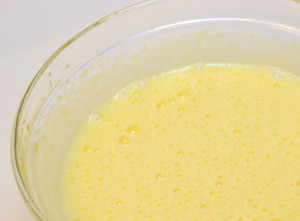 Add the cream mixture to the egg yolks a little at a time, whisking constantly.
Pour the mixture into ramekins (about 6 – 8 oz. ramekins) or a small dish.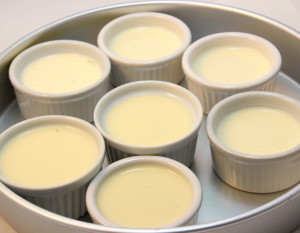 Set the ramekins or dish into a larger baking pan and fill that pan with enough water to reach halfway up the sides of the ramekins.
Bake until the custard is just set. It should still be a bit wiggly in the center.
Refrigerate until you are ready to serve and for at least 2 hours.
When you are ready to serve them, mix the remaining 2 tablespoons of white sugar with the brown sugar.
Remove the ramekins from the refrigerator and sprinkle the sugar on top.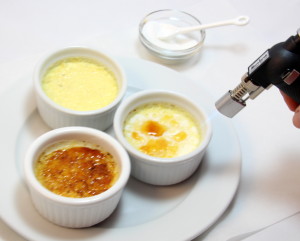 If you are adept in the kitchen like Lexy Baker, you can use a kitchen torch to melt the sugar on top of the custard (you'll probably want to use all white sugar for this.)
Just aim the torch at the sugar-covered top until the sugar is melted and forms a crust. Be careful not to burn it (or set your kitchen on fire).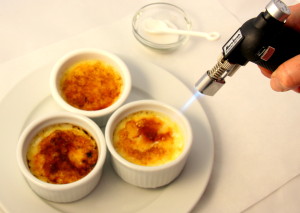 Leighann Dobbs' husband has banned her from using torches in the kitchen, so she simply puts the ramekins under the broiler for about 2 minutes until the sugar melts.
My note: my husband allowed me to use a torch but he stood by with the fire extinguisher ready!