I love to spend time on Pinterest….especially looking through all the food photos out there! I've seen numerous Macaron photos and recipes and while they looked so yummy I was always intimidated to try making them myself. Then I had several egg whites leftover after making the decadent Crème Brûlée and I decided to give Macarons a try. (Go to the bottom of the page for links to Crème Brûlée recipes!)
Much to my surprise and delight I found that Macarons are also gluten-free and not nearly as difficult to make as I had originally thought! Knowing that the youngest granddaughter in our family is the biggest lemon lover, I chose to make the flavor lemon….except the cookies were so incredibly wonderful there wasn't many leftover to share with her…. so we'll be making these cookies again next week when she comes to stay with us for a few days!!!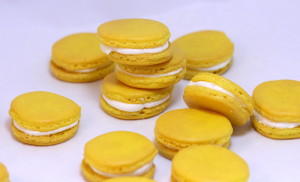 Lemon Macarons
For best results you need to WEIGH the ingredients, but I have also included volume measurements if you don't have a scale and want to give these cookies a try.
Ingredients
Cookie Shells
110 grams (1 cup) almond meal (or blanched slivered almonds pulverized in a food processor)
200 grams (1-1/2 cups + 1-1/2 tablespoons) confectioners' sugar
1 tablespoons lemon zest
90 grams (3 eggs) egg whites, room temperature
30 grams (2-1/2 tablespoons) granulated sugar
Yellow GEL food coloring
Buttercream
1/4 cup (1/2 stick) unsalted butter, room temperature
1-1/2 cups confectioners' sugar
1 – 2 tablespoon fresh lemon juice
1/2 teaspoon lemon extract OR 1/8 teaspoon pure lemon oil
Pinch of salt
Instructions
Cookie Shells
Line 2 baking sheets with parchment paper.
Place the lemon zest on a microwave safe plate and microwave on high for 20 seconds. Stir zest and microwave for another 20 seconds and stir, repeating process about 4 times until zest is fairly dried out.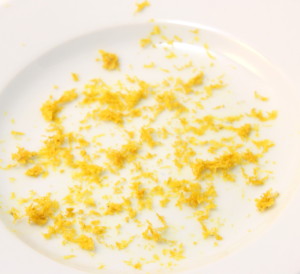 In the bowl of a food processor, pulse the almond meal, confectioners' sugar and lemon zest together until it becomes a fine powder, about 30 pulses.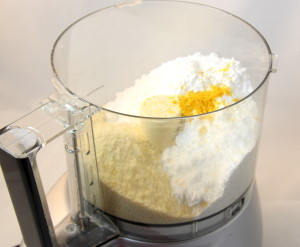 Sift almond meal mixture into a large bowl. If small chunks of almond remain in the sifter, process the chunks in the food processor and sift back into bowl. Set aside.
Add the egg whites to the bowl of a standing mixer. Whip the eggs with the whip attachment on medium-low speed.
Once soft peaks start appearing (2 – 3 minutes) slowly sprinkle the granulated sugar onto the egg whites while the mixer is still running.
Once sugar is incorporated add yellow food color, a few drops at a time, until it reaches your desired shade.
Increase speed to medium high and whip until stiff peaks appear. Keep a close eye on the egg whites, you don't want to over whip.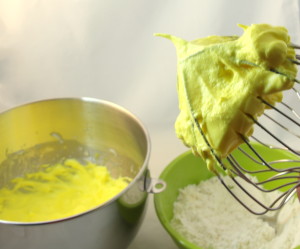 Add the almond and sugar mixture to the stiff egg whites.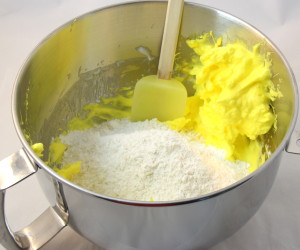 Using a spatula, mash the dry ingredients into the egg whites, about 5 – 10 times to release the air.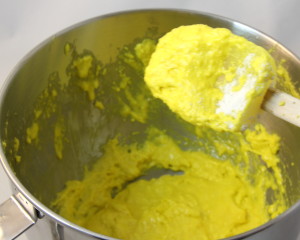 Then fold the mixture about 20 – 30 times, until the batter is shiny and thick ribbons run off the spatula.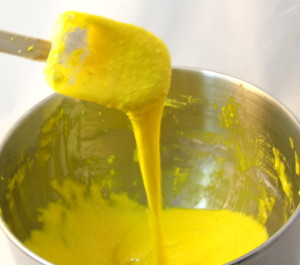 Place the batter into a pastry bag fitted with a large round tip (I used a size 10).
Pipe the batter onto the parchment paper, making 1-inch to 1-1/2-inch circles.
You can do this free hand or have a template placed beneath the parchment paper.
You can download my free pdf template: Macaron Circle Template  Simply place it beneath your parchment paper, pipe the batter, positioning the template as you need. Make sure you remove the template before you bake the cookies.
Leave 1 – 2 inches between the cookie circles to allow for spreading.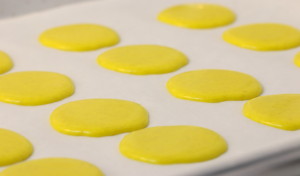 Once both baking sheets have been filled (you should have between 40 – 60 cookies, depending on size) tap the sheets on the counter a few times to release any air bubbles in the batter.
Let the cookie shells rest on the counter for 30 minutes, until the tops feel dry. They should NOT feel sticky or tacky. This will prevent the tops from cracking when baked.
Preheat the oven to 315 degrees (F).
Bake the cookies, one sheet at a time, for 15 – 16 minutes, rotating the pan halfway through the baking time.
They will be done if the cookie lifts fairly easy from the parchment. If it sticks or separates from the bottom, cook a minute or two longer.
Remove baking sheet from oven and allow the cookies to cool completely before removing from parchment paper.
Buttercream Frosting
In the bowl of a standing mixer, whip the butter on medium speed for one minute.
Slowly add half the confectioners' sugar and beat until incorporated.
Add 1 tablespoon lemon juice and once incorporated add the remaining confectioners' sugar and lemon extract or lemon oil, if using.
Whip buttercream until light and fluffy, about 2 – 3 minutes.
If the buttercream is too stiff, add additional lemon juice 1 teaspoon at a time, whipping after each addition until desired consistency is reached.
If buttercream is too soft, add additional confectioners' sugar 1 tablespoon at a time until correct consistency is reached.
Place the buttercream into a pastry bag fitted with a round tip. (I used a size 10.)
Procedure
Match up the cookie shells into pairs, according to size and shapes.
Pipe a layer of buttercream frosting onto the bottom side of one cookie and then add the top cookie, creating a "sandwich". Press the cookies together to spread the buttercream to the edges.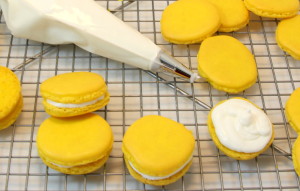 Repeat with the remaining cookies.
Place cookies into an airtight container and refrigerate for up to 5 days, allowing macarons to come to room temperature before eating.
Macarons are better when allowed to "rest" 24 – 48 hours after assembly, but my experience is they're still pretty great right after being made!
Tips
Use the extra egg yolks to make easy and incredibly luscious Orange Cinnamon Crème Brûlée or regular  Crème Brûlée
Separate the egg whites from the egg yolks while the eggs are still cold, then let the whites come to room temperature while you collect the rest of your ingredients and sift the almond flour and sugar.
Make sure there isn't even a speck of yolk mixed in with your egg whites or the meringue won't whip up properly.
Make sure your mixing bowl and whisk are absolutely grease free or your meringue won't whip up.