Cookies, in my opinion, are just about the perfect treat. Easy to transport, store well and there's no fuss when serving…people can help themselves with nothing more than a napkin provided. I like trying all sorts of cookie recipes and am always on the lookout for a new cookie recipe that will be a good addition to my Christmas "goodie" bag giveaways. Since my oldest granddaughter, Jaidyn, has Rett Syndrome, she requires a lot of care which means a lot of teachers, aides and therapists. So each December I bake around 2,500 cookies (using a variety of recipes) to thank so many wonderful people who devote their lives to helping kids like Jaidyn.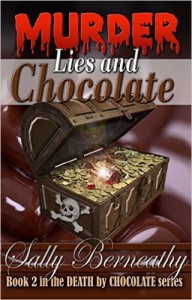 When I came across the Hazelnut Triple Chocolate Chip cookie recipe in MURDER, LIES AND CHOCOLATE by Sally Berneathy, I immediately knew I wanted to try them out. One of my requirements for a Christmas goodie bag cookie is that it has to be "different"….something most people would not make for themselves. Sally's Hazelnut Triple Chocolate Chip Cookies lived up to and exceeded my expectations….delicious creamy bits of three kinds of chocolate along with the crunch of buttery pecans all in a soft and chewy lightly hazelnut flavored cookie base. Yum!
In addition to several delicious chocolate recipes in Sally's book, MURDER, LIES & CHOCOLATE was an enjoyable read with several laugh out loud moments! Lindsay Powell is co-owner of Death By Chocolate, a small restaurant in Kansas City. Her hopefully soon-to-be ex-husband, Rick, shows up at her restaurant with a client, trying to push her into selling her home to him for twice its value. Lindsay has learned the hard way to not ever trust Rick, so she declines their offer. Unfortunately, the client, Rodney Bradford, drops dead on the front door step of her restaurant just moments after she asks them to leave. Lindsay worries that it was one of her brownies that killed Rodney…not good for her restaurant and not good for her relationship with hopefully soon-to-be love interest, Detective Adam Trent. (If only her lousy soon-to-be ex would sign those divorce papers!)
It doesn't take long before Lindsay enlists the help of her OCD neighbor Fred. Fred has unusual abilities to find out information about people and things even before the police can find them out, which is handy since her almost boyfriend won't share police investigation information with her. Lindsay isn't sure if Fred is a hacker, undercover CIA or maybe even MI-6, but she really doesn't care as long as he's willing to help her. Rounding out her group is Lindsay's other neighbor, Paula, who also is her best friend and co-owner of Death By Chocolate, and Lindsay's huge yellow and white cat, King Henry, also known as "Attack Cat". Together they must figure out who's been repeatedly breaking into Lindsay's house and who murdered Rodney before one of them becomes the next victim.
A special thank you to Sally Berneathy for allowing me to share her delectable Hazelnut Triple Chocolate Chip Cookie recipe!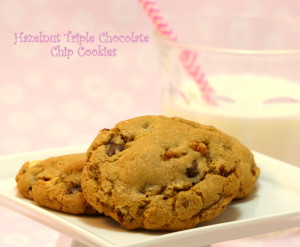 Hazelnut Triple Chocolate Chip Cookies
Ingredients
1/2 cup butter, softened
1-1/2 cup dark brown sugar, packed
1 egg, room temperature
1 tablespoon vanilla
1/2 teaspoon baking soda
dash of salt (bigger dash if you use unsalted butter)
1-1/2 cups (7 ounces) flour
1/4 cup (1 ounce) oat flour*
2-4 tablespoons (1.3 ounces) hazelnut meal (optional but recommended)**
Handful semi-sweet chocolate chips (I used 2 ounces)
Handful bittersweet chips (2 ounces)
Handful white chocolate chips (2 ounces)
Two or three handfuls pecans, chopped (I used 2.5 ounces)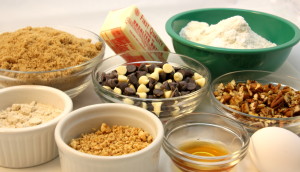 Instructions
Preheat oven to 375 degrees.
Cream butter with sugar.
Add egg and vanilla and stir briskly until well mixed.
Combine dry ingredients and add to butter mixture.
Stir in chocolate chips and nuts. Dough should be very stiff and just a little sticky.
Form dough into balls and lay on cookie sheet.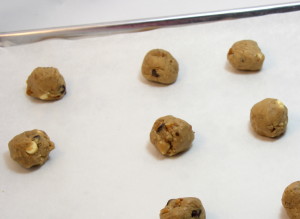 Bake at 375º for 8 minutes. (A minute longer if you want crispy as opposed to chewy cookies; but why would you??)
Cookies will appear a bit underdone but will firm up as they cool. Resist the urge to overbake!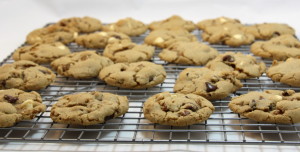 Cool cookie on baking sheet 5 minutes then remove and finish cooling on a wire rack.
Makes approximately 2 dozen cookies, depending on how big the balls are and how many samples were tested before baking.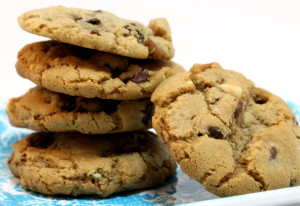 My notes
I used a 1-tablespoon spring-loaded scoop and got about 50 cookies from the batch. I made them smaller than called for since I was taking the cookies to the teachers and staff at my granddaughter's summer school and wanted to make sure there were plenty to go around.
*You can pulverize regular old-fashioned oats in the food processor until it's a fine flour if you don't have any oat flour on hand.
**If you can't find or don't want to purchase hazelnut meal you can pulverize whole hazelnuts in a food processor, pulsing about 25 times. Use care and don't over process so it doesn't turn into hazelnut butter.